These Are The Best Places To See The Solar Eclipse On Monday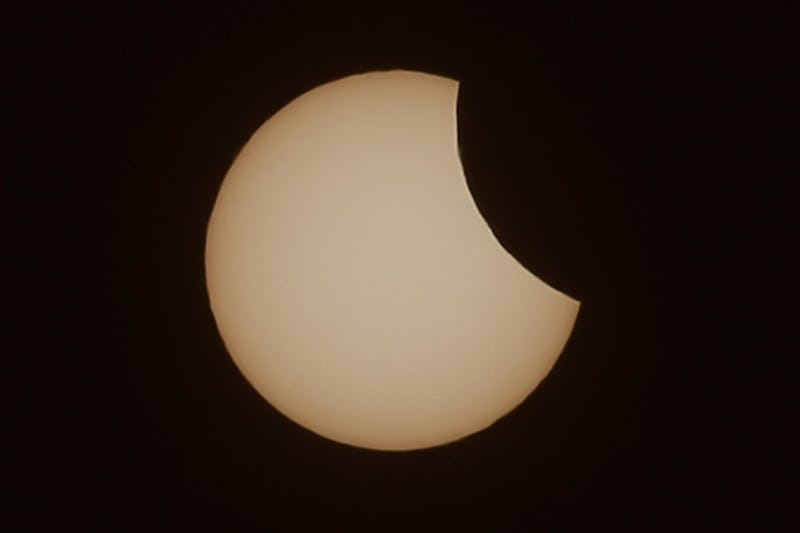 Alexander Hassenstein/Getty Images News/Getty Images
The solar eclipse is almost here, and it's time to get excited! If you've been wondering, "where can I see the solar eclipse in 2017?" this two-minute cosmic phenomenon occurs Aug. 21, and will be visible in a number of areas in the United States. However, if you're not in one of the viewing areas, thanks to the wonders of modern technology, you can still watch the entire event. While eclipses occur on the regular, this total solar eclipse is a pretty big deal because it's the first one visible in the U.S. in 38 years.
The 1979 total solar eclipse was only visible in a few states in New England, and since it occurred in the dark ages — before cellphones and the internet — most people didn't see it, according to the website Time and Date. The last total solar eclipse that was widely visible in North America occurred in 1918, so this is likely the first time most people will have the opportunity to view one. And, this total solar eclipse is accessible to most everyone on the continent.
"The total eclipse will only be visible along the moon's central shadow, which at its widest will be about 71.5 miles, according to some sources," Time and Date reported.
"Its path will span from the country's West Coast to the East Coast. The rest of North America, as well as Central America and northern parts of South America, will experience a partial solar eclipse. NASA has estimated that a majority of the American population lives less than a two-day drive away from the path of totality."
You can use Time and Date to see the cities with the best viewing opportunities, and determine exactly how much of the solar eclipse you'll be able to see from your location. Great American Eclipse also names ideal locales to witness the total solar eclipse. While the best place to view the total solar eclipse is Hopkinsville, Ky., at 1:20 p.m. ET, according to Time and Date, here are some other prime locations where you can see the magic happen.
Best U.S. National Parks To View Eclipse
America's National Parks are a great place to view the solar eclipse, and an email provided to Bustle named these National Parks as the best places to witness the total solar eclipse: Harry S. Truman National Historic Site in Independence, Mo., Jefferson National Expansion Memorial in St. Louis, Mo., Fort Donelson National Battlefield in Dover, Tenn., Stones River National Battlefield in Murfreesboro, Tenn., Congaree Nation Park in Hopkins, S.C., and Ninety-Six National Historic Site in Ninety-Six, S.C.
Parks where you can see the partial solar eclipse include: City of Rocks National Reserve in Almo, Idaho, Crater Lake National Park in Crater Lake, Ore., John Day Fossil Beds National Monument in Kimberly, Ore., Grand Teton National Park in Moose, Wyo., Fossil Butte National Monument in Kemmerer, Wyo., Homestead National Monument of America in Beatrice, Neb., Ozark National Scenic Riverways in Van Buren, Mo., Mammoth Cave National Park in Mammoth Cave, Ky., Big South Fork National River and Recreation Area in Oneida, Tenn., Fort Sumter National Monument in Sullivan's Island, S.C., Brown v. Board of Education National Historic Site in Topeka, Kan., Sequoia & Kings Canyon National Park in Three Rivers, Calif., and Redwood National Park in Crescent City, Calif.
Check out the National Park website to plan your total solar eclipse adventure, get viewing tips, #FindYourPark, and more.
The Weather Channel's Live Eclipse Event
If you can't drive to a viewing site, the Weather Channel is planning a live programming takeover, and will broadcast the entire total solar eclipse, according to an email provided to Bustle. The network will cover the event with meteorologists broadcasting live from seven locations across the country, allowing viewers to see the eclipse in totality, no matter where they are located.
Additionally, the Weather Channel will also use augmented reality technology to take viewers into space, and help those watching at home understand the science behind this once-in-a-lifetime, global astronomical phenomenon, a press release noted. Meteorologists will report live from each time zone across the country and along the eclipse's path of totality.
If that's not enough for you to get your eclipse fix on, you can also use myriad apps to stream and follow everything total solar eclipse-related.