Bekah From The 'Bachelor' Launched A Clothing Line To Support Breast Cancer Patients & Survivors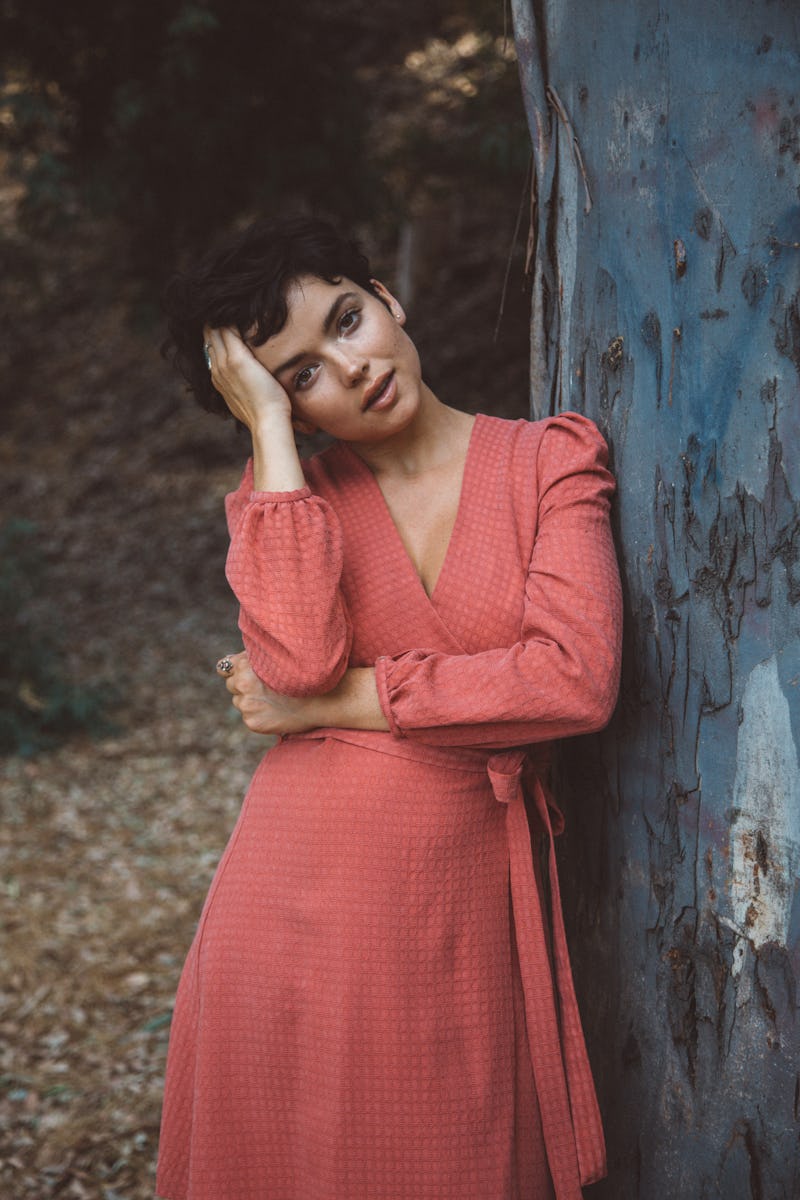 Michelle Terris Photography/Jean Franklin
Former Bachelor contestants are no strangers to brand partnerships. From working with sunglass companies to promoting the classic hair gummies, contestants' Instagrams can sometimes feel like a plethora of paid ads. But that's not true with Bekah Martinez. In her first brand partnership since the show, Martinez teamed up with Jean Franklin (offers sizes XS-XL) in a way that's fashionable, sure, but also so much more meaningful than a #ad.
If you missed a season or two of The Bachelor, that's OK. You probably still heard about Martinez. If you remember hearing rumblings of a contestant who's age ABC wouldn't reveal until showtime, that's Martinez. For the record, she was 22 at the time, but her strong opinions on and off the show prove she's a mature, thoughtful woman regardless of the year she was born in. From calling out the often toxic masculinity found on shows like Bachelor in Paradise to exposing alleged sexual harassment by a male contestant, Martinez has a strong voice — and she's using it. Now, she's teaming up with eco-friendly, ethical clothing brand Jean Franklin to do further advocate for breast cancer awareness in a way that eco-friendly and stylish.
Martinez and Jean Franklin came together to design both a wrap dress and headscarf that come in a warm red-pink shade for a reason — to honor breast cancer patients and survivors. Half of the proceeds from sales of the collection will go to benefit the Breast Cancer Research Foundation, a cause that Martinez explains is personal. Her childhood friend's mother passed from cancer, and Jean Franklin founder Amanda Singh's grandmother was a survivor.
"It's something that affects a lot of people," Martinez explains. "Almost everyone knows someone who has been affected by breast cancer, if not themselves."
For Martinez, a large part of the reason she worked with the brand is because everything made is ethically crafted and eco-friendly. Jean Franklin quickly became a perfect fit for the reality star and now soon-to-be mom thanks to the brand's commitment to both areas of sustainability.
"If I was going to want to partner with a brand, I wanted it to be with one that was going to make a difference," Martinez tells Bustle.
Martinez explains that she has recently become aware of just how much waste the fashion industry produces. It mobilized her to work only with a brand that cared about reducing this waste in their design work.
Ultimately, Martinez discovered that not only does the brand pay fair, ethical wages to its employees who make their garments, but they use only dead stock fabric in doing so.
What is dead stock? It's fabric no longer needed by other fashion houses that would otherwise be burned or put in the trash. In partnering with Jean Franklin, Martinez was actually able to go to a Los Angeles-based shop named Ragfinders and pick the fabric for their collaborative wrap dress and headscarf herself.
In an serendipitous twist of fate, Martinez and Jean Franklin didn't just choose any fabric. They ended up going with tencel, which furthers the pair's message even more.
"Tencel is a fiber that is made from wood pulp of eucalyptus trees that are grown on a farm," Martinez explains. "It's produced using recyclable, earth friendly, and non-toxic solvents.
"It just so happened that we picked out that fabric. Any of the the fabric that we picked out would be deadstock, so it's already better for the environment. But since we don't have to do any more manufacturing or production of a new fabric, but on top of that it's a super eco-friendly fabric."
The Bekah Martinez x Jean Franklin collaboration is available right now at the beginning of Breast Cancer Awareness Month, which is in October. Both the dress and headscarf will be sold online through the Jean Franklin website.
If you love Martinez or just want to support an ethical, eco-friendly, and charitable brand, this collection may just be for you.