This Blush Goes On Black & Then Makeup Magic Happens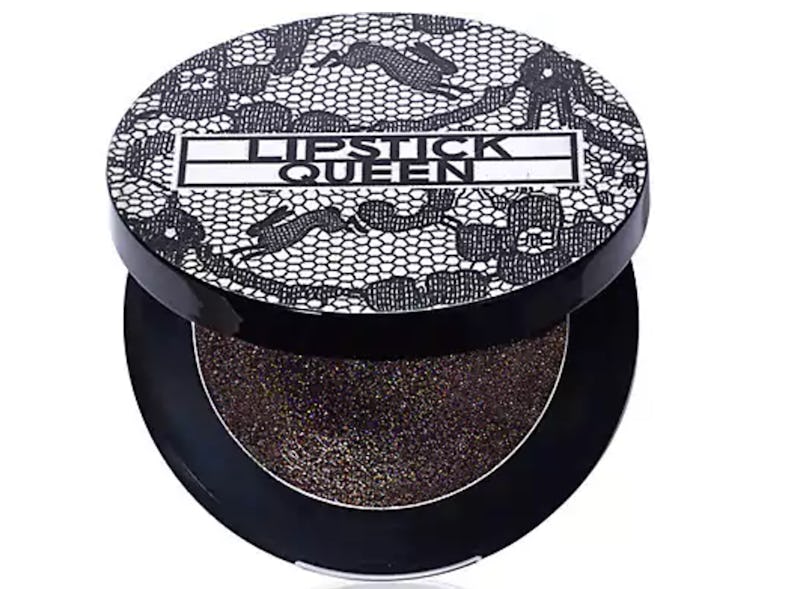 Courtesy of Lipstick Queen
As an unapologetic "all-black everything" person, the concept of black blush grabs my attention. But the execution? Well, that had me beyond curious. Lipstick Queen's Black Lace Rabbit Blush is all about makeup magic, illusion, and imagination. Because that's exactly what makeup should be.
The black cream blush formula, which is $25 at Ulta, morphs into a unique berry hue with a gold shimmer when you swirl your finger in the pan. It's a color that cooperates beautifully with many skin tones.
The mechanics of this black blush are quite simple. In actuality, the blush stays black, but is so sheer it appears to morph into a deep berry flush.
"It is a combination of science and illusion," brand founder Poppy King told PopSugar. "The black is so sheer that it creates the illusion of berry."
Black stockings are a sexy and sheer basic, and King captured that essence in makeup form. She also incorporated that aesthetic into the packaging.
"I was inspired by the idea of black candlelight and how hauntingly beautiful that would be on the face, so I designed a very sheer black — sheer as sheerest stockings — and then added gold dust to it," King said.
Black Lace Rabbit Blush, $25, Ulta
Makeup is definitely about illusions. The entire contouring trend, for instance, shadows and highlights that aren't really there. But this blush is next level, and it arrives just in time for Halloween.
This swatch certainly shows off the gold-flecked, truly berry nature of this blush, which was designed to be applied with fingers. You don't have to go brush-free when using it, though! However, it might be best to try different application techniques and tools to see which yields the best result.
In a video tutorial by beauty vlogger Tati Westbrook, you can tell that the blush is pretty much a stain — and a concentrated one at that.
As Westbrook finds, it's best to use it sparingly and to apply gingerly with your digits. Then, buff it out with a beautyblender to get that golden berry glow.
the original beautyblender, $20, Sephora
Bonus tip: You can swipe it on your lips and blot vigorously for a tinted lip. The Lipstick Queen Black Lace Rabbit Blush is proving to be seriously versatile — and gorgeous.