Candy Cane Deodorant Actually Exists & It Brings Festive To A WHOLE Different Level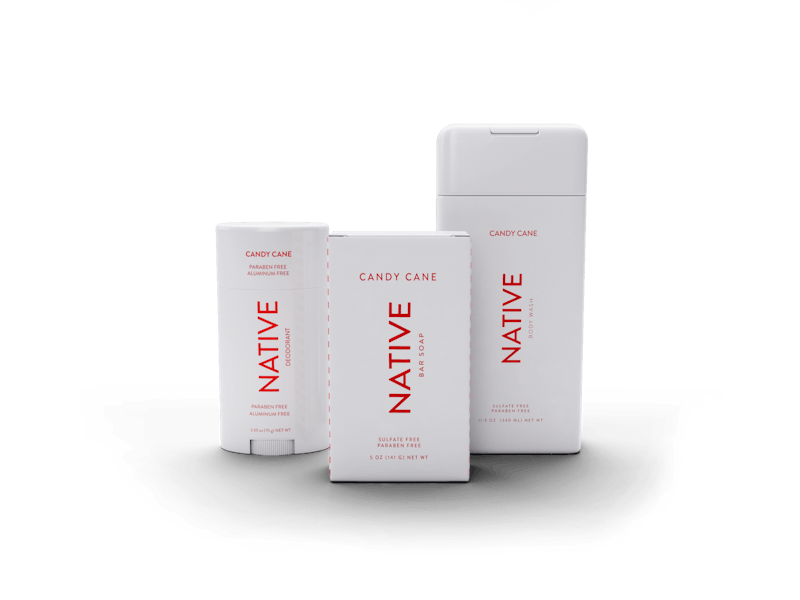 Courtesy of Native
There are innumerable ways to get festive this holiday season, which is about six weeks in length. From ugly but cozy sweaters to home decor to what's inside your Starbucks cup, you can get your holiday on in a myriad of ways. Candy cane-scented deodorant actually exists and it's an absolutely extra way to flash your festive side.
The product will certainly up the holiday cheer and seasonal merriment quotient during the most wonderful time of the year.
Native Natural Deodorant will debut this limited edition scent on its website on Nov. 30. It's $12, which might seem steep since most drugstore versions hover around $7 and under. But those deodorants don't smell like one of your fave holiday sweet treats.
It's essentially Christmas in deodorant form.
The brand notes that the crisp and refreshing deodorant is swirled with a dollop of sweet vanilla. Mmm. Body lotions, washes, shampoos, anti-bac hand sanitizers, and pretty much most of the items lining the shelves at your local Bath & Body Works during the holidays often have gourmand or bakery fragrances. But candy canes are not something most of us associate with our deodorant. Until now.
In addition to a unique and fun scent, Native Natural Deodorant hand-makes its products in the U.S. The brand never uses aluminum, parabens, or sulfates in its formulas. It does not test on animals, either.
Therefore, if your animal sympathies extend to your self-care purchases, you can feel good about using Native's offerings. The brand also offers free shipping.
Deodorant is pretty much a rote part of your self-care routine. You basically swipe and go, right? Well, the candy cane-scented version takes a normally uneventful part of your a.m. regimen and transforms it into something a little more special. It just might boost your mood and add some mirth and merriment to your morning.
The brand is also offering a Candy Cane Body Wash and a Candy Cane Soap. Layering your scents intensifies them and helps them to last longer. The more candy cane aroma on your person, the merrier. The products are ace for holiday gifting, as well. There is body wash and a two-bar pack of soap. The body wash will sell for $12, while the soap set is $10.
If you can't quite get down with a candy cane aroma emanating from your armpits, the brand has plenty of other awesome and low key options in which to indulge. You can opt for Coconut & Vanilla or Lavender & Rose or Cucumber & Mint. So you have plenty of choices if you are O-V-E-R the usual powder fresh or spring blossom scents but aren't ready to take the Candy Cane leap. Safe. Simple. Effective. That's Native.
Imagine, for a moment, swiping a few strokes of Native Candy Cane deodorant under your arms and then heading out to a holiday party. You will engulf a friend, family member, or coworker in a hug and the sweet scent of your deodorant will no doubt invigorate their senses, too.
Candy Canes — they're not just stocking stuffers anymore.