Justin Timberlake Launched A 'Man Of The Woods' Clothing Line & Each Song Has A Dedicated Item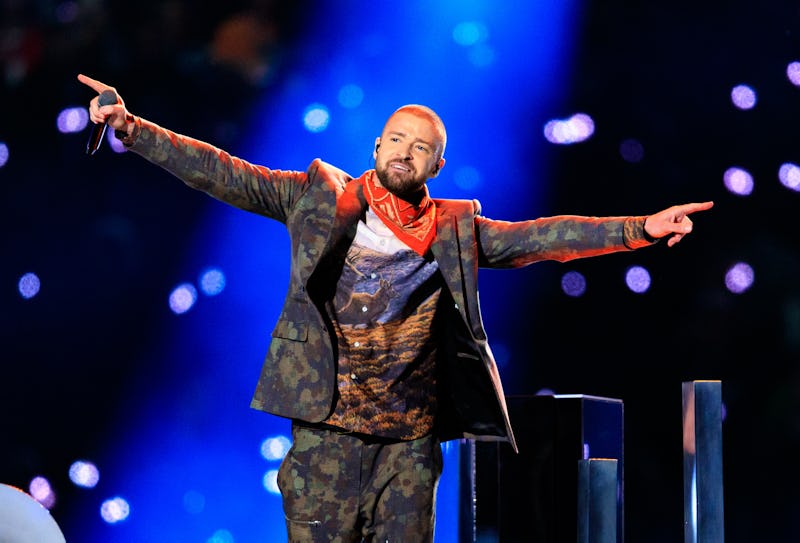 Christopher Polk/Getty Images Sport/Getty Images
Justin Timberlake wants to make you a man of the woods. According to GQ, Justin Timberlake is opening a pop-up shop — but don't expect cheesy T-shirts and accessories. The singer is teaming up with brands to create a different item for every song off of his new album, Man Of The Woods. If you're not able to make it to NYC for the big pop-up shop launch, there's still a way to get your hands on every single item.
Timberlake has always been a fashionable guy, but his Super Bowl halftime performance proved that he brought sexy back. He stepped out in a pair of Nike Air Jordan 3s that were a collaboration with the Tinker Hatfield. Little did people know that it was only the beginning of marvelous merch to come.
According to GQ, Timberlake is having a pop-up shop in New York City on Feb. 9 to the 11. While the exact location is not known just yet, the items are — and they will get you excited to shop. Each song on his album Man Of The Woods will be represented by a different collab. The Nike Air Jordan 3s will make an appearance, after selling out in less than five minutes on Nike's SNKRS app.
The sneakers will represent the song "Higher, Higher." Best Made Co. will have four different items out to represent the songs "Sauce," "Man Of The Woods," "Supplies," and "Livin' Off The Land." They have yet to announce what the products are.
Others, like Levi's, which is behind "Flannel" and "Montana," are already offering giveaways to win Timberlake's Trucker Jacket. Levi's is also creating for the song "Hers." According to GQ, the item will be a jacket that uses fabric from Jessica Biel's birth year.
If you can't get to New York to shop the collab in person, there's still a way to get the items. All of the brands will either be selling or holding a giveaway to get the Timberlake pop-up items. Some of them are already on the brands' websites.
Timberlake has posted a majority of the items on his Instagram with links that show where to shop. Some of them are tailor made to the song, like Best Made Co.'s "Sauce" flask. Others are just super trendy, like the outsdoorsy but still stylish looking Trucker Jackets from Levi's and the Pendelton x Levi's plaid shirt.
There are some subtle fashion items up for grabs, too. Warby Parker created three different sunglass designs for the song "Wave." The tortoise-shell, clear, and black sunnies are already available to shop for a limited time. So save yourself some money on a plane ticket, and go get to shopping online.
Like I said before, the actual place of the pop-up shop has yet to be announced. According to Timberlake's Instagram post, the exact New York City location will be shared the night of Feb 8. It's unclear whether this is a plan to keep the items in stock for as long as possible or to get people excited. If you're look to take the trip, you'll have to stalk Timberlake's social media to find out.
Timberlake has yet to comment on why he chose the brands or how he went about helping to design the items.
Either way, it a giant leap for the name of merch. Until now, celebrities just put their face and lyrics on a T-shirt and jacked up the price. This pop-up shop idea proves that not only is Timberlake a fashionable force to be reckoned with, he's also single-handedly changing trends.