The Dress Kate Middleton Wore When Leaving The Hospital With Baby Number Three Is So Bold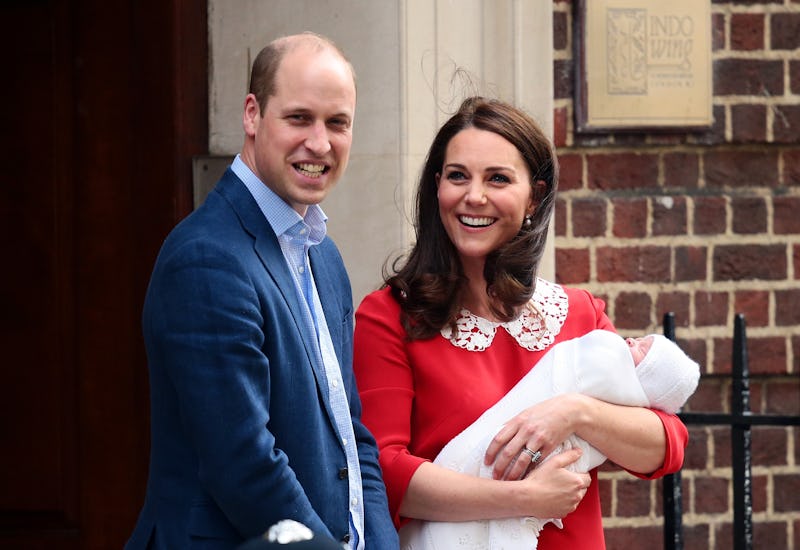 Jack Taylor/Getty Images Entertainment/Getty Images
The royal baby is here, which means one more closet to fill. To kick things off, Kate Middleton wore a bright red dress to show the world her beautiful baby boy for the first time. This day might be about the little one, but all eyes were on momma's outfit. The brightly colored dress is a whole lot different than her previous two baby announcement outfits. If you're looking to add a little royal color in your life, you can score a great look-a-like.
There is always a reason for a royal to dress up, but announcing a new baby is one of the best. Middleton and Prince William stepped out onto the stairs of St. Mary's Hospital to announce their adorable bundle of joy on April 23. The place and the pose has happened three times before with the Duchess and Duke of Cambridge, but the outfits have changed.
Momma Middleton wore a gorgeous bright red dress for the big moment. She held her little baby boy, wrapped in a white blanket, while wearing a dress embellished with a lace Peter Pan collar. Prince William picked a head-to-toe blue ensemble to show how excited he was about the baby boy.
Compared to the last two outfits she wore for the big moment, this dress was a lot more bold than the others. When Prince George of Cambridge, aka baby number one, was born, Middleton wore a baby blue and white polka dotted dress to announce the birth. She swapped that look for a yellow and white floral print dress two years later to announce the birth of their daughter, Princess Charlotte of Cambridge.
Middleton opted not to stick with pastels for her St. Mary's dress number three, if you will. The royals love their traditions, so there's a good reason that she opted for red. According to People Style, April 23 is St. George's Day, which is the feast day of St. George, the patron saint of England who is synonymous with the crimson color.
Prince William wore a light blue button-up and a navy blue suit to make the announcement. If the outfit is any indication, he is very excited to add another boy to the family. Prince George and Princess Charlotte got into the blue theme as well. Both of them were decked from head to toe in the color to go meet their new baby brother.
The dress was a custom Jenny Packham, and isn't available for purchase — at least not yet. That being said, there are tons of different look-a-likes already floating around out there.
You can snag an almost exact replica of the bright red dress from Lily Boutique for $30. The one-piece also has soe lace details on the sleeve, if you feeling a little extra. Or you can opt for a high end, sleeveless lookalike from Maje for $320.
It's only a matter of time before dresses like this start popping up all over the place. If there's one thing that you can always predict, it's that the royals' outfits are always creating trends.
The royal baby boy was born on April 23 at St. Mary's hospital, according to the Twitter announcement from Kensington Palace.
"Her Royal Highness The Duchess of Cambridge was safely delivered of a son at 1101hrs," the tweet reads. "The baby weighs 8lbs 7oz. The Duke of Cambridge was present for the birth. Her Royal Highness and her child are both doing well."
There is no word yet on what the baby's name will be. George would have been a great contender considering the holiday, but it is already his brother's name. Both of the royal couples other children — George and Charlotte — have names that go back decades in the family. There's a good chance that baby number three's will as well.
Until then, at least you can gawk over the gorgeous red dress from Middleton. This mom has still got it going on — royally, of course.