Here's Where To Buy Kendall + Kylie Sunnies Online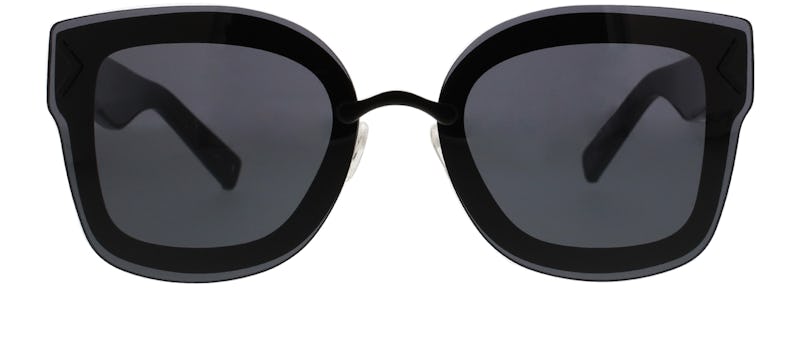 If you are on the hunt for new shades, then get ready to say "#ByeMoney." The Jenner Sisters' upscale, eponymous Kendall + Kylie line is launching its sunglasses range on Monday, Jan. 23. Only a handful pairs will be made available at a popular online retailer for now, according to Refinery 29. Where can you buy the Kendall + Kylie sunglasses?
Eight pairs of the Kendall + Kylie sunglasses will be available via Revolve. Refinery 29 also reports that the entire collection will land at Nordstrom in early March 2017. So there are more shades in our future and at a major department store.
Bustle reached out to Kendall + Kylie PR for further details about shopping locations, dates, and price.
UPDATE: Bustle heard back from Kendall + Kylie PR. The full collection will debut at both Nordstrom retail locations and Nordstrom.com in March. The range will also be available at Bloomingdales, ShopBop, Lord & Taylor, along with select department and specialty stores in the spring.
Despite announcing in March 2016 that they would be doing a range of shades, the brand first teased that sunnies were legit on the horizon back in November with an Instagram post of model and elder sister Kendall rocking a pair of mirrored aviators.
Since the current Kendall + Kylie range also features a variety of wearable, fashionable, and on-trend accessories, from fluffy keychains to bags to shoes, it makes total sense for the sisters to branch out into eyewear.
As Women's Wear Daily reported, the duo is stoked to launch these sunnies, since "Eyewear is the finishing touch that elevates any look. We can't wait for our customers to see the world through our eyes."
Check out Kendall rocking those aviators and statement striped pants in the Insta tease from November. I can only imagine what it's like to see the world from satellite Kardashian eyes! I'm guessing that's a pretty awesome vantage point.
K+K have so much experience with accessories, like these kicks. A quick review of the Refinery 29 gallery shows the shades to be unique. There are cat eye frames, geometric silhouettes, and wayfarers.
Kylie's sunglasses game is strong.
Kendall slays her shades, too. Refinery 29 also reports that the shades run from $145 to $220 a pair.
Get those credit cards ready, sunglasses fiends, because it's time to shop.
These eight pairs are currently available at Revolve.
Images: Kendall + Kylie/Instagram (2); Courtesy of Kendall + Kylie (5)