Manic Panic Released An Eyeshadow Palette In The Same Colors As Its Iconic Hair Dye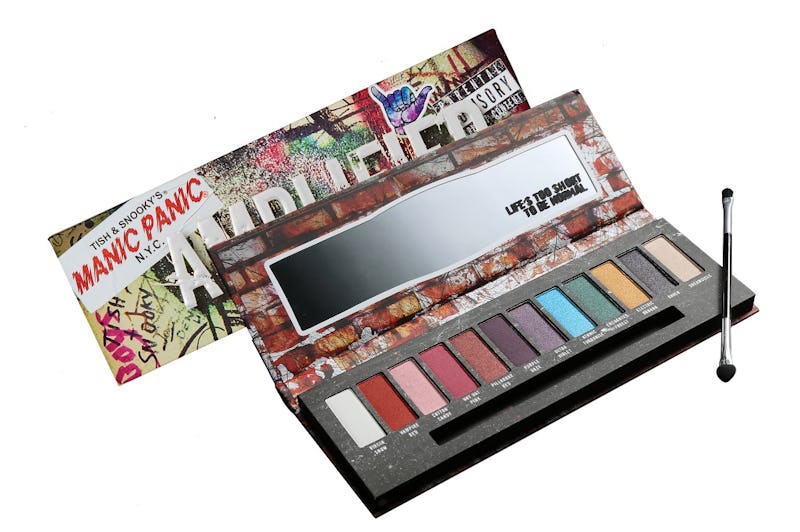 Courtesy of Manic Panic
Manic Panic is emblematic of the '90s, when its jars of oxblood and royal blue hair color allowed users to enjoy bold, saturated strands. The brand is still going strong and is celebrating its 40 anniversary with the Manic Panic Amplified Eyeshadow Palette.
If you are a child of the '90s, which have been influencing fashion and beauty trends throughout 2017, then you are so going to want this eyeshadow collection. The colors are just as fantastic as the brand's cult-fave hair dyes.
The new Manic Panic makeup palette hosts 12 eyeshadows that match a dozen of the brand's classic hair hues. Neutrals such as Virgin Snow (white), Raven (black), and Dreamsicle (ivory) live in hue harmony with the bright, rich shades like Vampire Red, Ultra Violet, Cotton Candy, Hot Hot Pink, Pillarbox Red, Purple Haze, Atomic Turquoise, Enchanted Forest, and Electric Banana, which add adventurous pops of color.
But that packaging, though. It features a distressed image of CBGB's iconic bathroom wall. If you are unfamiliar, CBGB was a downtown NYC venue where iconic acts like Blondie graced its stage. It has since closed down, but its bathroom wall was the stuff of legends. It's now immortalized in makeup packaging for a punk rock brand that shares its ethos.
The Manic Panic Amplified Eyeshadow Palette includes a dual-ended brush and a mirror, so you can tote it wherever you may roam. It will serve all your on-the-go makeup needs. The palette is incredibly affordable at $11.90 and is available exclusively at Hot Topic's website, as well as at Hot Topic stores nationally. Notice that the mirror is also stamped with the phrase, "Life's Too Short To Be Normal." Amen to that mantra.
The colors are dramatic and feature both matte and shimmery textures. The stellar pigments and packaging fall in line with the Kat Von D Beauty aesthetic. If you are a Kat Von D-evotee and prefer rock chick makeup, you will magnetically gravitate towards the Amplified palette.
Speaking of the packaging, this is easily the most punk rock makeup palette in existence. The graphics leap out at you, as do the actual pigments under the hood. In a world full of shadow palettes, Amplified stands out because it embodies the counterculture spirit of Manic Panic, Hot Topic, and CBGB.
Click through to the second video in this post for a closer look at the shadows. There are innumerable mix and match combos. Red-toned smoky eyes? Violet eyes? Yep on both. Customized potential abounds with this palette.
Manic Panic's palette is so self-referencing. That's what happens when your hair dye is long-loved game-changer. Here's a sampling of fan reactions toward the palette.
Really awesome makeup can totally elicit tears of joy.
From matching hair colors to normal questions about its vegan status and the depth of its pigmentation, the Manic Panic Amplified Palette is getting quite a passionate response. The brand has touted its vegan and cruelty-free status in recent Insta posts, so one can assume that Amplified adheres to Manic Panic's previously established animal sympathies.
The internet has spoken and it is stoked.
Manic Panic has always been the gold standard for unique, unusual, and loud hair color. If you're not able to do blood red, hot pink, or aqua blue hair, you can get your color fix from the Amplified palette.
The '90s are back and they're here to stay on your locks and your lids, thanks to Manic Panic.