This Creamy Highlighter Stick Will Give You The Perfect Millennial Pink Glow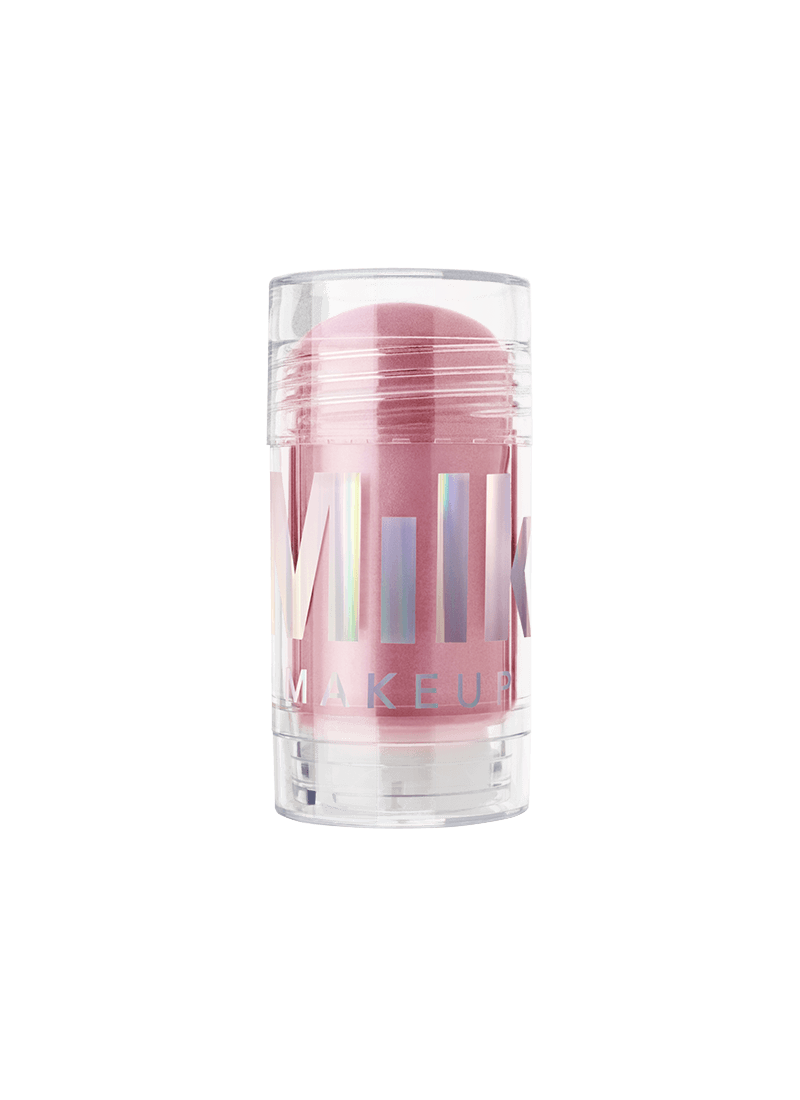 Courtesy of Milk Makeup
While Ultra Violet aka purple is Pantone's 2018 Color of the Year, millennial pink remains popular among makeup brands. Now, Milk Makeup is adding Stardust, a pretty and prismatic pink shade, to its collection of Holographic Sticks. It's a perfectly executed millennial pink that will add an iridescent and icy illumination to your visage.
You can swipe Stardust on your cheekbones, straight from the see-through, twist up tube. Or you can rub you finger over the top of the chubby stick and then apply the product to your lids, lips, or elsewhere, dabbing and buffing until you achieve the desired effect. Thanks to an ingredients list that includes mega moisturizers like mango butter, coconut oil, and avocado oil, the Holographic Sticks are good for your skin, too.
Stardust arrived on Dec. 19 via the Milk Makeup site, and is also available at Sephora stores and its site. This stick costs $28. But the tube will last forever, even if you use it every day and for a variety of purposes.
Just like its sister shades Mars (golden peach) and Supernova (lavender), Stardust complements all skin tones and adjusts as you apply, build, and buff your look.
Early responses were super positive, since Milk fans seem to adore the color itself. Makeup lovers were also exchanging usage ideas and Milk even chimed in to encourage shoppers to utilize Stardust as a wash of color on their eyelids. This gorgeous shade multi-tasks.
Check out Stardust in action IRL. It can be applied to multiple features without looking too monochromatic or like you've overdone it with pink. If you sweep multiple layers on lips, you should go lighter on the high points of your cheeks to keep your overall look balanced, like this beauty did! Or you can rock it as a blush, building radiant coverage as you wish.
Stardust Holographic Stick, $28, Sephora
Here's why — this is legit the most universal pink. It will pop in a different way against any skin tone. Want proof?
OK, just go ahead and soak in the swatches. Stardust is a shade shifter that suits all skin tones. Welcome to the Holographic Stick fam, Stardust!
Twitter was quick to express its strong opinions over this latest shade, but the chatter was not just because the color is lovely. Some users were seeking further evidence of its true holographic nature and taking issue with using the "holo" tag.
It's all about shifting rainbows in light and fans were asking to see as much, since that's what makes it truly holographic.
The brand did respond to the user seeking more evidence.
The holo faithful was vocal. Holo is a super specific term and description. It can be confusing, as well as often confused with iridescent, as many users explained.
This user still loved the shade, despite nixing its holo status.
Despite the discussion of the holo nature of the product, Stardust is super pretty and will continue to build up an army of users and loyalists. Grab a tube for yourself and for the makeup lover in your life.