Minnie Mouse Coach Purses Actually Exist & You'll Want Every Single Kitchy Bag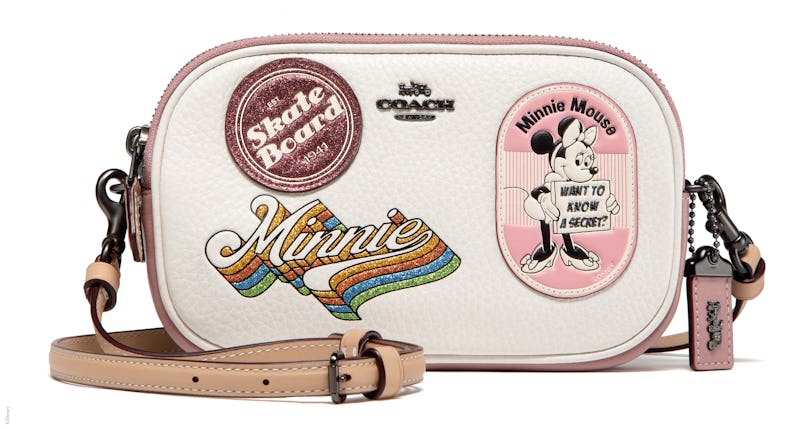 Courtesy Coach
There is a lot of Disney merch out there, but none quite this symbolic. Coach created a Minnie Mouse collection to celebrate the 90 year anniversary of the character. The collection is filled with clutches and handbags and clothing, oh my. All jokes aside, you can trust me when I say that you're going to want every single item. Because female empowerment is important — even when it comes to cartoon characters.
Minnie Mouse is without a doubt one of the most iconic characters of all time, and a badass mouse lady. Her round ears and polka-dots have made for gorgeous clothing collections in the past, but this one is a little different.
The collection has ear-shaped bags, clutches, and bags with patches that represent milestones in Minnie's life. There are even a few clothing items and travel tags to go along with it. Move over, Selena Gomez, because this collection is one to watch.
Coach also put together the limited-edition Minnie Mouse collection to celebrate Minnie finally getting her star on the Hollywood Walk of Fame. Her moment of literal stardom comes 40 years after Mickey Mouse got his star. Because even female characters have to deal with inequality in the workplace. Coach even made her outfit for the big day, and, since not everyone wants to dress exactly glittery dress, a purse collection to go along with it.
Minnie Mouse Kisslock Bag, $450, Coach
The collection is up for grabs on the Coach website right now. Each piece ranges from $75 to $895, which is not exactly affordable. Apparently the collection is worth it to Disney lovers though. Between the time that Minnie got her star on the Hollywood Walk of Fame on Jan. 22 and the afternoon of Jan. 23, every single item from the collection is sold out.
Yes, that's every. single. item. Everything from the $450 handbags to the $95 keychains are gone. Even the $895 high-priced purse is unavailable. That's a whole lot of love for Minnie, my friends. Bustle has reached out to Coach to see if there will be a restock of the limited-edition collection.
The collection is all about the progression of Minnie as a character. There are different patches on every single bag, including the character applying lipstick and one giving a smooch to her beau. That makes Minnie loves interested in collecting them all. \
Katy Perry was there to introduce Minni at the Hollywood Walk of Fame, wearing the classic red and white polka-dotted dress and a bit hat to go with it. There's no word on why Perry was picked for the big day, but she wasn't the only star to show up. Even Gisele Bündchen showed up wearing Minnie ears.
Of course, no one looked better than Minnie though. After 40 years of waiting for her time to shine, it did not go unnoticed. Mickey even stood by her side for the big day. Mickey might have gotten his star first, but he's never had a Coach collection designed after him.
Crossbody Clutch With Minnie Mouse Patches, $250, Coach
If there's anyone that could completely sell out a 13-piece collection, it's Minnie Mouse. Fingers crossed that there will be a restock sometime soon, because fans can't seem to get enough.
These aren't just purses, they're a sign of one of the most powerful women in film. Even if she is a cartoon.