A 'Queer Eye For The Straight Guy' T-Shirt Exists & Tan Would Definitely Approve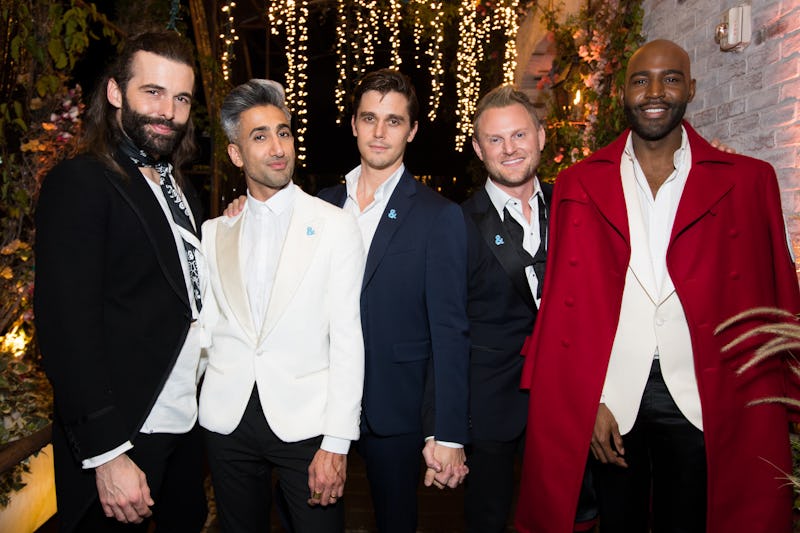 Emma McIntyre/Getty Images Entertainment/Getty Images
If you've fell down the Netflix rabbit hole and you're looking for ways to show your love for Queer Eye For The Straight Guy, there's no better way than through fashion. But it turns out that the best piece of merch was no recommendation from the show. A Queer Eye shirt with the new Fab Five's name on it is available online, and it's perfect for any fan of the show. Graphic tees might not be fancy, but this is one shirt that is definitely a key part of any fan's wardrobe.
With any cult classic show comes a whole lot of merch. The items range from completely wearable to ones that only the biggest fans could possibly recognize. This one is somewhere in between. Instead of splattering the name of the show or logo on the front, this shirt has the name of all the guys on it, reading "Tan & Antoni & Bobby & Karamo & Jonathan."
As far as graphic tees go, this is one that even the clique would approve of. The classic black and white makes this totally wearable and can match with just about any pants. You know, if you're worried about that. Something tells me that Tan would let anyone keep this in closet even after their make-better.
There's only one place to buy the tee — and it's probably not what you're thinking. You can snag the shirt from Redbubble for $20. That's a small price to pay for this much fandom. As of Feb. 27, all sizes — small through 3XL — are currently available. The design is unisex, so you might want to use the size guide before you buy.
Oh, and it's available in 17 colors. If black and white isn't for you, there's gray, cream, red, green, blue, purple, and even white on white. Each top is also ethically sourced, slim fit, and 100 percent cotton.
This might be the most chic looking merch from the show, but it's not your only option.Here's some of the best, so you can wear your love for Queer Eye on your sleeve — literally.
1. Boxes Checked Top
QUEER EYE FOR THE STRAIGHT GUY? Single Taken At Home Watching Tv Show T Shirt, $22, Gees Tees
Don't have time for a relationship because you're too busy watching the show on Netflix? Now you won't have to explain. You can just wear the shirt instead.
4. Vintage Throwback
Vintage Tee Shirt 2003 TV, $24, eBay
Prove that you were a fan from the very beginning with this vintage eBay find. Because nothing beauty a throwback.
3. Wine & Netflix Binge
All I Want To Do Is Drink Wine And Watch Queer Eye For The Straight Guy , $20, Gees Tees
All you really need in your life is a good drink and a great show to watch.
A true fan has more than one merch shirt, and this should give you plenty of options.