Gabi Gregg's New Size-Inclusive Lingerie Line Will Help You Slay In Lingerie — EXCLUSIVE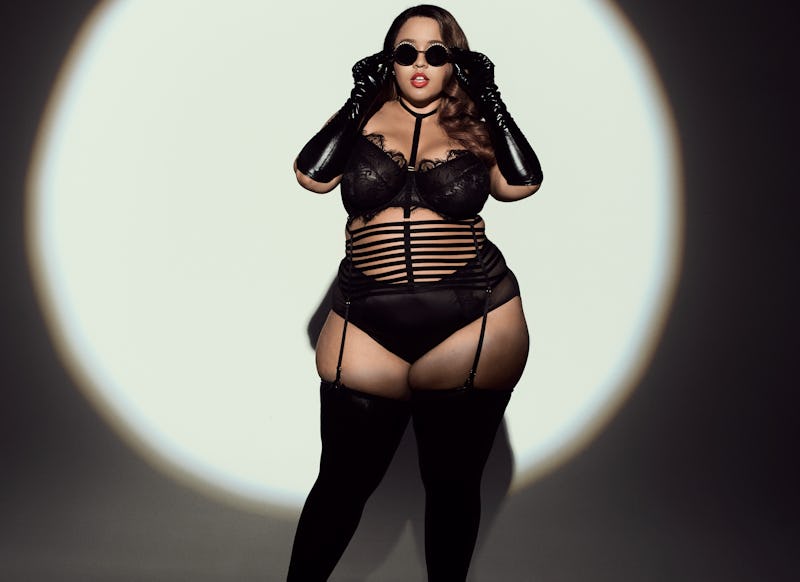 Ryan Michael Kelly/Playful Promises
Gabi Gregg is the progenitor of the fatkini. She's one of the co-founders of Premme. She's a social media star and blogger extraordinaire. Basically, there's nothing Gregg can't do. Now, with her second GabiFresh x Playful Promises collection (offers U.S. sizes 12-24 and bra sizes 36B through 44I, with select styles up to K), she's working to fill in the gaps within the plus size industry and telling women to leave the idea of "flattering" behind.
You may be thinking that GabiFresh's (who's real name is Gabi Gregg) collaboration with Playful Promises happened several months, and you'd be right. They're back together again pushing the boundaries of plus size fashion together. The GabiFresh x Playful Promises is available right now at the Playful Promises website, but if history repeats itself, you may want to move quickly. Gregg and the brand's first collection was wildly successful; pieces sold out in only 48 hours. But that's not the only reason she chose to work with the brand again.
For the style star, she and the brand share a creative outlook. Both believe in creating statement pieces, ones that are difficult to find in the plus size style space. For Gregg, this include elements like floral mesh, velvet, and sequins, all designs that grab attention when brands with more straight-sized perspectives might request more demure looks from plus size lingerie.
Gregg rebels against that idea, one that she says clothes must be flattering, a word she calls, "a thinly-veiled dog whistle" that just means making a body appear smaller.
Gregg's designs with Playful Promises reflect her rejection of the word flattering. With bold floral patterns, low-rise panties, and new bralettes that were available during the last round, Gregg is pushing back on the idea that plus woman should only wear certain styles.
Gregg explains that with some designs, even if they're not called "flattering" by their brands, the styles themselves say that. Gregg's pieces were designed with intention not to reflect the same idea.
"I intentionally create things that are statement pieces, that do make people turn their heads and look," Gregg tells Bustle ".They either are going to make you feel great or help you get to that point. Women are intentionally buying things that show their belly and show their back rolls, and all these things that in the past we were told are unacceptable."
For the collection, Gregg didn't just help design the pieces. She's also the model, and according to the stylish blogger, the experience helped her remember to feel beautiful. She explains that before the campaign images, she had not been embracing herself the way she needed, and at first the idea of the shoot was daunting.
Once on set and after seeing the images, that changed. That's kind of the power of clothing and her lingerie.
"The experience was actually pretty awesome, seeing how sexy I felt and how much it improved my mood and just my self-esteem in the moment and really helped my body image," Gregg tells Bustle. "I actually felt really beautiful on set, and then, to get the photos back and kind of take myself out of my own cycling mind, and be like 'Oh, that girl is actually totally gorgeous,' and to like think 'My body was banging.' So, it was just reminding myself that I am beautiful as I am, and I think lingerie really helps to do that."
If the Gabi Fresh x Playful Promises collaboration sounds like a dream come true, that's probably because it is. With plus-inclusive sizing, bold designs, and a creator who values bodies in all shapes and sizes, it's definitely time to start shopping.