What You Need To Know About Weed In Michigan Now That It's Officially Legal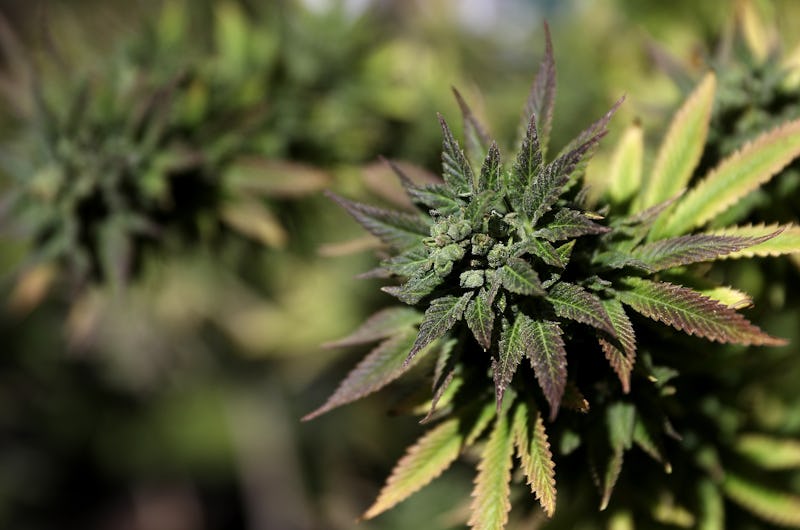 Justin Sullivan/Getty Images News/Getty Images
After Michigan voters chose to legalize marijuana in the state last month, it officially became legal for recreational purposes on Thursday. There are a few things you should know about Michigan's legal weed, though, as no retail stores have opened and there are still some restrictions in place. Nevertheless, becoming the first state in the Midwest to allow recreational weed is a pretty big deal.
Residents who are 21 or older can now legally possess or transport up to 2.5 ounces (roughly 71 grams) of marijuana, or up to 10 ounces in a nonpublic place. People who want to grow their own can legally have up to 12 plants, as long as they're not visible to the public. Public consumption is still prohibited, which means you're only legally allowed to smoke at home or at another private property — though landlords and employers can prohibit it, as The Washington Post notes.
As for retail stores, the state hasn't established regulations yet, but MLive.com reports that it must start licensing businesses in 2020. Businesses already licensed as medical marijuana businesses will be able to apply for recreational licenses first. And as the proposal kicks into gear, more changes could come down the line, including bans on weed in individual cities.
The state is looking into how it should address marijuana convictions that have already landed people behind bars. Governor-elect Gretchen Whitmer, who will take office in January, said after her election victory that she supports expunging the criminal records of people convicted for crimes that are now completely legal.
"I think that the people of Michigan have said that for conduct that would now be considered legal, no one should bear a lifelong record for that conduct," Whitmer said at a November press conference. "We will start taking a look at that and making some decisions and taking some action early next year." She added that she wants to make sure taxes the state collects from weed sales are spent "as the voters intended them to be."
A 10 percent excise tax on marijuana businesses will go into effect once retail shops open, with the money going toward implementation costs, clinical research trials, schools, roads, and the local governments that allow marijuana businesses within their borders. A 6 percent sales tax will also apply, The Detroit News reports.
Michigan is the 10th state to legalize recreational weed, and Matthew Schweich, deputy director of the Marijuana Policy Project, said in a press release last month that it's also the second-most populous state in the country to approve marijuana legalization. He called the passage of Proposal 1 a "major milestone for marijuana policy reform in the U.S."
"Michigan is going to demonstrate that regulating marijuana works, and it will set a strong example for other states in the region and around the country," Schweich said.
Until shops open, Michigan residents who want to smoke but don't have a medical card will still have to find other ways to get their hands on weed — or start growing a little in-home garden.