Charlotte Pence Has An Impressive College Resume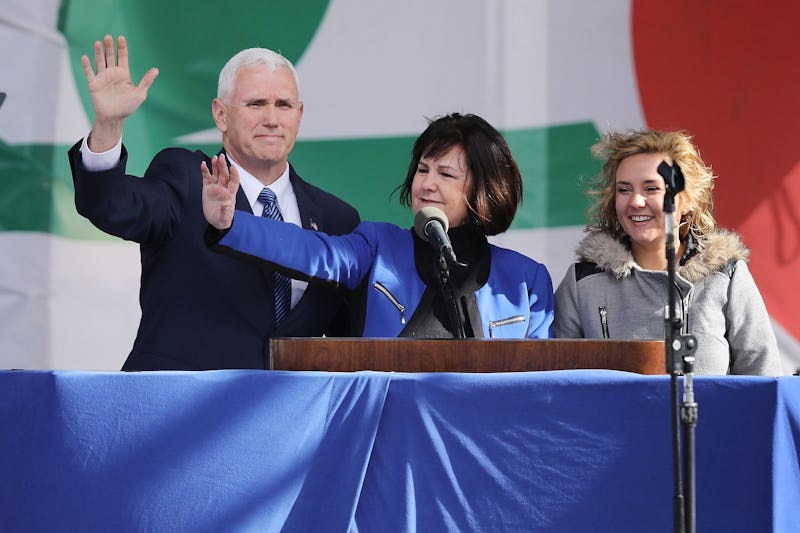 Chip Somodevilla/Getty Images News/Getty Images
Vice President Mike Pence's middle child was probably the most visible of his three children on the campaign trail, and it's because she had some time to spare. When her dad officially got the nod as Donald Trump's running mate, Charlotte Pence had just graduated college. And as far as post-grad summers go, Charlotte had a pretty productive one hitting the road with her father.
Charlotte is a graduate of DePaul University in Chicago, the largest Catholic university in the United States. Charlotte had just graduated in June and was working at a summer camp in Indianapolis when her father was tapped to join Trump's campaign. As she told the DePaulia, her alma mater's paper, she had a unique position in which she could campaign with her family for as long as she wanted to, but it was certainly her choice. "I think a big part of it was that we're in this position where I can be as involved as I want to be or not involved at all," she said. "And that's how it's always been for us kids."
While at DePaul, Charlotte studied film and had a double-major in English. She also spent a semester in Oxford, England, and had a column for the student paper under the pen name "Charli Rose."
In her post-grad interview with the student paper, Charlotte praised the university for its well-rounded academics:
[...] I think a big part of why I love DePaul so much is because you could do other things. Like I was really involved in film, but then I was also a double-major in digital cinema and English. So I was able to kind of get involved in things that were not just specific to my major or my chosen career field. And I think that it's such more well-rounded. I think DePaul really fosters that in people.
On top of her studies, Charlotte was also involved with student ministry, worked in Chicago public schools through a program called Peacemakers, was in the creative writing community and film community, and also in a sorority. Whew. I guess after that schedule the campaign trail seemed easy in comparison.
While in school, Charlotte was part of a few documentary projects, one which one a few local Emmys. But after graduating, she jumped at the opportunity to join her parents on the campaign trail. "I told people I couldn't pass up this opportunity to travel the country and see the country from this perspective," she told the DePaulia. "It's so interesting. I think it can be so fun and so exciting, especially if you have family around you."