This 'Reputation' Song May Tell Us How Taylor Swift & Joe Alwyn Met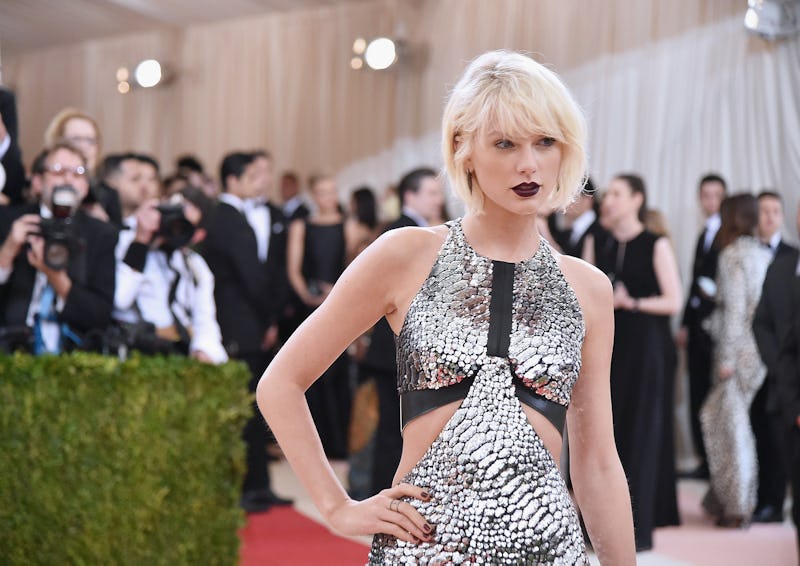 Mike Coppola/Getty Images Entertainment/Getty Images
Taylor Swift's much-anticipated album, Reputation, is finally here, and fans and critics alike scouring the tunes for clues as to what the lyrics mean. One song in particular may just point to where Joe Alwyn and Taylor Swift met before their romance became the apparent basis of almost an entire album. Swift's rarely subtle and often dramatic call-out tendencies are visible throughout the album, often pointed at her various beefs with former friends or lovers, but the album also has its gentler moments. The track "So It Goes" seems to be an ode to actor Joe Alwyn, who Swift is reportedly dating. The couple (if that is what they are) has remained quite private throughout the reported relationship, but the song may have revealed new details about how it all came together:
Met you in a bar / All eyes on me / your illusion is / All eyes on us / I make all your grey days clear and / Wear you like a necklace / I'm so chill, but you make me jealous / But I got your heart / Skippin', skip-skippin' when I'm gone
Lo and behold, the pair may have actually met in a bar, if Alwyn is indeed who this song was about. If reports from anonymous sources are to be believed, the relationship seems to be getting serious, though neither party has spoken out about it, nor have they attended any public events together. "It's a great relationship that everyone hopes will last," a source, which People magazine cited as an anonymous Swift insider, told the publication. "Joe could definitely be the one."
The source also said that the low profile is very much a conscious decision, which would be understandable, given how much publicity has followed Swift's past relationships. "Their relationship is very different from Taylor's past ones," the source told People. "They much prefer having dinner parties at home with friends than going out. Just like Taylor, Joe is a homebody. He loves being an actor but doesn't like the celebrity part of it. It's pretty special to find someone you're on the same page with."
The song certainly seems to be reminiscent of a relationship that's endured despite public attention or the stresses that come along with it. Of course, Swift has had her share of high-profile relationships, and has never had a problem writing songs about past flames. The star has been linked to the likes of Harry Styles and Jake Gyllenhaal, and most recently, Tom Hiddleston, to name a few. Other tracks on the album, such as "...Ready For It?" and "End Game" definitely seem reference romantic relationships either past or present, though Swift has never made a habit of specifically disclosing who the songs are about.
Swift is a bit of an easy target for those looking to tease her about writing songs about current and ex-beaus, but she's taken on that criticism before. "You're going to have people who are going to say, 'Oh, you know, like, she just writes songs about her ex-boyfriends,'" the singer told an Australian radio show in 2014, according to Time. "And I think frankly that's a very sexist angle to take. No one says that about Ed Sheeran. No one says that about Bruno Mars. They're all writing songs about their exes, their current girlfriends, their love life, and no one raises the red flag there."
She's got a point. It's natural for an artist to draw upon her own experiences and relationships for inspiration — show me a songwriter who doesn't do the same; I bet you can't. And trust me, there are many legitimate criticisms about Swift to be made, but writing songs about her love life is not one of them. Swift is under no obligation to confirm or deny who or what her songs are about, but that certainly won't keep her fans from speculating... and trying to scout out significant moments like a meet-cute between her and Alwyn.