Why We Call Him "Amtrak Joe"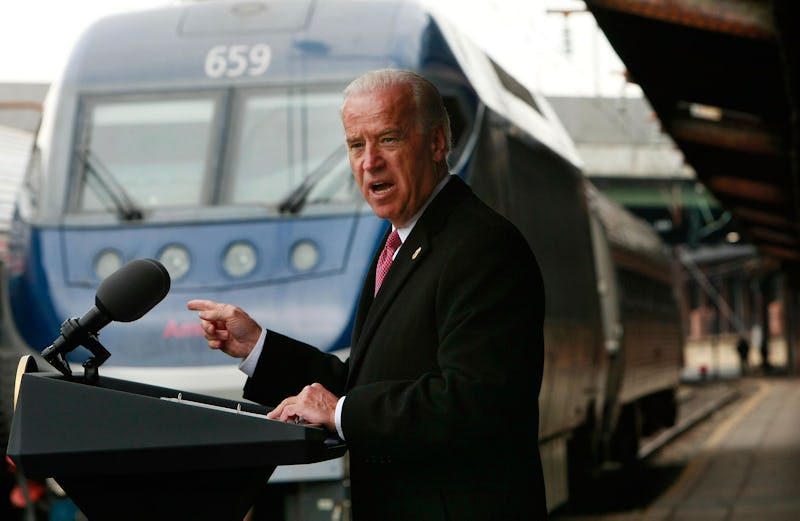 Win McNamee/Getty Images News/Getty Images
Former Vice President Joe Biden left Trump's inauguration ceremony in the most appropriate fashion: via a Delaware-bound Amtrak train. Also known as "Amtrak Joe," he playfully called attention to his choice of transportation. Time reported that, while waving to onlookers and boarding the train car, Biden said, "Back on Amtrak." He has carried the nickname for a period of time, but where did the Amtrak Joe nickname come from?
Biden is a noted train enthusiast and advocated for improvements to America's railway system during his time as vice president. In 2016, he facilitated a $2.45 billion federal loan to Amtrak to buy new trains and fix up tracks and stations. Best of all, he announced the loan in August from a station named for him, the Joseph R. Biden Jr., Train Station in Wilmington, Delaware.
But Biden's love of trains, and Amtrak in particular, extends beyond his first days as vice president. Back in 2008, when Biden was still just a White House hopeful, the Washington Post published a story focused on his dedication to commuting by rail. At that time, he had been commuting back and forth on Amtrak for over 30 years as he lived in Delaware and worked in Washington.
Unfortunately, Biden began riding the train in the wake of a tragedy. Shortly after he was elected to the Senate in 1972, his wife, Neilia, and baby daughter, Naomi, died in a car accident. His sons, Beau and Hunter, were injured. The train became his primary means of being home with his sons each night. Over the next few decades of taking it daily, Biden became friends with several Amtrak employees and fellow passengers.
Just before he won the vice presidency in 2008, Biden told one voter, "If we get elected, it will be the most train-friendly administration ever," according to CNN. In 2010, he wrote an article for Arrive, Amtrak's onboard magazine, called, "On the Right Track: A Longtime Amtrak Rider on Why America Will Always Need Trains." Most recently, the Obama administration awarded $1 billion to the city of Chicago for improvements to its "L" train lines.
No doubt, Biden has well earned his locomotive nickname over the years. His Inauguration Day trip out of Washington on the train only further solidifies it. For his eight years of service, Biden can be called former vice president for the rest of his life. But to train and Amtrak enthusiasts alike, he'll always be "Amtrak Joe."