Tom Brady First Started Playing Football A LOT Later Than You Might Think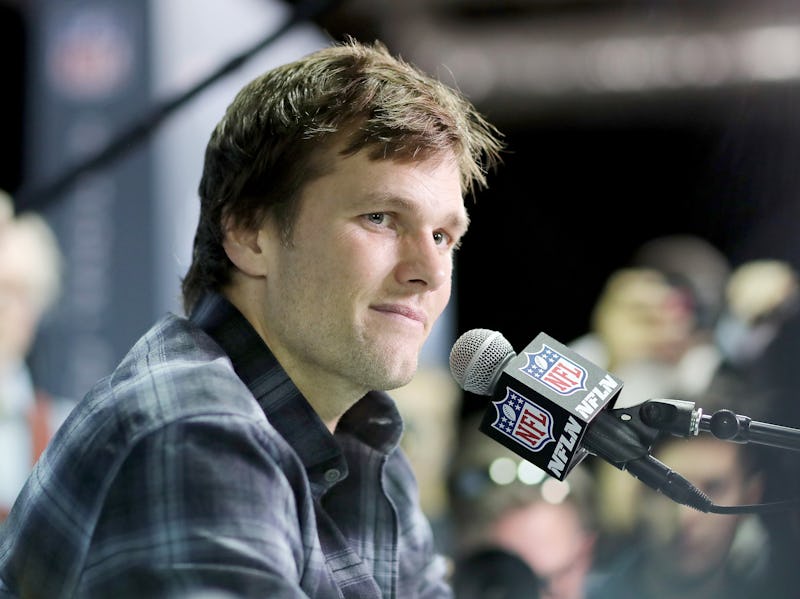 Elsa/Getty Images Sport/Getty Images
You might know the nitty gritty of the passes, yards, interceptions, and touchdowns of your favorite football player, but do you know which school your top athlete attended? In the case of the New England Patriots' Tom Brady, his school — alma mater, if you will — is the University of Michigan. To be precise, Brady attended the university for three years from 1996 to 1999.
However, Brady isn't a native to Michigan. He was born in San Mateo, California, on Aug. 3, 1977. During his younger years, he demonstrated excellence in football and baseball while he was enrolled at the Junipero Serra High School. Some people may not know this but Brady initially considered playing professional baseball (he was reportedly amazing at catching) but ultimately headed off to University of Michigan in 1996.
During his freshman and sophomore years, Brady wasn't keen on football. By the time he was a junior, things changed and Brady began giving his school's football team serious thought. He started as a quarterback and ultimately helped his team win the Orange Bowl.
By the time it was 2000, Brady was drafted into the New England Patriots as a backup quarterback. In 2001, Brady got his first chance to shine after quarterback Drew Bledsoe got injured in a vicious collision with New York Jets linebacker Mo Lewis. "It was the loudest hit I could ever remember hearing," Brady told NFL.com. "Drew was so tough, and he got up and came to the sideline and his face mask was smashed. I saw and heard the hit, and it was a crushing hit."
After Bledsoe's injury, Brady stepped in to cover for him. "Everything happened so fast and I think I was just reacting to the moment. I felt prepared, and really it felt like football," he said to NFL.com. "Like something I had done many times before. I was bummed we lost, because we had some chances at the end. But it wasn't until mid-week when we knew the extent of what Drew was dealing with."
It was a tough move, he recalled. "Again, I was just taking things as they came, and I tried to make the best of the situation, as it was tough for everybody, with somebody I respected so much, like I did Drew," he said during the NFL.com interview.
Ever since then, Brady has been an asset to the New England Patriots. During the Super Bowl XXXVI, he scored a victory against the St. Louis Rams. Then at the Super Bowl XXXVIII, he secured a win against the Carolina Panthers. In the 2004 Super Bowl, Brady defeated the Philadelphia Eagles. Now in 2018, facing the Eagles once again in the February Super Bowl, Patriots fans have their hopes pinned on Brady.
That said, Brady's fame isn't limited to sports alone. In 2015, he came under controversy after a Make America Great Again hat was found in his locker. Brady told Boston radio station WEEI that Donald Trump "always gives me a call and different types of motivational speeches at different times. So now that he's running for president, he sent me a hat, and he gave it to [Patriots owner Robert Kraft] a couple weeks ago. So it found its way to my locker."
He also added, "I mean it's pretty amazing what [Trump's] been able to accomplish. He obviously appeals to a lot of people, and he's a hell of a lot of fun to play golf with."
Now, however, it appears that Brady's friendship with Trump is much less solid. A 2017 New York Times profile said Trump expressed "disappointment" over Brady seemingly stepping back from their bond. It looks like Brady is focusing solely on winning this year's sweet, sweet Super Bowl.