Apple Park Legit Looks Like Something Out Of A Sci-Fi Movie — PHOTOS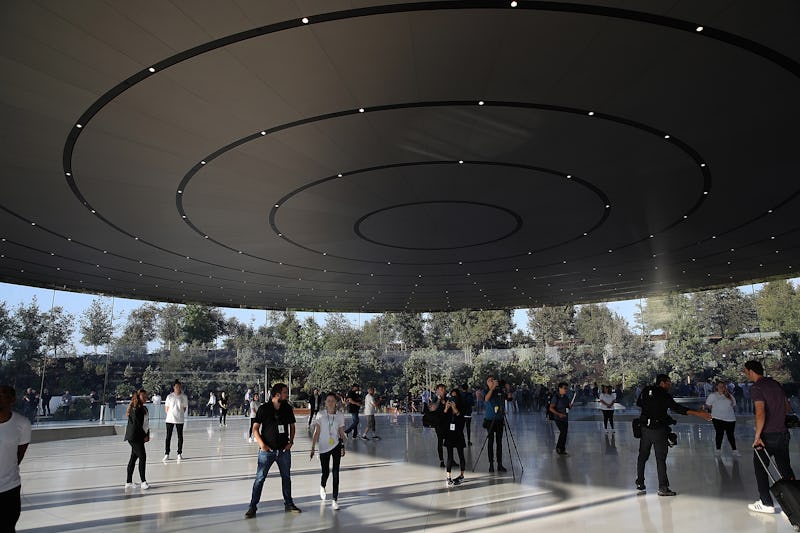 Justin Sullivan/Getty Images News/Getty Images
Apple held its highly anticipated launch event at the Steve Jobs Theater at its brand new campus on Tuesday. Though it opened to employees in April, the event marked the first time anyone else saw the multibillion dollar space. And these photos of Apple Park in Cupertino, California, show a sleek, futuristic, and spacious architectural masterpiece that reporters at the event got to marvel at firsthand on Tuesday.
Apple sent media invitations to its annual product event, which usually stars the latest iPhone. Tuesday's new product unveiling was the first event ever at Apple Park's Steve Jobs Theater. Apple Park is Apple's current headquarters, located at 1 Apple Park Way. It opened to employees in April 2017, replacing the original campus on 1 Infinite Loop, also in Cupertino.
While the Infinite Loop campus, built in 1993, resembles a standard business park with some green spaces to give it a more college campus look, the new Apple Park has a modern, futuristic design with more space for trees. Because of its circular shape that's a mile long around, people have described Apple Park as a "spaceship." In 2006, Apple's former CEO Steve Jobs first announced to the Cupertino city council that Apple planned to build on its second campus. Jobs wanted the park to look more of like a nature refuge and less like a commercial business park.
One of the ways to achieve this was to move the majority of Apple Park parking underground. When presenting his plans to the city council, Jobs described the then current Apple Campus as only 20 percent landscaping. Asphalt parking lots dominated most of the space.
"We want to completely change this and make 80 percent of it landscaping. [...] Today there are 3,700 trees on the property, we'd like to almost double that," Jobs said in his presentation.
Jobs, who grew up in the Santa Clara region, wanted to recreate the feeling of open spaces and orchards an area that was once agricultural before Silicon Valley's explosive growth led to increased office development. "The landscape design of meadows and woodlands will create an ecologically rich oak savanna reminiscent of the early Santa Clara Valley," he said in his proposal.
The Californian envisioned native and drought tolerant plants that could thrive with minimal water consumption in a state that's been plagued with yearly droughts. Permeable surfaces would promote natural drainage and improve local water quality. The center of Apple Park features a man-made pond. To oversee its landscaping and tree planting goals, Apple hired Palo Alto arborist Dave Muffly. Apple Park reportedly uses recycled water, too.
Jobs spent two years on the project with British architect Norman Foster before Jobs died of pancreatic cancer in 2011. Foster notably designed "The Gherkin" in London (pictured below) and Hearst Tower in New York City.
Along with its green space, Apple Park features a public cafe, 100,000-square-foot fitness center for Apple employees, facilities for research and development, and two miles of walking and running paths for employees. 1,000 bikes are reportedly kept on the grounds for employees. Recent drone footage ahead of the launch event for the iPhone X, 8, and 8 Plus show construction nearing completion.
The entire park takes up 175 acres, and the inner courtyard consists of fruit trees alongside the pond. Apple Park is powered mostly, if not completely, by renewable energy. Solar panels generate 17 megawatts of power, which is enough to provide Apple Park 75 percent of its power during peak daytime. The rest of the power is generated onsite with biofuel and natural gas.
The planned completion for Jobs's architectural vision is set for the end of 2017.