Natalee's Mother Beth Holloway Is Advocating For Other Young Women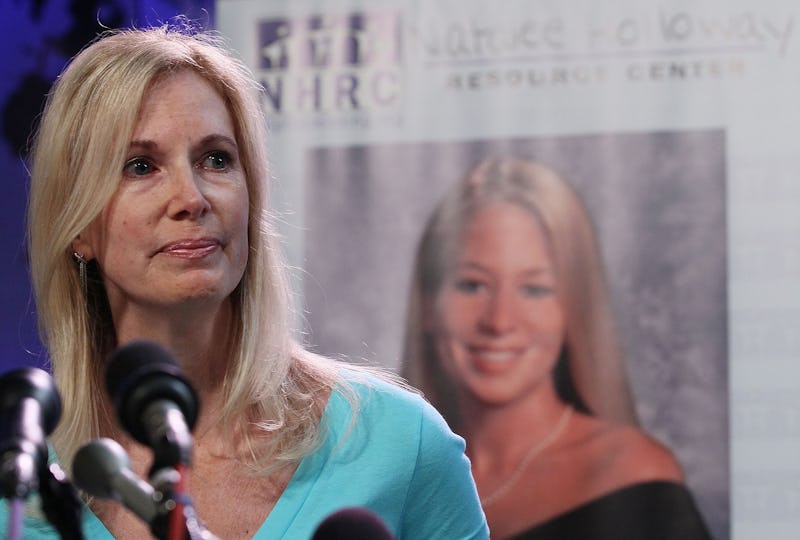 Mark Wilson/Getty Images News/Getty Images
For parents who lose a child, it's a heartbreaking experience — especially if it's still unknown what happened to them. Oxygen's docuseries The Disappearance of Natalee Holloway demonstrates this trauma as it reexamines the evidence in the twelve year old case. Natalee Holloway disappeared during a trip to Aruba, and the mystery of what happened to the then-eighteen year old has remained unsolved since 2005. But what Natalee's mother Beth Holloway is doing now proves that no one's life has to be defined by tragedy. Because while Beth has continued to fight to find out the truth of what happened to Natalee, in recent years, the bereaved mother has said that she finally has begun to move forward from her daughter's disappearance, and, along the way, she's channeled her grief into advice for other young women that can help keep them safe.
In 2006, an extremely detailed profile of both the case and Beth Holloway's theories about Natalee appeared in Vanity Fair. When she first heard the news that Natalee missed her flight home from a post-high school trip to the Caribbean, "I knew immediately that my daughter had been kidnapped in Aruba," Beth said. According to Vanity Fair, within just a single day, Beth and her then-husband Jug Twitty traveled to Aruba in order to search for Natalee. Months later, when no answers were uncovered, Beth said, "I'm putting together another strike against Aruba. I tell you, [Vanity Fair reporter Bryan Burrough], those people down there, they'll never know what hit them. They should never have messed with me." While Beth was unable to singlehandedly determine what happened to her daughter — though she alleged to USA Today that suspect Joran van der Sloot is allegedly guilty and alleged to CBS' The Early Show that Natalee was possibly sexually assaulted — she has used her story to help others avoid Natalee's unknown fate. (Van der Sloot was arrested twice in connection to Natalee's case but never charged. He is currently serving a 28-year sentence in Peru for the murder of Stephany Flores.)
Beth founded the International Safe Travels Foundation in 2006 to "inform and educate the public to help them travel more safely as they travel internationally," though it seems the nonprofit is no longer operational online as of 2017. And in 2010, Beth launched the Natalee Holloway Resource Center in partnership with the Crime Museum. According to the NHRC's website, it "focuses on education and crime prevention ... In the event that a loved one does go missing, NHRC will provide families with information and resources to assist them in the critical first hours of their search process." The center also offers several safety programs aimed at high school and college students to educate them about safe traveling habits. (Although it is obviously never a anyone's fault if something this tragic happens to them, it is an unfortunate reality that many women face — and therefore arming yourself against possible harm is one way to combat this type of evil in the world.)
Beth also wrote a book about her experiences, Loving Natalee: A Mother's Testament To Hope & Faith. "Shortly after this happened to Natalee, I made a pledge that I would share her story with every high school I could, because I hoped that no other family would have to endure the challenges that we faced during our first few weeks in Aruba," Beth said to Lifetime when her book was being adapted into a Lifetime original movie.
In her personal life, Beth made news again in 2007 when she reportedly began dating JonBenét Ramsey's father, John Ramsey, for a brief time, according to People. Fox News reported that "the couple [had] been spotted openly holding hands and kissing." Ramsey reportedly denied the claims that they were dating, telling the Denver Post at the time, "The tabloid rumors are totally exaggerated. I have great respect for Beth and how she's handled her terrible situation. We've developed a friendship of respect and admiration."
In 2015, Beth talked about several events that have finally helped her move forward in the wake of Natalee's disappearance. Van der Sloot confessed to murdering Stephany Flores in 2010, and during an interview with Oprah: Where Are They Now, Beth said, "When I saw the ferocity of how [van der Sloot] murdered Stephany, it really kind all of brought it full-circle to me then as to what happened to Natalee." Beth added, "That really marked my journey as far as beginning to accept — not get the closure, but to understand — that I now need to begin to find peace and joy, and to move on," also crediting her advocacy as a path to find inner peace. And Beth told B-Metro that the birth of Matthew Holloway's child, her first grandchild and who would have been Natalee's niece, was also a healing experience. "I had no idea the love I could have for a grandchild ... It was beautiful," she said, and also confirmed that she was newly engaged to a man whose name she wished to keep private.
While the Natalee Holloway case is still unsolved, new evidence suggesting Natalee's remains may have been found could give Beth Holloway the ultimate closure, as she's said as recently as April 2016 that she wants "justice" for Natalee's possible murder. But until then, she's done her own work, both for others and emotionally, to heal from the ordeal. "I think that I'm in a good place in my life now," she said to B-Metro. And, that's all anyone can hope for with a situation as tragic at this.