Elizabeth Smart's Abductor Is Paying A Heavy Price For His Crimes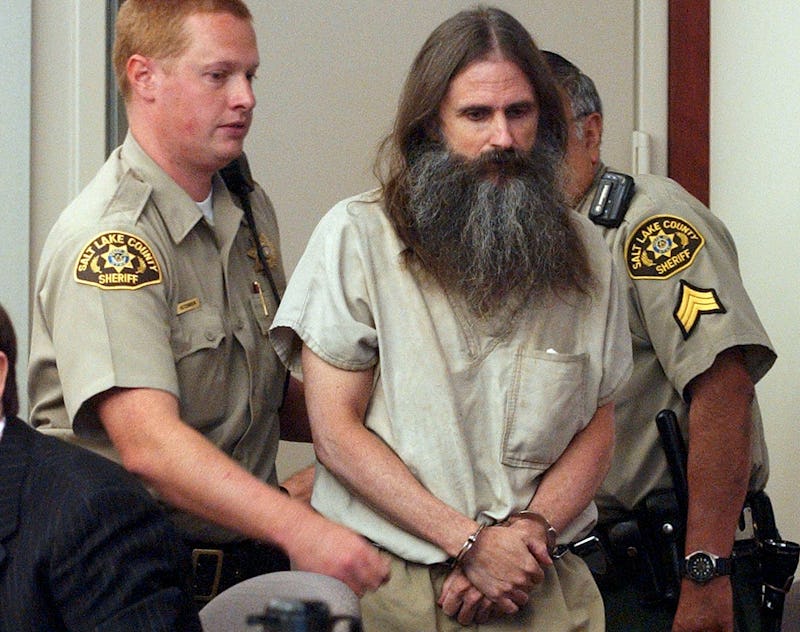 Pool/Getty Images News/Getty Images
In 2002, 14-year-old Elizabeth Smart was woken up in the room she shared with her younger sister in Salt Lake City, Utah, by a man with a knife who threatened to kill her family if she didn't come with him. But the man who kidnapped Elizabeth Smart and held her captive for nine months was no stranger — The New Yorker reports that Smart immediately recognized her captor as Immanuel, a local beggar who her father had once hired to do work on their roof. What Smart wouldn't learn until later is that her abductor's real name was Brian David Mitchell. Mitchell and his wife, Wanda Barzee, would hold Smart captive in the Wasatch Mountains of Salt Lake City and later in a campsite outside of San Diego for nine months before the trio were recognized in Salt Lake City and the two were taken into custody. Since her captivity, Elizabeth Smart has become a public advocate for victims of abduction, rape, and sex trafficking, and she is now sharing her story with the world in a two-part documentary series Elizabeth Smart: Autobiography, which will air on A&E on Sunday, Nov. 12 and Monday, Nov. 13 at 9 p.m. ET. But before tuning into the documentary, viewers might wonder: Where is Brian David Mitchell now?
As reported by CBS News, in 2011 Mitchell was sentenced to life in federal prison for kidnapping Smart, holding her captive, and raping her. Smart spoke briefly to her captor at the sentencing hearing, stating to Mitchell, "I know that you know what you did is wrong. You took away nine months of my life that can never be returned."
The New York Times reports that the case had been stalled for so many years after the initial abduction as Mitchell was declared mentally ill and unfit to stand trial in state court. Mitchell was finally found guilty of kidnapping and unlawful transportation of a minor across state lines in December 2010. During the trial, CBS reported that Mitchell had to be repeatedly removed from the court due to incessant singing.
Mitchell's wife, Wanda Barzee, was sentenced to 15 years in federal prison in 2010, according to CNN. The sentence was part of a plea deal in which Barzee pleaded guilty to federal charges of kidnapping and unlawful transportation of a minor across state lines. In exchange for cooperating with authorities in regards to the charges against her husband, Judge Dale Kimball gave Barzee credit for seven years that she had already served.
Mitchell and Barzee met in a Mormon Church group-therapy session in the mid '80s, according to The New Yorker, which reported:
Barzee had eventually abandoned her children to be with him, and they'd spent the intervening years panhandling across the country and occasionally pulling a small covered wagon, like the Utah pioneers. Barzee had accepted Mitchell's revelations — including one commanding him to take a series of Mormon girls as wives.
The same New Yorker piece reports that Mitchell had been excommunicated from the Mormon Church for issuing his own prophecies and revelations, but in Barzee he found a willing listener. When Mitchell returned to the Wasatch Mountains with Smart, Barzee order the 14-year-old to undress, and Mitchell announced that Smart was now his wife. Per The New Yorker, Mitchell renamed Smart "Shearjashub" and raped her daily. Mitchell would also give Smart alcohol and make her look at pornography. Barzee and Mitchell would also have sex in front of Smart.
This sexual abuse was connected to Mitchell's belief in his own spiritual exceptionality. As reported by ABC News, Smart's court testimony at Mitchell's trial revealed that Mitchell considered himself a "Davidic King" and would pray for Smart to have sex with him:
"The things that he would say in his prayers were things that I would never have said," she said. "He would say, 'Please bless me,' [Smart], that I would be able to cope with my wifely duties and be able to rise to the occasion and fulfill my wifely duties. That is about the farthest thing from my prayers."
Mitchell and Barzee would often take Smart into Salt Lake City with them, the trio disguised by robes and veils, per The New Yorker. Then Mitchell and Barzee moved with Smart to a campsite outside of San Diego until March of 2003, when the trio returned to Salt Lake City and were recognized by a passerby who called the police. After nine torturous months, Smart was finally returned to her family. Mitchell and Barzee were taken into custody.
Since this traumatic period of captivity, Smart has used her platform for advocacy, traveling across the country to deliver speeches and fight against child abuse. And now, with Elizabeth Smart: Autobiography, Smart has allowed this advocacy and her story to be shared for a television audience, in her own words. As reported by Variety, Smart shared the motivations behind her decision to share her story publicly at a panel for A+E Networks at the Television Critics Association press tour in Beverly Hills:
"When I came home, I swore myself up and down that I wouldn't write a book, I wouldn't do a movie. I wanted it all to disappear, I wanted it all to go away," Smart recalled. "For years, I felt that way, but little by little, I started to become more involved in advocacy and meeting more survivors and people who were involved in similar things … it's kind of my world now, and I realized I have an opportunity. I have a unique opportunity to share my story because there are so many survivors out there who struggle every day … they feel like no one understands what they're going through. … I feel like I need to speak out because I can."
Smart went on to attend Brigham Young University, found the Elizabeth Smart Foundation, and write the bestselling memoir of her experiences, My Story. She is now married with two children and hopes that sharing her story will prevent others from suffering the same fate she did when she was taken from her home in 2002.
"No child deserved to go through what I went through. No child deserves to be taken, to be raped, to be murdered," she said at the same A+ E Networks panel, per Variety.
At the same event, Variety reports that an executive producer of Elizabeth Smart: Autobiography shared that, "While [Smart's] story has been in the media for so many years, it's never been told properly. For 15 years, everyone has been telling her story for her."
Now, Smart will get to share her story with us, in her own words.
If you or someone you know has been sexually assaulted, call the National Sexual Assault Telephone Hotline at 800-656-HOPE (4673) or visit online.rainn.org.