Hurricane Maria "Brutally Hit" Dominica & The Island May Not Have Fared Well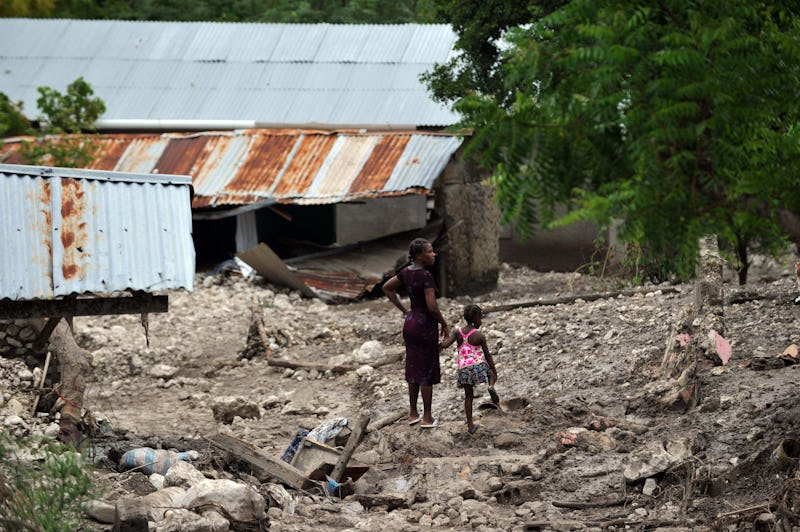 HECTOR RETAMAL/AFP/Getty Images
Not even two weeks after Hurricane Irma devastated parts of the Caribbean, another storm is barreling toward Puerto Rico and the Virgin Islands with record-breaking power. Category 5 Hurricane Maria hit Dominica, located south of Puerto Rico and home to about 75,000 people — about four times the size of Washington D.C. It was the first island to feel the full effects of the hurricane when the storm made landfall there at approximately 9:15 p.m. local time on Monday night with wind speeds of up to 160 miles per hour.
Dominica's Prime Minister Roosevelt Skerrit said Monday night, "Please tell the world that Dominica has been devastated … In the morning we will know how many dead there are … We were brutally hit."
No casualties have been reported yet, but storm surges and power outages on the island are likely. Heavy rain and wind will continue for the next few hours as the storm moves north. Water levels may rise from 7 to 11 feet above normal levels. This will likely cause potentially extreme flooding.
Dominica-based lawyer Anthony Astaphan who witnessed the storm told Antigua's Observer Media Group, "We lost the roof. My total upstairs, the ceiling and everything collapsed. I have two inches of water downstairs. My god, I can only feel the pain of those who don't have the house that I have. It was terrible and I just hope people didn't die."
The National Hurricane Center warned in a statement, "Hurricane conditions should continue over Dominica during the next few hours. Hurricane conditions should spread throughout portions of the hurricane warning area in the Leeward Islands tonight and early Tuesday. Hurricane conditions should spread through the remainder of the hurricane warning area Tuesday and Wednesday."
Maria is the first Category 5 hurricane to hit Dominica. The last severe storm to hit the small island country was a Category 4 storm, Hurricane David, in 1979.
Early reports from the island indicate severe damage. Skerrit wrote in a series of Facebook posts as the storm hit, "The winds are merciless! We shall survive by the grace of God... My roof is gone. I am at the complete mercy of the hurricane. House is flooding." Minutes later Skerrit reported he had been rescued from his home in Dominica.
Next, Hurricane Maria is likely to make landfall in the U.S. Virgin Islands. Estimates put the hurricane's landfall on U.S. soil sometime Tuesday afternoon or evening. Then the storm will move to Puerto Rico, which hasn't had a storm of this magnitude hit directly, as it's predicted to, in 85 years.
New reports warn Hurricane Maria could actually worsen over the next few hours as it goes back out to sea toward the Virgin Islands. The National Hurricane Center warned, "Maria is developing the dreaded pinhole eye," which University of Miami hurricane researcher Brian McNoldy warned is a sign of an extremely strong hurricane likely to get even stronger, the Guardian reported.
Maria's eye shrank to a narrow 10 miles (16km) across. "You just don't see those in weaker hurricanes," McNoldy said.
President Donald Trump issued a state of emergency in Puerto Rico and the U.S. Virgin Islands. Federal assistance will be directed to the islands, as the hurricane nears. Hurricane warnings are still in effect for Dominica, Guadeloupe, Montserrat, St Kitts & Nevis, U.S. Virgin Islands, British Virgin Islands, and Puerto Rico, Culebra, and Vieques.
Thirty-seven people were killed in Hurricane Irma just over a week ago, and some homes and structures hit by Irma could be in danger of further damage from Maria. Early predictions said Hurricane Maria appeared to have the size and strength to also be a life-threatening storm, the Telegraph reported Monday night.