Fantasia From 'American Idol' Is Doing Well Now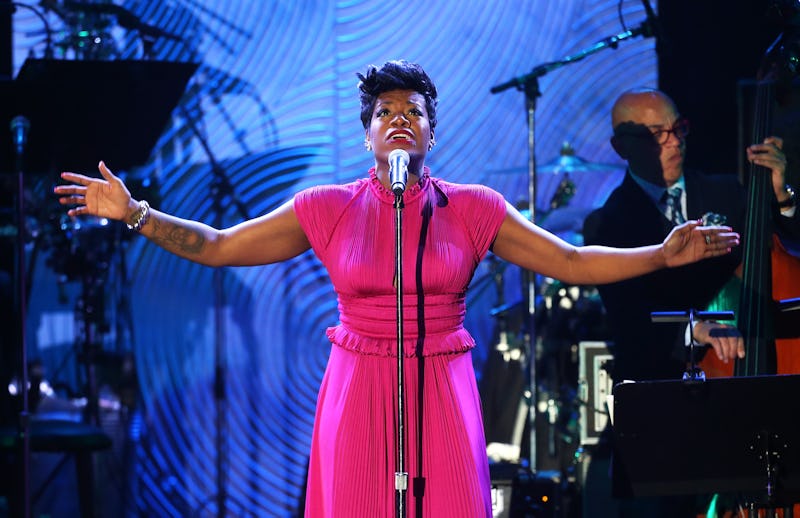 Frederick M. Brown/Getty Images Entertainment/Getty Images
Since it looks like ABC is resurrecting American Idol before anyone even had time to start missing it, everyone's getting a bit nostalgic for the glory days of the show. When it was still fresh, there was a thrill from naming stars like Kelly Clarkson, Ruben Studdard (although Clay Aiken was the break-out hero of that saga), and single mom/musical powerhouse Fantasia Barrino. But, while we're throwing back to the heigh of American Idol's power, where Fantasia is today is a really good question for those who weren't obsessively following the singer's career.
While she's not clouding our airwaves on a regular basis, Fantasia's life has definitely been intense since she was crowned the American Idol finalist back in 2004. She released I Believe to critical acclaim and took up some guest spots in hit TV shows like The Simpsons and American Dreams, eventually starring as Celie in the Broadway musical version of The Color Purple.
But her post-Idol life wasn't always easy: in 2010, she attempted suicide, overdosing on a cocktail of aspirin and an undisclosed sleeping pill. "My nurse Melanie was a blessing into my life because she didn't tell me what I wanted to hear," she would say in a 2016 interview with People about the incident. "She told me what I needed to hear. And she looked at me and said, 'You gotta get up, and you've gotta get out of here, 'cause you haven't fulfilled your destiny.' "
After the attempt, Fantasia released 2011's Back To Me, which earned her a Grammy for "Bittersweet."
Concisely put, the Fantasia of now seems to be in a much better place. She put out her fifth studio album The Definition Of..., which respectably peaked at number 6 in the Billboard charts, and she followed it up with a brief 12-stop tour. Fantasia is currently up for two BET awards for that album. That year also saw her absolutely slaying in a tribute performance for personal hero Patti Labelle at the BET Honors.
And when she's not performing or grabbing award nominations, Fantasia is out enjoying life with her businessman husband Kendall Taylor, who she married back in 2015. Her Twitter account features a stream of radiant photos with captions like, "King says he married me just to date me constantly," punctuated with a series of adorable emojis. It's very heartwarming to see that she's doing so well these days.
So keep your eyes peeled, and ears open, friends. Because even if American Idol 2.0 can't revamp the magic the reality TV show's golden era (I mean, there's no way, right?), some of that magic is still out there in the world.