Jesse Has A Lead On God On 'Preacher'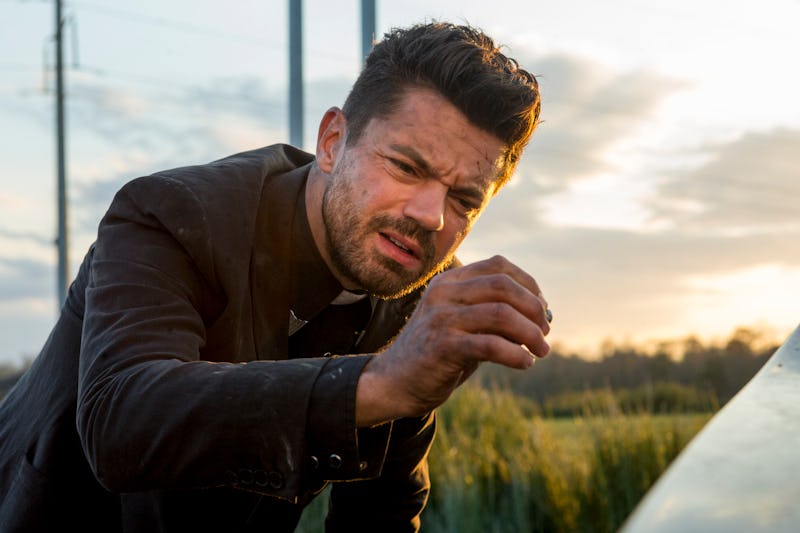 Skip Bolen/AMC/Sony Pictures Tel
There's nothing like a good road trip, and the dysfunctional trio that is Jesse, Tulip, and the vampire Cassidy on Preacher are the perfect group for such an adventure. However while they may be having fun outrunning cops and singing along to "Come On Eileen," they have a mission at hand. Where is God on Preacher? Believe it or not, these three have tasked themselves with returning a deity to the afterlife. The Season 2 premiere is a great start to their journey, and actually offers a few clues.
At the end of Season 1, Jesse uses the God phone in front of the whole town in order to contact that big man and ask him some questions. Unfortunately, he reaches a Wizard of Oz-esque imposter instead. Using Genesis, Jesse learns that God has been missing from Heaven. He might even be down on Earth. Annville residents have a crisis of faith and the town is subsequently blown up. Unaware and still seeking answers, the trio go looking for Him.
They first go to visit a religious scholar, Mike, who uses pretty extreme forms of therapy on his sinful clients. To curb their desires and facilitate their repentance, he locks them in a covered cage. As long as they're cool with it, I guess. The teenager "battling" a cell phone addiction in the cage seems to have agreed to the treatment, but may not be capable of making an informed decision. Already, this roadtrip is off to an unconventional start, and for Preacher, that's no surprise.
Mike refers Jesse to a woman he treated recently. She works in a club, and claims to have seen God passing through. He visited them a few times, actually, but didn't fall in love as Jesse initially predicted. "God didn't come for the girls you idiot," the woman says. "He came for the jazz."
I'm pretty into the idea of God as a connoisseur of American art forms, I have to say. But what does it mean? Was there a particular musician he was interested in? What does jazz represent to the deity?
Still, according to that witness, God is somewhere in the South/Southwest of America. For real. Maybe He's just on vacation. Preacher seems to be portraying God as a bad Dad who ran out on His kids. There might not be a good explanation for where he is or why He left.
In the comics, this quest to find God takes Jesse, Cassidy, and Tulip to Arizona, Louisiana, California, and Utah. Since Season 1 barely covered the first handful of issues, I don't think we'll see God before the Season 2 finale at least. I'm guessing that, as they get further into this world and encounter more obstacles like the Saint of Killers, the trio will meet more eyewitnesses and gain more insight into what God is like and what he's been up to on Earth.
That said, I can't wait to see what God on Preacher is like. When the angels dressed up to try and confuse the town of Annville, the faux deity was an overly traditional depiction, white beard and all. I have a feeling that when we meet the real God, the "look" will be surprising.
The important thing is that Jesse is already on the right path. With multiple entities chasing him and his friends down on Preacher, at least there's that. God is among them after all.