Everyone Will Gather In One Spot For March For Our Lives D.C. — Here's Where To Find It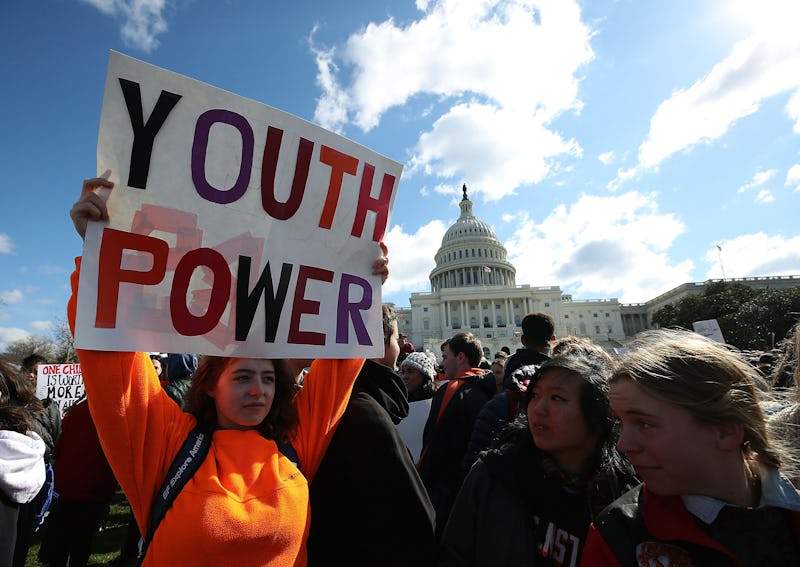 Mark Wilson/Getty Images News/Getty Images
A little more than a month after a school shooting in Parkland, Florida, left 17 people dead, hundreds of thousands of people around the country are preparing to march for gun reform. The biggest rally will occur Saturday in our nation's capitol. If you're planning on attending, here are the details you need to know, including where in D.C. March For Our Lives is and what time the rally begins.
The first thing to know is that the event in Washington will not actually be a "march" in the traditional sense but a rally. A marching route just wasn't a possibility for the anticipated crowd size: 500,000 people may attend, Vox reports. As of Friday early afternoon, the event's Facebook page had 44,000 "yes" RSVP's, and 92,000 more said they were "interested" in attending.
The rally will occur along Pennsylvania Avenue NW above the National Mall (it can't take place on the mall itself because the space had already been reserved by a different organization). It will span the distance from the avenue's intersection with 12th Street NW, indicated by the blue marker on the map below, to its intersection with 3rd Street NW, indicated by the blue marker on the right. Two other entrances will be placed where Pennsylvania Avenue NW meets 7th Street NW, both to the north and south.
A large square block of streets around Pennsylvania Avenue NW will be closed off for the rally from 3 a.m.-6 p.m. ET. Check the Metropolitan Police Department's full list for details, but generally expect to hit road closures between E Street NW to the north, Independence Avenue SW to the south, 14th Street NW to the west, and 1st Street NW to the east.
Some D.C. metro stations will be closed for the rally, too. The Federal Triangle station will be shut down, as will the Judiciary Square station's 441 entrance. March organizers recommend that you arrive using the stations at Metro Center, the Smithsonian, Gallery Place-Chinatown, L'Enfant Plaza, Archives-Navy Memorial-Penn Quarter, or Union Station instead. "Oversized items," including big coolers and bicycles, won't be allowed on the metro on Saturday to accommodate crowd size.
Other transportation options include buses, which will bring you as close as RFK Stadium, and ride-sharing companies like Lyft and Uber, whose vehicles will bring you to the intersection of Maryland Avenue SW and 7th Street SW. That's also where you should go to be dropped off in a personal car.
The rally is expected to last from 12 p.m.-3 p.m. ET. Its schedule hasn't been released yet, but we know that it will include speeches and performances from the likes of Ariana Grande, Jennifer Hudson, Miley Cyrus, Common, Lin-Manuel Miranda, Demi Lovato, Andra Day, Ben Platt, and Vic Mensa. If you end up far away from the stage, never fear: Video and audio of the event will be broadcasted throughout the space.
You'll definitely want to bring water and sunscreen; the weather will be fairly sunny with a temperature in the mid-40s. Remember your signs and banners, too, but make sure that they don't include metal or wood and are less than 30 inches by 20 inches. You won't be allowed to bring in pets (unless they're service animals), bicycles, large backpacks (anything more than 18 inches by 13 inches by 7 inches), coolers, balloons, selfie sticks, or firearms (obviously). Find the full list of prohibited items here.
"Every kid in this country now goes to school wondering if this day might be their last," reads the march's mission statement. "It doesn't have to be this way. Change is coming. And it starts now, inspired by and led by the kids who are our hope for the future. Their young voices will be heard."