New Edition's Michael Bivins Is Still Busy Today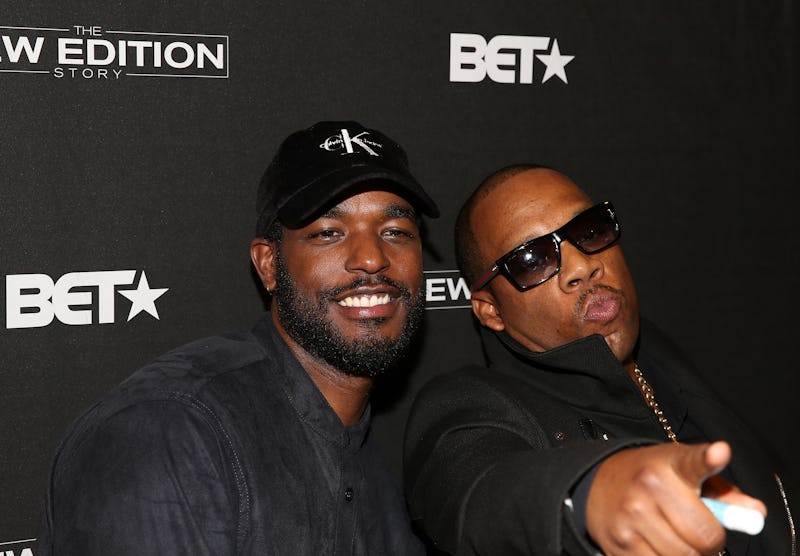 Bennett Raglin/Getty Images Entertainment/Getty Images
Out of all of the cast members in BET's The New Edition Story, Bryshere Grey as Michael Bivins is one of the most intriguing, partially because I'm curious about how the Empire star will do in his second role. Of course, seeing Grey play a real person will also make you want to know more about the real Michael Bivins now. It's been over 40 years since New Edition hit the scene as adolescents, and in the time since, Bivins has created dozens of pop hits with both the original group and his followup, Bell Biv DeVoe.
Though it's been a long time since the group's biggest hits were released, that doesn't mean that Bivins has retreated from the public eye or from the music industry. The New Edition Story is shining a new spotlight on the members of the group over the course of its three two-hour episodes, but like most of his childhood friends and bandmates, Bivins never stopped working. Here are a few different ways you can catch up and keep up with the star, especially if BET's New Edition miniseries has you feeling nostalgic for the '80s bubblegum soul pop.
He Has A New Album Out
Bell Biv DeVoe's latest album, Three Stripes, will be released on Jan. 27. It's been 15 years since their last release, the moderately performing BBD, but this reunion could be very different. You can already listen to their first single from the album, "Run."
He Was A Reality TV Star
In Making the Band 4, Bivins was the head of artist development. He wasn't as scandal-ridden as your typical Love and Hip Hop cast member or Real Housewife, but he did get to put his musical skills to use. Plus, that season was all about making a younger, updated New Edition, so it made sense that they'd bring him on. He even told BallerStatus, "I wanted to be [MTB's] Day 26's manager. That was the first job I didn't get."
He's Been Given A Major Local Honor
Recently, a basketball court in his hometown, Boston, was named after Bivins in an honor that meant a lot to the singer. He told The Boston Globe, "New Edition was my ticket out of Orchard Park [housing projects], but 'ball was my first love." Mayor Michael J. Walsh added, "This is a man who left the neighborhood, never forgot the neighborhood, is coming full circle back to the neighborhood, and gives back every single day."
He's A Part Of The Walk Of Fame
Recently, New Edition was given a star on the Hollywood Walk of Fame. While it may have been related to the upcoming miniseries and album, the group definitely had enough hits to justify the honor.
His Daughter Takes After Her Dad
A proud dad, Bivins captioned this photo "@teashabivins holding it down haaaa Shilah I see you baby ripping the stage down #proud." She's clearly inherited her dad's talent for being onstage — and his skills at a very, very young age.
And His Whole Family Is Adorable
Bivins, his wife, and his three daughters make a very cute family. While The New Edition Story might portray his early years of fame and wild experiences, now, he's an industry veteran who's had no trouble maintaining success.