A New Docuseries Is Revisiting One Of The Strangest True Crime Stories Of All Time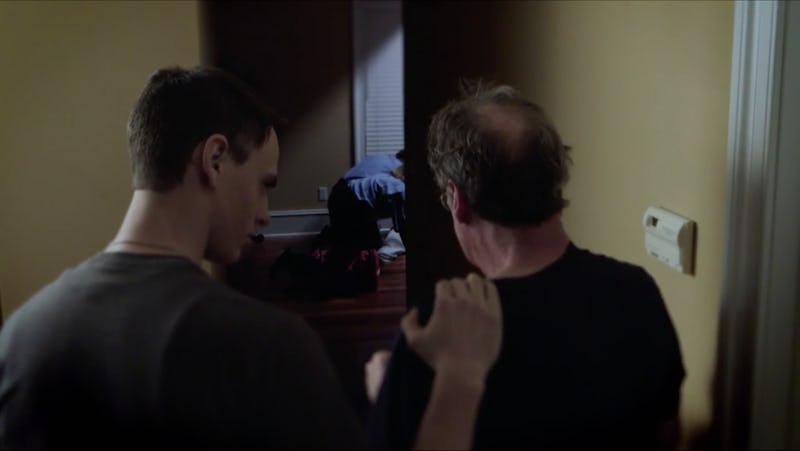 Discovery
The death of Kathleen Peterson in 2001 occurred under such strange circumstances that it captured the attention, and the imagination, of the entire country. The case inspired a Lifetime movie, an 8-part documentary series The Staircase, and now, an Investigation Discovery special titled American Murder Mystery: The Staircase, which will air Sunday, April 8 on Investigation Discovery. The series will revisit the investigation and trial that followed, which found Kathleen's husband, Michael Peterson guilty of first-degree murder, per the Associated Press. But he's since walked free, so where is Michael Peterson in 2018?
Since his wife's death, Peterson has maintained his innocence per The News & Observer. The same AP piece reported that, in 2011, the verdict was vacated by Superior Court Judge Orlando Hudson, after the judge found that a blood analyst who testified at the original trial had given false and misleading testimony. The News & Observer reported in February 2017 that, after trying unsuccessfully for years to have the charges dismissed, Peterson used the Alford plea instead of enduring a second trial. This allows a defendant to maintain their innocence while acknowledging that prosecutors have enough evidence to secure a conviction. Peterson pleaded guilty of manslaughter in the death of his wife. And since the sentence given was less than the eight years that Peterson had already spent in prison, he was able to leave the hearing a free man.
"Accepting this Alford plea has been the hardest thing I've ever done," the then-73-year-old Peterson said at a news conference after the court hearing, per the AP. But though Peterson and his family rejoiced at his new freedom, Kathleen Peterson's living relatives were not happy with the verdict. "The words 'Alford plea' are meaningless. Alford smalford. It means nothing. Guilt!" Kathleen's sister, Candace Zamperini, yelled at Peterson during the victim impact statements. "You brutally took the life of a woman who provided for you, guarded your children, she loved you!"
In December of 2001, Kathleen Peterson was found dead at the bottom of a staircase in the Peterson home in Durham, North Carolina. Michael Peterson, who first found her body, made a frantic 911 call, per NBC News. The amount of blood spatter on the wall near Kathleen's body was deemed suspicious by authorities, who began to suspect foul play.
The investigation into Kathleen Peterson's death revealed that Peterson had a few secrets from his community, though perhaps not from his wife. Detectives determined that Michael Peterson was bisexual, and was in contact with a male escort, per Vulture. Peterson claimed that his wife knew about his sexuality, and that he was still devoted to her even as he sought sex from other men. But prosecution presented this discovery as evidence that Peterson's marriage was in strife.
The prosecution also used in its case against Peterson the death of Elizabeth Ratliff, who was the godmother of one of Peterson's children with his first wife. She was found dead at the bottom of a staircase in Germany in 1985, per News & Observer. She had been with Peterson that night. German authorities originally determined that her death had been caused by a cerebral hemorrhage, but Ratliff's body was exhumed after Kathleen Peterson's death and investigators then established that she had actually died as the result of blunt force trauma. Peterson was never charged in her death, however.
Peterson was found guilty of first-degree murder and sentenced to life in prison, despite the defense's argument that Kathleen Peterson had been intoxicated and stumbled down the stairs. But now that Peterson has pleaded guilty to manslaughter while still maintaining his innocence, he is trying to get back to a normal life. The AP reported that Peterson now lives in a 1,200-square-foot, two bedroom condo in North Carolina, and plans to spend his time visiting his family and writing a book.
Whether the new spotlight shed on the Peterson case by An American Murder Mystery will convince audiences of Peterson's guilt or innocence remains to be seen. But viewers who watch the show will decide for themselves whether Peterson's release was really justice served.