O.J. Simpson Hasn't Been In A "Normal" Prison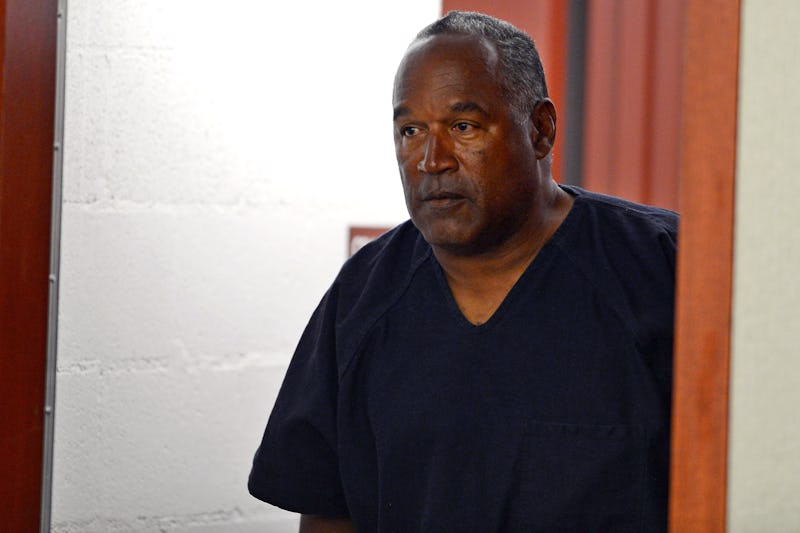 Ethan Miller/Getty Images News/Getty Images
O.J. Simpson has been in prison for almost nine years, but could be released as early as Oct. 1 if a parole hearing on Thursday goes his way. Simpson was famously acquitted in the murder trials of his ex-wife and her friend back in 1995, but in 2007 he was sentenced to prison on charges of kidnapping, armed robbery and assault with a deadly weapon after allegedly confronting memorabilia dealers. The 2007 incident occurred in Las Vegas, and O.J. has been in a prison in Nevada since — but, according to one former correctional officer, not a "normal" one.
Simpson has been serving out a nine-to-33-year sentence at the medium security Lovelock Correctional Facility in Nevada's high desert, and serving the mandatory nine years on his sentence means that this is the first year Simpson is eligible for parole. His Thursday hearing will therefore take place before the Nevada Board of Parole.
Jeffrey Felix, a retired correctional officer, told USA Today that the Lovelock Correctional Facility is like a "cruise ship with barbed wire."
"Inmates in Nevada have a saying, 'Lovelock is easy time,' " Felix told USA Today. "I mean, that prison is not like a normal prison. The food at Lovelock is very good. That prison is super duper clean.''
Simpson's guards confirmed Felix's statement; they — along with an inmate who was in the facility with him — told CNN that Simpson spent much of his time in prison coaching softball and playing fantasy football, as well as eating a significant amount of junk food toward the beginning of his time there.
The father of Ron Goldman — who was murdered back in 1995 along with Simpson's ex-wife, Nicole Brown Simpson — told CNN that he was not surprised by the news of Simpson's potential early release.
"Simpson has proven over and over again, throughout his life, he has absolutely no concern for the law or authority," Fred Goldman told CNN.
Although Simpson has maintained his innocence in the the deaths of Goldman and his ex-wife, their families were able to win a wrongful death civil judgment against him in 1997.
If Simpson wants to obtain his freedom from the Lovelock Correctional Facility and be granted parole, he will need to do so on only seven of the 12 original counts against him. Moreover, at least four of the seven commissioners on the Nevada Board of Parole will have to vote in his favor, but prosecutors have not commented on Simpson's chances of being paroled.