This Movie Will Make You Curious About Oscar Pistorius' Murder Trial All Over Again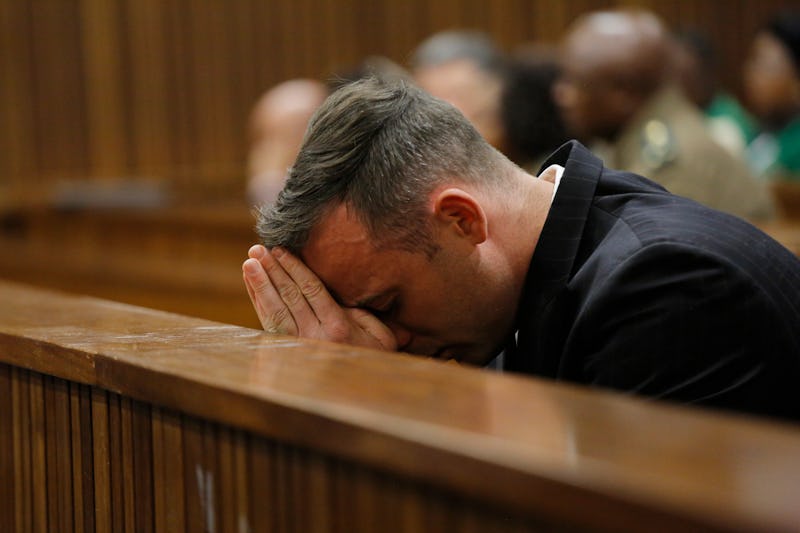 Pool/Getty Images News/Getty Images
Oscar Pistorius has largely faded from public view in the years since his sentencing last summer, but the new Lifetime original film, Oscar Pistorius: Blade Runner Killer, takes a deeper look at the double-amputee former Olympian's controversial crime. To refresh: on July 7, 2016, Oscar Pistorius was sentenced to six years in prison for the murder of his girlfriend, Reeva Steenkamp, according to CNN. He pled not guilty to the murder, claiming that he mistook Steenkamp for an intruder and was in a "fearful state" because he wasn't wearing his prosthetic legs when he fired fatal gunshots through his bathroom door. Since more than a year has passed since his sentencing, many viewers may be wondering — where exactly is Oscar Pistorius today?
According to the BBC, Pistorius is serving out his sentence in the Atteridgeville Correctional Centre prison in Pretoria, South Africa. He was originally charged with manslaughter, CNN reports in the same article, as he claimed that he mistook his girlfriend for a burglar when he shot four bullets through his bathroom door in the early morning of Valentine's Day 2013. Following an appeal, a higher court changed the charge to murder after months of trials. And the case of the former athlete — who was a six-time gold medalist in the Paralympics — may now be up for review again.
The BBC reports that South African prosecutors are lobbying for Pistorius' sentence to be extended beyond the original six years. The prosecutors told the Supreme Court of Appeal that the original sentence was "shockingly light," and said he should receive 15 years. According to CBS News, 15 years is the minimum sentence in South Africa for murders that are not premeditated. Steenkamp's mother, June Steenkamp, was present at the courthouse when the prosecutors were proposing this extended sentence, and according to lawyers, Steenkamp's family supported the extended imprisonment. Prosecutors are arguing that there was no reason for Pistorius to receive less than the minimum sentence for non-premeditated murders. "What we are saying is the court exercised its discretion inappropriately," prosecutor Andrea Johnson told a panel of judges, according to CBS News.
The film is likely to bring up old controversies surrounding Pistorius' trial. A police officer who worked on the Pistorius case in South Africa told Vanity Fair in 2013 that he didn't believe the story the athlete told of thinking Steenkamp was a burglar when he shot through the bathroom door. "It was just them in the house, and according to the security registers she had been staying there for two to three days, so he had to be used to her by that time," Detective Hilton Botha told the magazine. "There was no forced entry. The only place there could have been entrance was the open bathroom window, and we did everything we could to see if anyone went through it, and it was impossible. So I thought it was an open-and-closed case. He shot her — that's it. I was convinced that it was murder."
Others, though, pointed to the general danger of living in South Africa as a reason Pistorius may have been so on edge and jumpy enough to shoot through a door in the middle of the night without knowing exactly who was on the other side. Mike Azzie, a family friend of Pistorius,' told Vanity Fair in the same article that in South Africa, intruders are likely to not only rob you, but abuse you and your family in unspeakable ways, often ending in death and rape. "So here is a kid who hasn't got legs; he hears noises in the house, has his girlfriend in his home, and straightaway goes into full combat mode and panics," Azzie told the magazine. "He thinks, I've got to protect this girl. That's the only way I think it could have happened to this poor kid."
Despite that defense, which many used to explain the actions of Pistorius, he was ultimately convicted of murder. Botha told Vanity Fair that "witnesses said they heard a lady scream, and they heard bullet shots fired, and then they heard a scream again and then another few shots fired" — which makes it difficult to prove Pistorius didn't know he was shooting at his girlfriend. While Pistorius and his family maintain that the tragic event was an accident, the athlete remains imprisoned, and if prosecutors get their way, he may stay there for far longer than he anticipated.