The Sharks From 'The Isle Of Jaws' Exhibit Never-Before-Seen Behavior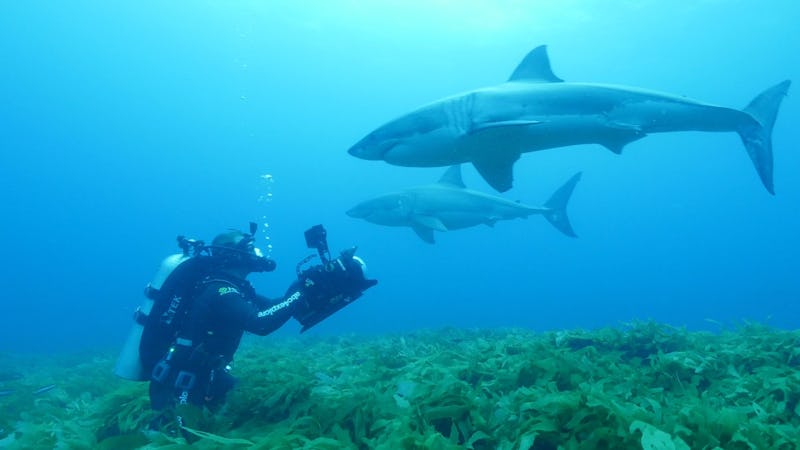 Discovery
Shark Week is back, and we're gonna Return to the Isle of Jaws with a new installment of this investigation about some rogue great whites with a favorite meeting spot. Where is this mysterious uncharted island, exactly? According to the original film, the Isle of Jaws should be near the Neptune Islands in the Australian state of South Australia — off the coast of Port Lincoln and sort of close Adelaide if you need a literal land mark — but since it's uncharted, we can't be certain.
That's where the sharks disappeared from, according to last year's documentary, at least. The Neptune Islands include Ile Valbelle, Ile Villars, and Ile Montmorency. They are known for both shark expeditions and fur seals. Cute! There's actually a Neptune Islands Conservation Park for the seals, which is wild, as it is also a popular diving location for those who want to swim with great white sharks. You really can have it all.
In the original Discovery Channel documentary, photographer Andy Casagrande and marine biologist Dr. Jonathan Werry travel from South Australia and along the Great White migration route looking for the sharks that vanished and found this mysterious "Isle of Jaws," so to speak. So that should at least give you a good or general idea of where they are, if anything.
Return to Isle of Jaws shows the team continuing their research on this unusual group of all male great white sharks. Now it's not about their disappearance, just about this bizarre location. Are they the same ones? Do they return every year? Is it just some kind of weird boy's club? It's possible that by watching the documentary you can pick up some clues as to where they are exactly, but this is what we know so far.
If you're planning on visiting, maybe stick to the shore and check out that conservation park with all the seals. Finding the actual Isle of Jaws might prove difficult, and is probably best left to the Shark Week professionals.