Here's Where All The Powerball Magic Happens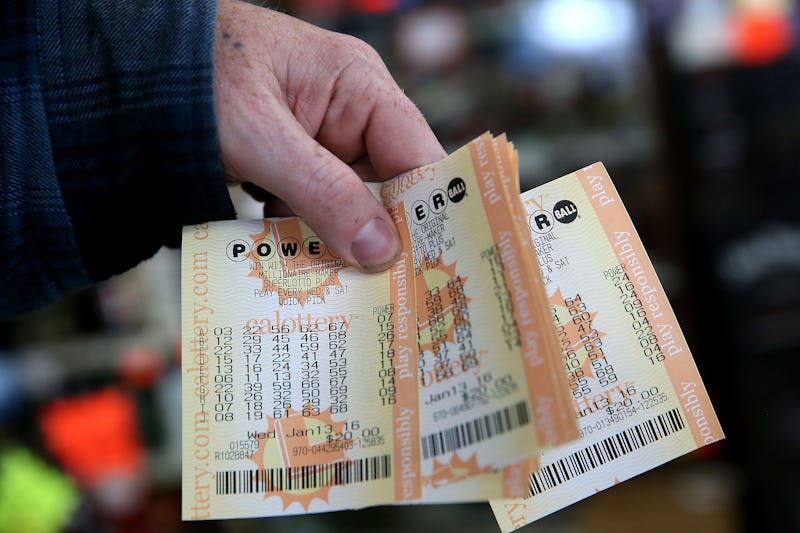 Justin Sullivan/Getty Images News/Getty Images
As you may or may not have heard, depending on how into indescribably improbable games of chance you are, the Powerball lottery jackpot is currently at its fourth-highest level of all time, with a staggering $700 million ready to be given to the lucky holder of a winning ticket. The huge dollar figure has fueled some curious inquiries about the Powerball itself, too ― like when it's happening, how to watch it, and even where it's located. And in the last case, if you're curious about where the Powerball drawing actually is, you should take heart.
After all, it's a nice feeling when you can get a simple, clear answer to a simple question. The Powerball drawing on Wednesday night will be taking place in Tallahassee, Florida, according to its official website. That's where the results are broadcast from.
It'll be going down at 10:59 p.m. ET, and if you're one of the countless people who've bought tickets in the faint hopes of cashing in, you'll be able to watch it on your local TV broadcast, or on the Powerball YouTube channel. Or, you could get the information the way so many people do these days ― just follow along on social media when the winning numbers are finally being drawn.
Of course, no matter how lucky you believe yourself to be in your day-to-day life, the chances of you winning the colossal prize are, sad to say, next to nil. According to ABC News, the odds of drawing the six matching numbers you'd need to claim the top prize currently sit at about one in 292 million, about as faint and unthinkable a chance as it gets.
And yet, countless Americans are expected to try their luck in advance of Wednesday night's drawing. The Powerball people reportedly expect to sell around 170 million tickets between last Sunday's drawing and the one on Wednesday night, and if nobody actually wins, that'll only push the jackpot even higher ― absent a winner this time around, it'll rise to about $1 billion.
Needless to say, if you're one of the people who've bought a ticket for Wednesday night, you shouldn't get your hopes up. Dreams of hitting it big and winning the lottery are as old as, well, the lottery itself, and for all but the most unbelievably fortunate among us, it's never going to happen. That said, however, if you do somehow come away with a winning ticket, make sure you educate yourself about all the steps you need to take to safely secure your winnings.