The Massachusetts State Lottery Named The Wrong Powerball Winning Store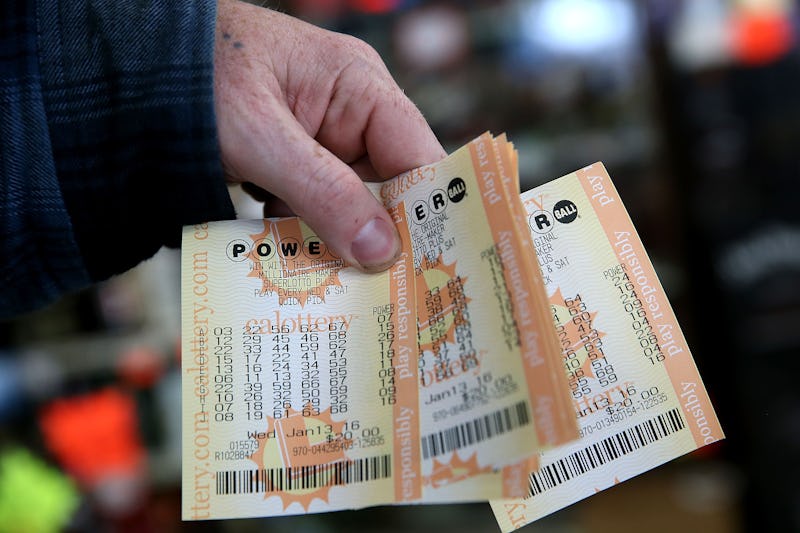 Justin Sullivan/Getty Images News/Getty Images
In all the anticipation of the second largest Powerball jackpot in the U.S. history, the Massachusetts State Lottery pulled a page from the Oscars playbook and announced the wrong store winner when the big moment came. So where is the winning Powerball from?
Update: CBS Boston reported that Mavis Wanczyk bought the winning ticket at 2:30 p.m. on Wednesday.
While the lottery originally announced that the winner came from Watertown, MA., the real winer came from the Pride Station & Store in Chicopee, MA, according to ABC News. This distinction does matter because the store that sells the winning ticket actually receives a $50,000 prize as well.
The mix-up may have occured because Watertown did in fact sell a ticket that won a prize — just not the $700 million one. Handy Variety, a convenience store in Watertown, sold a $1 million prize and was mistakenly identified as the big winner.
The winning Powerball numbers were 6, 7, 16, 23, 26, and the Powerball was 4. At a total of $758.7 million, Wednesday night's drawing awarded the largest Powerball prize to a single ticket in North America, according to CNN. The odds of matching all six Powerball numbers were one in 292.2 million.
Whoever purchased the winning ticket has yet to be announced.
Elsewhere in Massachusetts, Sandy's Variety in Dorchester also sold a $1 million ticket. Although much attention is given to the big winner, there are also often millions of smaller-prize winners when a Powerball gets to this magnitude. The Powerball website estimated that 9,397,723 other ticket holders won a combined $135 million, according to ABC News.
According to The Washington Post, six ticket holders won $2 million each, and 34 tickets across the country won $1 million each.
If a ticket holder guesses only the Powerball number correct, for instance, he or she is eligible for a $4 prize. However, according to CNN, the smaller prize winners don't always realize they won and tend to not ever claim their prizes.
The Powerball winner can choose to either receive the full $758.7 million in 30 annual payments or take an immediate payment of $480.5 million. The Powerball is subject to federal and state taxes, which ABC News notes can be up to 30 percent of the earnings. The largest Powerball in U.S. history took place in January 2016 when three ticket holders in Tennessee, California, and Florida picked the winning numbers and split the $1.6 billion prize.
The Powerball is played in 44 states as well as in Washington, D.C., Puerto Rico and the U.S. Virgin Islands. Now that a winning ticket has been sold, the Powerball will be reset to $40 million.