This Bachelor Contestant Can Rock Some Wild Costumes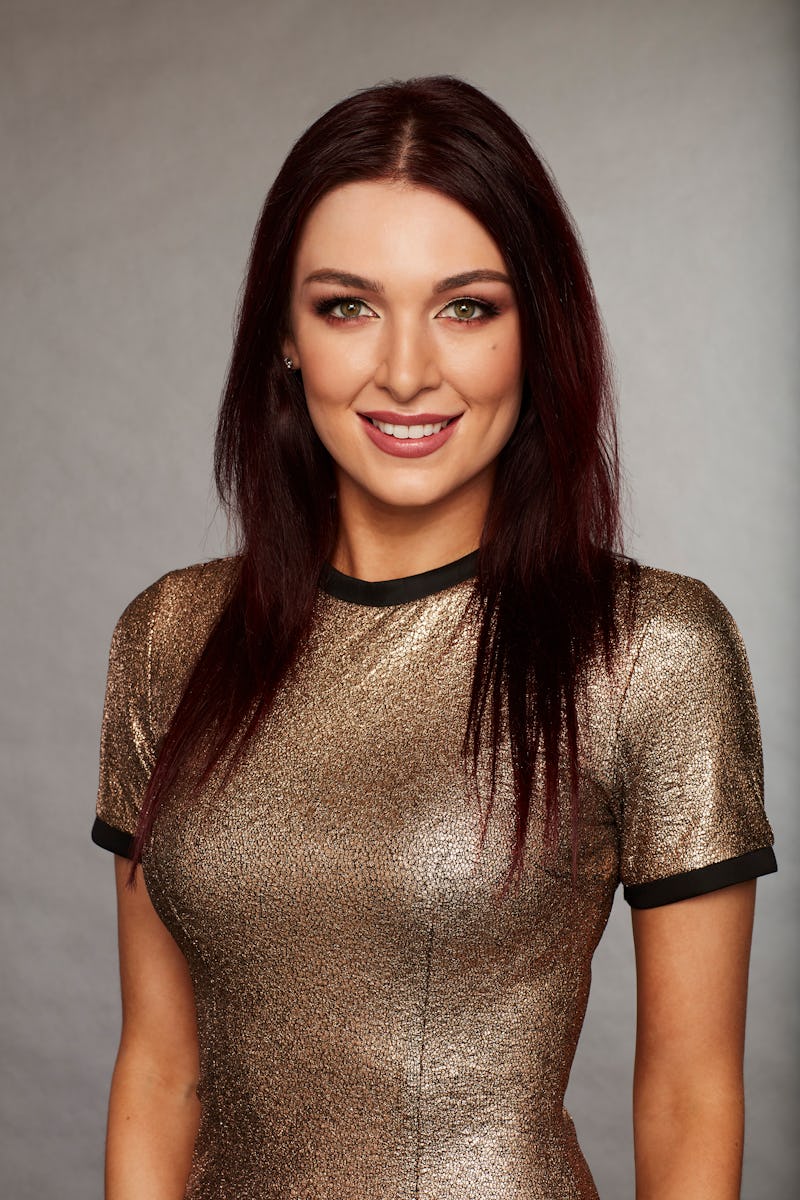 ABC/Craig Sjodin
When The Bachelor released its list of cast biographies, fans of the show were, as always, quick to dissect each and every aspect of the contestants' lives. There was a range of occupations, but perhaps the most intriguing places of work for these women are the ones in which people could stumble upon them in everyday life. When a Bachelor contestant has a normal, run-of-the-mill job like many of us, it makes it all the more fairy tale-esque when they're whisked away to the magic of the show. So, where does The Bachelor's Valerie work as a server?
It appears that Valerie is a server at a restaurant in Brentwood, Tennessee — about 15 minutes outside of Nashville, which she lists in her bio as her hometown. Reality Steve points out that she works as a marketing coordinator and social media manager for Twin Peaks in Brentwood, and it appears she works as a waitress there as well. If you're not familiar with the chain, which was once described by Bloomberg as a racier version of Hooters, Twin Peaks has a similar concept, and was even founded by former Hooters execs.
Twin Peaks is a national chain based in Dallas, Texas, with locations scattered throughout the continental U.S. It seems obvious that this kind of server gig is meant for most to be a gateway of sorts into modeling or acting in the future, and that's even mirrored in how Twin Peaks advertises its "Twin Peaks Girls" positions. The application urges potential applicants to "glam up" their hair and make-up and "audition" in one of their flashiest outfits. They also state on their website that in addition to the flexible hours and tips, the girls enjoy travel opportunities and modeling gigs, so it does seem perfect for anyone who's trying to segue into a more high-profile career who doesn't mind showing some skin.
Dressing up seems to be something Valerie enjoys even on her own time, too. She said in her Bachelor biography that her favorite holiday is Halloween. "You should see my closet. It's packed with over 50 costumes," she wrote. "I wish every day were Halloween." Valerie's personal Instagram account has become a bit more active since her Bachelor casting announcement was made (when contestants go on the show, they are required to de-activate their social media accounts until they return).
What's impressive, though, is that Valerie really wasn't kidding when she said she was into costumes. Her Bachelor biography goes on to say say that though she's typically at work on a Saturday night, she'd love to go out in a "killer outfit" with friends and "take lots of crazy photos." A dig into her older Instagram posts shows that this kind of night is definitely not abnormal for Valerie. She's seen on her social media in plenty of costumes that go way beyond Victoria's Secret-esque lingerie. In years past, she's been seriously decked out in incredibly intricate and seemingly hard-to-pull-off costumes on several different occasions, and it's truly something to behold. At Bonnaroo Music Festival in 2014, she didn't hold anything back.
It's clear that Valerie has no shortage of creativity or confidence, and her love for dressing up — whether in crazy, colorful costumes or a sultry set of lingerie — is apparent. The Bachelor has definitely seen contestants who aren't afraid to make a grand entrance in costume, either — never forget Alexis, who met Nick Viall in a shark costume. It'll be interesting to see Valerie showcases any of her unique signature styles this season, and it's definitely something that could prove to set her apart from some of the other contestants.