How Robin Williams' Oldest Son Is Beautifully Following In His Footsteps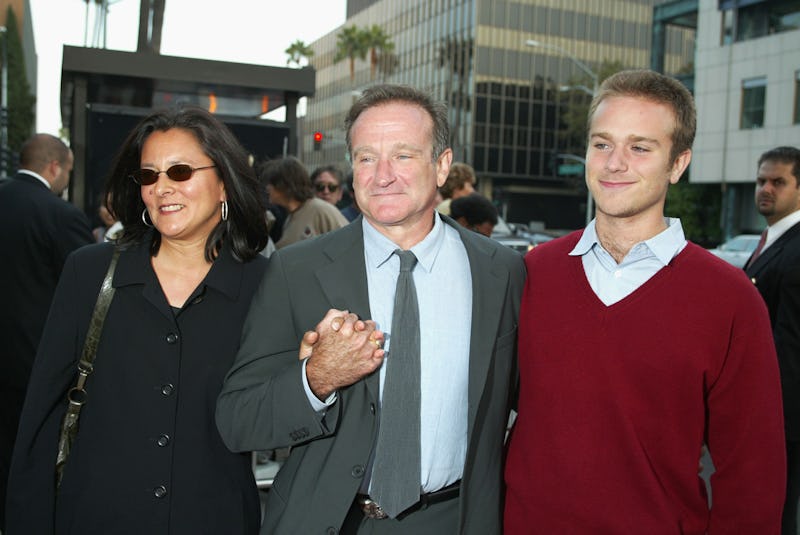 Kevin Winter/Getty Images Entertainment/Getty Images
The tragic 2014 death of beloved comedian Robin Williams shocked the world, yet his ongoing struggle with illness and depression was well known to his close family and friends. A new HBO documentary, Robin Williams: Come Inside My Mind, offers an intimate look at the comedian's life, and features those close to him speaking candidly, including Robin's son Zak. But where is Zak Williams now in 2018, when the documentary is finally coming out? It turns out that the actor's 34-year old son is following his own path while honoring his father's ideals.
The late Williams' dedication to philanthropy deeply influenced his oldest son Zak. According to CCN Money, during his life, Williams lent his name, time, and money to over 50 charitable organizations — he even spent 12 years traveling around the world to headline USO performances for servicemen and women. Williams also had a special relationship with the Christopher and Dana Reeve Foundation, hosting several annual charity events. Peter Wilderotter, CEO of the foundation, told CCN Money that "Many celebs have requirements about cars and who they will talk to, but Robin was the opposite. He showed up on his own and he stayed at our events and talked to everyone."
To no fan's surprise, Williams was known for forming deep, personal connections more easily than most. Speaking to People, Marlo Thomas recalled Williams' ability to bond with the patients at St. Jude's Children's Research Hospital, where Thomas worked with the comedian for over 18 years. "One of [the children] liked toy soldiers, so Robin sent him his own toy soldiers that he had saved all those years of his childhood," recalled Thomas. "When he came there, it was like magic."
Though he took a very different path from his father's celebrity — Zak has an MBA from Columbia University and now lives in San Francisco with his wife — he wanted to have as positive an impact on the world as his father did, in his own way. At 32, Zak was assessing tech companies and studying behavioral finance, but after his father's death, he sought out prison rehabilitation programs to both cope with his grief and help others. "Spending time at San Quentin, giving back, and trying to add value to people's lives is something that's been very helpful for me personally," Zak told CNN Money.
Fortune reports that today, Zak teaches a financial literacy class every Thursday at San Quentin, alongside Curtis Caroll, one of his fellow former inmates who was nicknamed "Wall Street" for his obsession with stock market analysis. The course follows current economic events, and teaches investment strategies, how to build a portfolio, and how to think of money with long-term perspective instead of a more immediate focus.
For both men, the class has apparently been a way to help others while also helping themselves deal with their own struggles. Caroll said to Fortune that his addiction to money landed him in prison, but properly harnessed, a focus on money can help instead of hurt lives. As for Zak, he told CNN Money that he reflects on his late father every time he walks through the prison gates.
"He was very compassionate towards those who might not have been dealt a great hand in life. His capacity for compassion and love was limitless," recalls Zak. Williams' life may have been tragically cut short, but thankfully, with the release of HBO's new documentary, more people will have a chance to learn more about the comedian's best qualities and impact on countless people — including his son.
If you or someone you know are experiencing suicidal thoughts, call 911, or call the National Suicide Prevention Hotline at 1-800-273-8255 or text HOME to the Crisis Text Line at 741741.