There's A Rumor Melania Trump Doesn't Actually Live At The White House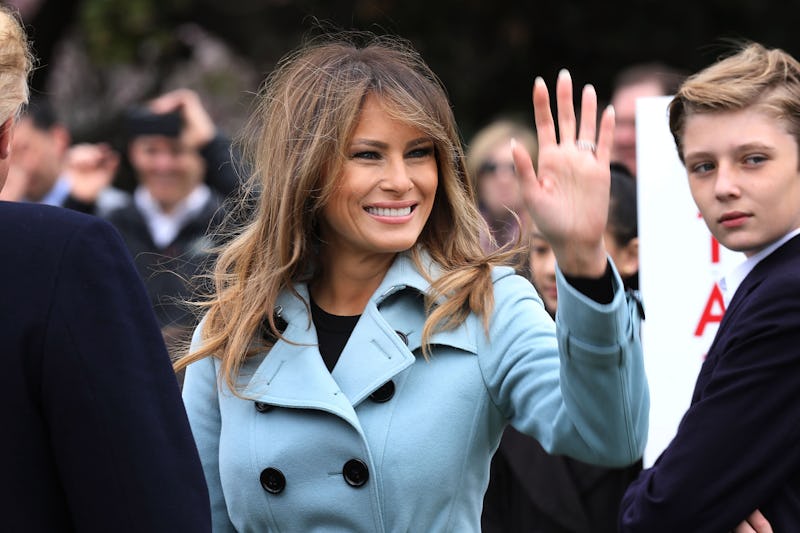 Chip Somodevilla/Getty Images News/Getty Images
Rumors that the first lady does not live at the White House have swirled since she took a break from public life in January after the Stormy Daniels allegations first came out. In some circles in Washington, the rumor has persisted. But an in-depth look at how Melania Trump lives at the White House shows that just isn't true. She is living in the East Wing — though she does stay in a different bedroom than her husband.
There was a theory that the first lady was living close to son Barron's school, in a home with her parents in the D.C. suburbs. She was not seen with her husband for a while, and there were allegedly a lot of Secret Service agents at the house her parents were staying in. The rumor was spelled out in a tweet by Brian Krassenstein, a businessman and self-described "Twitter personality." His tweet about the rumor received almost 12,000 likes.
But The Washington Post interviewed a number of Melania Trump's staff, including the first lady's director of communications, Stephanie Grisham. The rumors are "1,000 percent false," Grisham told The Post.
"We laugh at it all the time," she told the paper. The article detailed the first lady's schedule and how many of her hours are spent at the presidential residence.
Another member of Trump's staff denied the rumor. "It's an urban legend," Rickie Niceta Lloyd, the White House social secretary, told The Post. White House staff also told journalists that they see her regularly. There are some 100 butlers, florists, chefs, and others that she reportedly interacts with.
Even though Trump is living at the White House, it doesn't mean she spends much time with her husband. The article details how the two barely interact. They sleep in different bedrooms. They reportedly don't eat together — and not just when Donald Trump is wining and dining business executives and politicians at Mar-a-Lago. Even when the two are at the White House, they rarely share a meal, The Washington Post reported.
That distance was also downplayed by Grisham. "Aside from the president's solo trips, the family spends most evenings together," Grisham told The Post. She noted that Melania Trump "is focused on being a mom. She's focused on being a wife, and she's focused on her role as first lady. And that's it. The rest is just noise."
The focus on her schedule comes as the first lady decides to take a more actively public role. On Monday she will announce her plans for the rest of her husband's presidency. "Her focus all along has been children, and this launch is meant to formalize what her role will be for the next three to seven years," Grisham told The Post.
This comes on top of the very prominent role Trump had in planning the first state dinner when she and her husband hosted the French president and his wife. She was lauded for her planning details and style. Her large white hat alone had article after article written about it.
Other public moments of her husband's have depicted their relationship in less flattering light. President Trump's telephone interview on Fox & Friends had the president mention his birthday gift for his wife. He said that he maybe didn't get her much.
Still, even if their relationship is not the typical political one, it doesn't mean that Melania Trump doesn't live in the White House. And now with her staff gearing up for a more public agenda, she will need to be there even more. Trump may focus on her family and Barron just as much in her free time. But working hours will have a clear, new goal.