If You're Not Sure Where To Donate To Irma Victims, Here's What To Do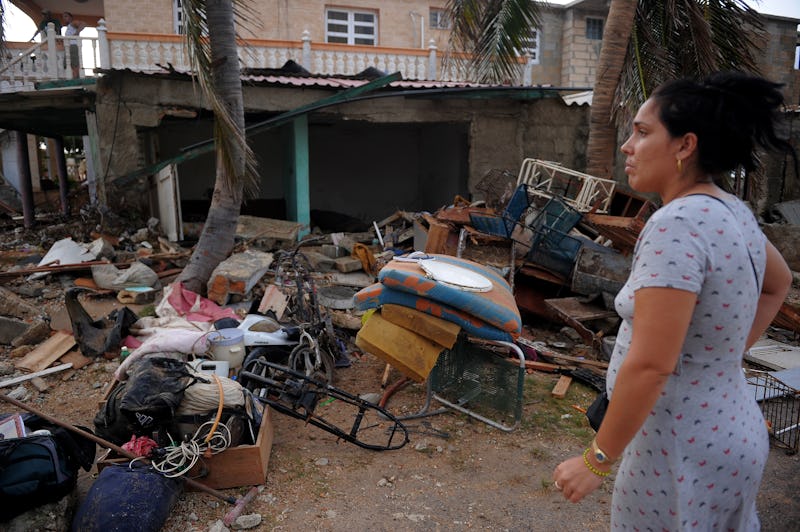 YAMIL LAGE/AFP/Getty Images
Hurricane Irma has wreaked havoc and destruction on many Caribbean islands and is currently making its way through Florida. The once-Category 5 hurricane (now weakened to Category 1) has caused at least 29 deaths so far and left hundreds of thousands displaced and facing extensive property damage.
As some cities continue to prepare for Irma and others confront life in the storm's wake, a variety of ways to help and donate to Hurricane Irma victims have emerged. If you are so inclined, there are many ways to offer your time, money, and resources to those who are facing Irma's aftermath.
Many experts advise that monetary donations are most useful in the wake of a crisis. As Dulcinea Kimrey, Divisional Communications Director for The Salvation Army, noted to AccuWeather:
Monetary donations are the most flexible and can be used immediately in response to a crisis. ... Cash gives relief organizations the means to procure supplies near the affected area, which cuts down on transportation time and cost.
Moreover, while appreciated, donation of goods, like clothing, can often divert charity workers' attention from other priorities in the disaster's aftermath.
If you do wish to make a monetary donation, there are a myriad of organizations from which to choose. For example, Global Giving is a highly regarded non-profit that prioritizes the funding it receives, typically first providing funds to international non-profits in the immediate wake of a disaster, and then later distributing funds to vetted local organizations. The organization is seeking $2 million for its Irma relief fund — donate here.
GoFundMe also offers a host of donation options, including many individual campaigns to help those affected by the hurricane. You can visit the organization's Irma fundraising page, which lists all Irma-related fundraisers to which you can donate. If you would rather have your donation spread across several campaigns, you can also donate to the Direct Impact Fund via GoFundMe's Hurricane Irma page. The fund is a non-profit which has partnered with GoFundMe to direct the donations it receives toward individuals with verified GoFundMe campaigns.
Also, as The New York Times reported, if you choose to donate to an individual campaign on GoFundMe, you can rest assured that the site has taken every precaution to ensure that your funds are used for their intended purpose, as recipients are verified and fraud on the site is rare.
If you wish to choose from a list of organizations to which you can donate in Irma's aftermath, Charity Navigator has compiled an excellent list of dozens of vetted organizations providing assistance in Irma relief and recovery. Some of these organizations include the American Red Cross, International Relief Services, and Save the Children, among others. Charity Navigator's Irma website also provides donation links for each of its listed organizations.
In addition to donating money, you can also donate time and resources to those affected by Irma. Blood donations are always needed in the wake of a disaster and you can contribute by donating at a local American Red Cross donation center. Your local center can then ship blood supplies where they are needed most.
Furthermore, if you have housing available to offer those displaced by Irma a place to shelter, you can register your home on AirBNB's disaster response program. This program allows people seeking shelter to quickly and easily find donated temporary housing that is available in their areas.
Finally, if you wish to volunteer your time to assist those impacted by Irma, you can register to be a volunteer through a variety of organizations. For example, the National Voluntary Organizations Active in Disasters program is seeking volunteers for Florida, Puerto Rico, and the U.S Virgin Islands. You can register to serve as a volunteer in one of these areas on the organization's website and the organization will subsequently contact you when your assistance is needed.
Regardless of whether you decide to volunteer through National VOAD or elsewhere, it is important to always register as a volunteer and not self-deploy to disaster zones, as this could be dangerous and could divert resources from victims of natural disasters.
Overall, there are a variety of ways in which you can donate funds, time, and resources to the hundreds of thousands of people impacted by Hurricane Irma. Hopefully, the efforts of many who are coming together to support Irma's victims will help make a difference as they try to rebuild their lives in the wake of this tragic storm.