This Holiday Self-Care Package Is By LGBTQ People, For LGBTQ People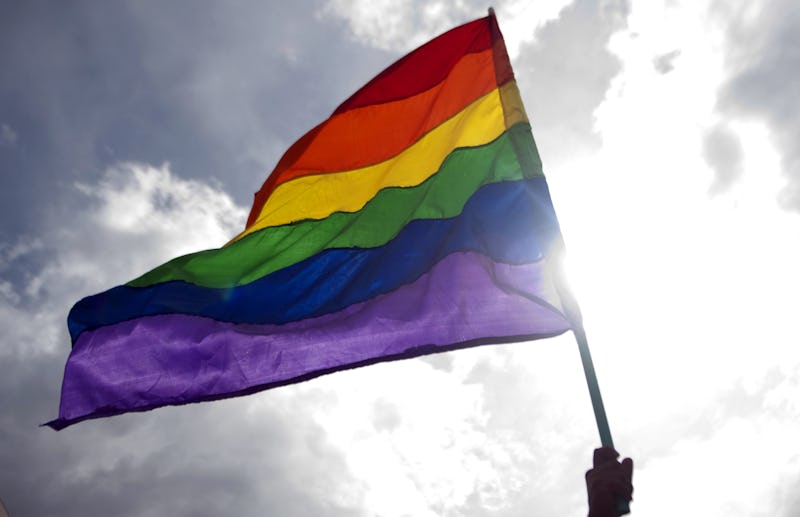 RAUL ARBOLEDA/AFP/Getty Images
For many members of the LGBTQ community, the holidays bring about feelings of sadness, isolation, and fear. That's why it's so incredible to find self-care packages for LGBTQ people like this awesome project from the popular site Everyone is Gay. This care package, appropriately called Where The Love Light Gleams, is a virtual, web-based "package" that is meant to encourage people to practice self-love and self-care, particularly in light of family estrangement or separation from friends and loved ones. (Bustle has reached out to Everyone is Gay for comment on Where The Love Light Gleams.)
As of right now, you can access the Where The Love Light Gleams self-care package online, meaning you don't need to wait for anything to come in the mail. The signup process is very simple: You just go here and enter your email address. Ta-da! That's it. You don't need to pay a penny, which is great because self-care can often feel inaccessible to people who are low-income or on tight budgets.
The package itself is full of both terrific resources and fun things for entertainment. There are queer-themed crossword puzzles, coloring book pages, music playlists, and tons of fantastic advice for self-care specific to the LGBTQ community.
Self-care decisions can be incredibly personal, varying greatly depending on your individual needs, wants, and circumstances. Some people enjoy practicing meditation, for example, while others dedicate some time to themselves to read and take a bath. But whether you regularly practice self-care or not, it can be really empowering to set aside time for yourself and focus on your own health and happiness first.
For people in marginalized communities, including the LGBTQ community, having an easy way to access self-care resources specific to your identity or identities can make a world of difference in feeling included and accepted. Building community and connecting to one another is also a great means of spreading self-care as a resource, especially for people who may be estranged or especially lonely during the holiday season.
That's another reason this resource is so cool — you can easily pass it along to your friends and family members who may be living far away, or are otherwise out of touch for the holiday season. It's also a resource you can easily share on social media, meaning that a huge amount of people may be touched by it. And especially during the holiday season, what's more important than helping people feel connected, respected, and loved?