How And Where To Buy A Solar Eclipse Viewer Without Getting Totally Ripped Off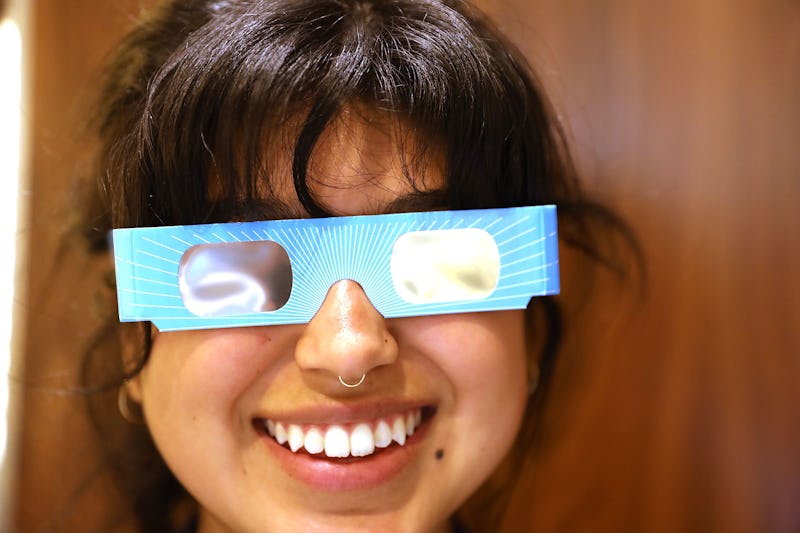 Spencer Platt/Getty Images News/Getty Images
On August 21, we'll all be witness to a total solar eclipse; and since the next one won't happen until 2019, it's best to cherish the moment. As it's not safe to watch the eclipse with the naked eye, everyone's in search of protective eyewear. If you don't yet know where to buy a solar eclipse viewer (or what you should expect to pay for one), here's how you can get your hands on a pair so that your retinas don't completely fry.
Although solar eclipse viewers are selling out across the country (both in stores and online), rest assured you can still find a pair. Start with the local library. More than two million glasses were given out to over 6,900 libraries around the U.S. This is in thanks to support from NASA, Google, the Gordon and Betty Moore Foundation, and the Space Science Institute's STAR_Net initiative.
The American Astronomical Society also provides a list of retailers who are selling the glasses from verified vendors. These include 7-Eleven, Best Buy, Circle K, Kirklands, Kroger, Lowe's, Toys "R" Us, and Walmart — where you can get them for just $1! It's best to call ahead and see if they still have them in stock, so you don't end up making the trip for nothing.
If you purchase them from 7-Eleven, I highly recommend you also purchase a slurpie, just because they're delicious.
Important note: bear in mind these glasses are typically made of cardboard and should only cost you a buck or two; but there are some sellers who are jacking up the prices as the date looms closer. If you do a quick search on Amazon, for instance, you'll find sellers listing theirs anywhere from $8 to $13 a pop!
While you should keep the price in mind so you don't overspend, do take care that the solar eclipse viewers you're buying are legit. One of the easiest ways to do this is refer to the AAS's list of reputable vendors. NASA notes that regular sunglasses and homemade filters — even dark ones — won't cut it.
As a final note: remember that the only time it's safe to remove your eyewear is if you are in the path of totality and the moon has completely covered the sun. Outside of the path of totality, your eyes need to be protected, or you're at risk of suffering from temporary or permanent damage.
And if all else fails and you're unable to look at the upcoming eclipse, remember that immediately after it happens, there will be hundreds of blurry pictures of it for you to enjoy on Instagram.