Asda Is Making Dreams Come True With This New Millennial Pink Baileys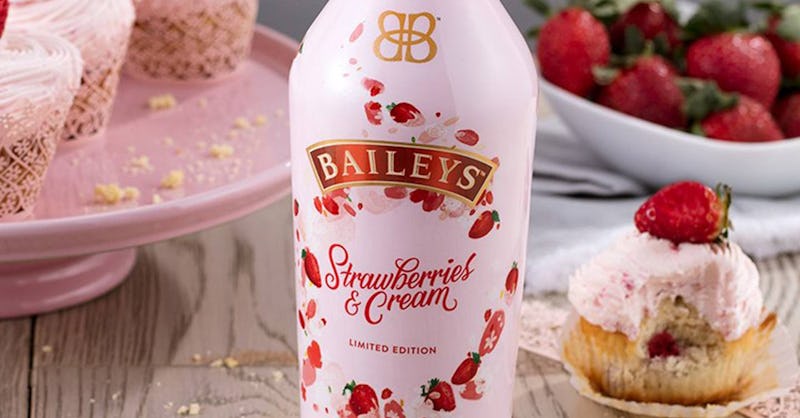 Baileys
With Wimbledon nearly only a month away, its time for the strawberries and cream to make their presence known. Instead of eating the English delicacy in the traditional sense, why not consume the taste of Wimbledon in an alcoholic beverage other than Pimms? That's right, ladies and gentlemen. The time has come for Bailey's to grace us with the latest spin on their Irish Cream liqueur following its success as a limited-edition treat in the U.S. last winter. If you're salivating in anticipation and wondering, where you can buy Baileys Strawberries & Cream, then I've got you covered.
For the moment, the 750ml bottle of bliss is available at Asda for £15, and is also available online at Warehouse Wine and Spirits according to The Sun, with a reported price tag of $35 or about £25. However, if the release of vegan Baileys Almande this March is anything to go by, you might be able to purchase the latest edition in other supermarkets across the UK soon enough. Similarly bottled in a beautiful design, Baileys Strawberries & Cream fuses the trademark Irish cream and whisky combo with the delectable taste of ripe strawberries. In other words, it is literally bottled heaven.
Practically an adult strawberry milkshake, Baileys Strawberries & Cream will be the perfect addition to a beautiful English summer evening, and could even be consumed as a delicious desert by the looks of the promotional photos of the drink. Add a bit of ice cream and you've got yourself a Baileys Strawberries & Cream sundae. Or, if you're really daring, make it into an ice lolly by freezing some in a mold. The possibilities with this drink are absolutely endless.
If Strawberries & Cream isn't something you'd want mixed with your whiskey, you can always have the Baileys Original Irish Cream. Although, Baileys are currently promoting other blends such as Baileys Alamande, Baileys Chocolat Luxe, Baileys Orange Truffle, Baileys Coffee, and even iced coffees. In the past, they have also had success with other variants including Baileys Caramel and Baileys Pumpkin Spice. Even if none of the above are your cup of tea, Baileys has a page dedicated to a variety of recipes that can become your own personal limited edition, including a Baileys Pumpkin Spice Latte and even a Baileys Hot Chocolate. So, building your own is an option.
It's surprising that Baileys haven't made this variant available to the UK sooner, you'd think it would have arrived here first since Baileys is an Irish brand. England has been surviving without it until now, since we have a pretty good selections of summer-infused alcohol already. Pimm's has always been a prominent summer drink of choice, especially when it comes to Wimbledon; so much so that as Campaign reports it became an official partner with tennis tournament last year. Its variants, Pimm's Strawberry and Pimm's Elderflower & Blackberry are also popular limited editions that add extra flair.
And then there are the traditional cocktails that are always a safe bet for the summer months, including the classic Margarita and ever beach-friendly Piña Colada. But c'mon, just the thought of a cold, creamy Baileys mixed with strawberries is too much to bear. Even if you don't like strawberries and cream without the alcohol, this limited edition may be enough to convert you to enjoy a staple of the British diet.
I'm excited to see whether it takes over Wimbledon this year. It seems like it would be a massive hit, seeing as the crowds at the famous tennis tournament reports that its attendees consumed consumed 33,000kg of strawberries and 10,000 litres of fresh cream during the 2017 tournament. Will Pimm's have a run for its money this summer? Only time will tell.