Chrissy Teigen Dressed Baby Luna In A Ramen Onesie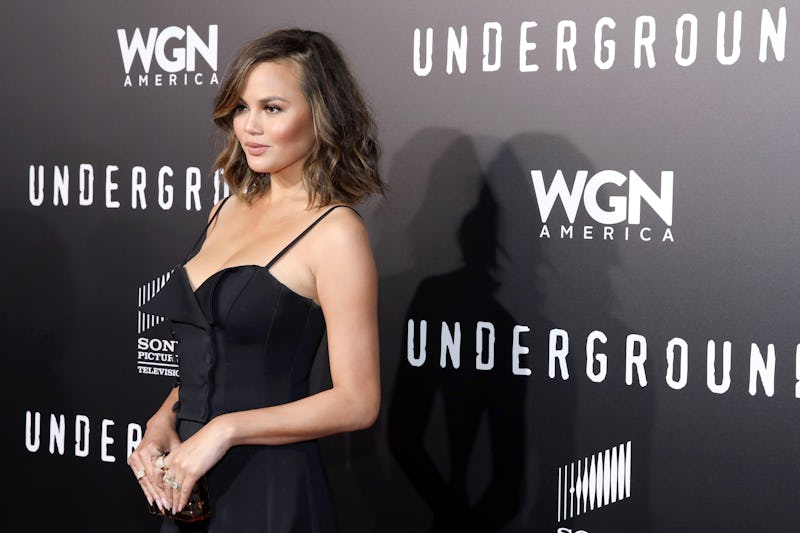 Rachel Murray/Getty Images Entertainment/Getty Images
If you follow Chrissy Teigen on social media, then you're aware of the fact that she knows a thing or two about food. While you're scrolling through her posts, you'll also see that she has another incredible talent: dressing her daughter. You need to find out where to buy the "Top Ramen" onesie Chrissy Teigen's daughter recently wore because this mom's foodie and dressing skills have combined in the ultimate way with this ensemble!
Teigen posted a video to Twitter showing baby Luna wearing a onesie that read "Top Ramen" on the backside. It's strategically placed so that you could see the words even when Luna crawled away, and let me tell you something — it's absolutely genius. If you love babies and/or eating as much as I do, you're going to want to stare at this video all day. Seriously, too cute.
And if you actually have a little one of your own (or, you know, can borrow one from a friend or something), then you're going to need to buy this outfit for the most adorable food-baby mash-up ever. While you may not be able to find the exact version Luna wore online, you can certainly come close. From onesies made to look like ramen packaging to prints of noodle illustrations, you've never seen infant style like this before!
Just when you think your love of ramen couldn't grow any stronger, you see it in baby clothing form!
The outfit inspo is next level.
Ramen Baby Onesie and Hat, $49, Etsy
The more babies in ramen-inspired numbers, the better. You can shop this one for $49 on Etsy. And trust me, it'll be the best purchase you ever made.
Happy Soba Kawaii Bodysuit, $25, Etsy
You guys, I can't. This handmade screenprint is freaking everything.
Everybody Loves Ramen Baby Bodysuit, $28, Zazzle
The obsession starts at an early age.
Take a style cue from Teigen and deck your baby out in ramen noodle clothing from head to toe, and when you do, post photos online because people (like me!) need this kind of thing in their life.