Where To Buy Christian Siriano's Statement T-Shirt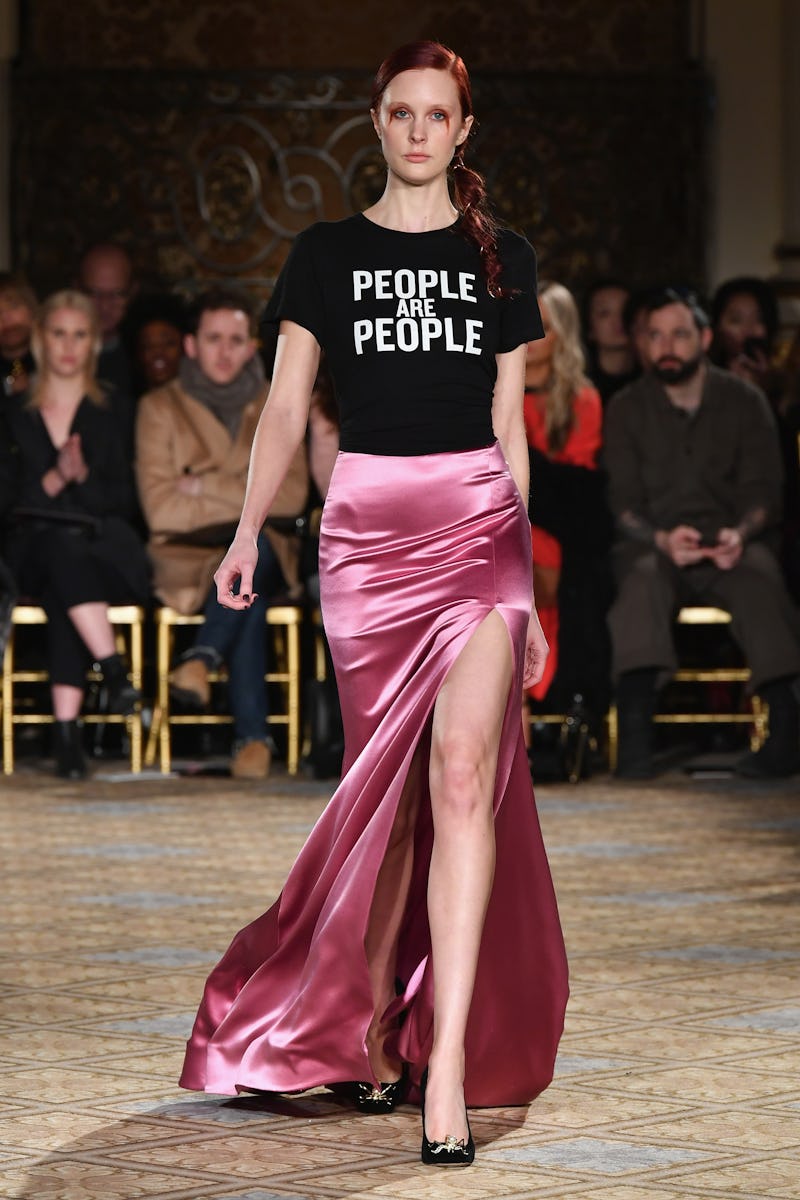 Slaven Vlasic/Getty Images Entertainment/Getty Images
In today's political climate, it's difficult not to let politics bleed into other aspects of our lives — including our fashion needs. That said, open-minded folks will likely love Christian Siriano's "People are People" t-shirts that marched their way down his beautiful runway at NYFW on Feb. 11.
Surrounded by a collection that was all silk and velvet, the simple cotton tee stood out. Paired with a form-fitting silk maxi skirt, the black tee simply declared to the audience, "People Are People." The design was made in collaboration with Leggo Your Ego.
You could speculate the meaning of the message, but in its simplest terms, the shirt serves to remind people that no matter what, those around you aren't your enemies (in fact, they're just like you), and that no one deserves to have their rights taken away.
Given the message, it makes sense that the T-shirt is linked to a similarly alighned cause: All profits from the sales of this shirt will be donated to the ACLU. That combined with the fact that it's availalbe from the Leggo Your Ego websit right now — well, you can't afford not to grab one.
Not only will you be supporting one of America's most important organizations, but you'll get to have a designer piece that walked down an actual NYFW catwalk for a mere 25 dollars. It's a win-win: You support something you believe in, and you get to look fly.
The shirts are only available through Leggo Your Ego, and they come in a wide range of sizes, spanning from small through 2XL. There are also both men's and women's sizes. If you have some extra money to spare this month, this T-shirt would be an awesome addition to your growing collection — from "Nasty Woman" tees to "Nevertheless, She Persisted" sweaters, your closet has never spoken so loudly.