Glow-In-The-Dark 'Star Wars' Undies Exist & Yoda Would Totally Approve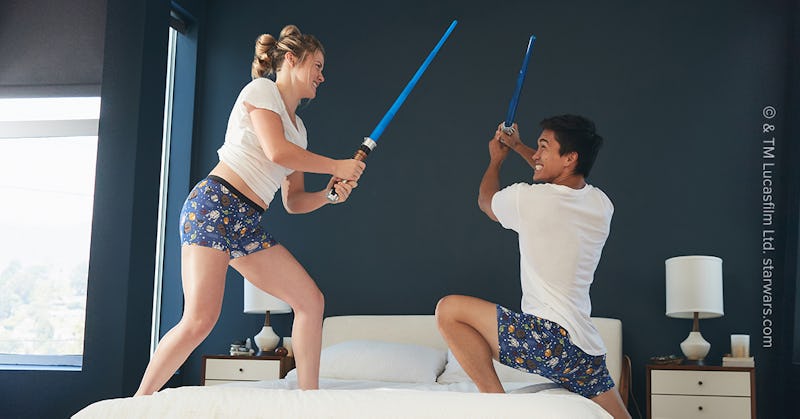 Courtesy of MeUndies
There has been no shortage of Star Wars fashion capsules to choose from in recent years — but this one might be the best. MeUndies is dropping Star Wars print underwear (offers sizes XS to 2XL) on Thursday, Sept. 13. These glow-in-the-dark undies feature all of your fave characters, such as Chewbacca, C-3PO, R2-D2, Darth Vader, and Yoda. The instantly recognizable Stormtrooper helmets, the Rebel Alliance symbol, and the aforementioned glowing stars also factor into the design.
It's the first collab to incorporate both the Dark Side and the Rebellion in one cohesive and limited edition design. It were created in-house by the MeUndies team and boasts original drawings. Yoda would totally approve. Or if you're using Yoda-speak: Approve, Yoda totally would.
The underwear company recently kicked off a membership service that issues exclusive monthly prints to its members and features discount pricing. However, the Star Wars prints are not member-exclusive.
So all fans of a galaxy far, far away will have access to these adorable underthings. If you want them, they can and will be yours. And let's be honest. Who wouldn't want this cool AF underwear?
The Star Wars x MeUndies collab is proof that underwear is not an afterthought. In fact, it's all about self-expression and is an integral part of your OOTD. It can be a sweet surprise to whomever you wish to show them.
The Star Wars print comes in seven styles. There are boxers, boxer briefs, briefs, and trunks for men and bikinis, boy shorts, and cheeky briefs for the ladies. Any of these cuts will reign supreme as the coolest undies in your top drawer.
For the general public and non-members, the Star Wars undies are $18 to $24 per pair. Members enjoy the reduced prices of $14-16 per pair.
From the black waistbands to the blue base, you may have just located your new faves.
The print is pretty snazzy. Also, anyone can wear any of the cuts, too. Make either of the his-and-her styles yours.
Wanna see how these pairs transform and how they glow in the dark? Sure you do.
Turn off the lights and turn up the intergalactic glow.
Who needs to lay down under a starry sky when you have these undies?
Be forewarned, though! These panties might keep you up at night.
They could serve a dual purpose — they are both a nightlight and sleepwear.
Even the pouch that the Star Wars x MeUndies collab is shipped in is cool and collectible. You can repurpose it to store special stuff, like precious keepsakes or notes. Or you could even use it as a low-maintenance travel sack for bracelets or makeup.
Since the Star Wars x MeUndies collab is limited edish, you'll want to hurry and add 'em to your rotation.
1. The Bikini
2. The Cheeky Brief
3. The Boy Short
4. The Brief
5. The Boxer
6. The Boxer Brief
7. The Trunk
May the undies force be with you.