Where To Buy Havaianas x MLB Flip Flops Because Pedicure Season & Baseball Season Are Coming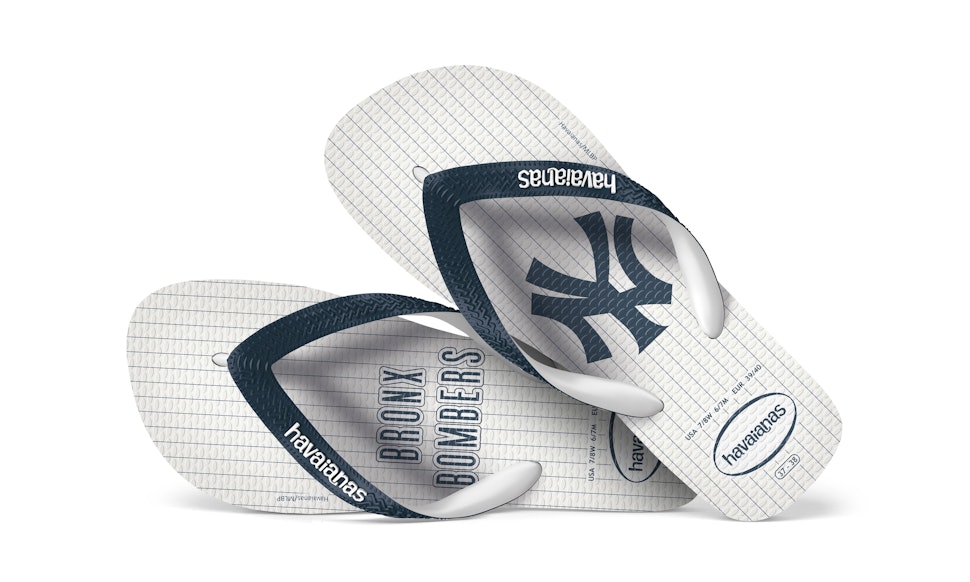 Courtesy of Havaianas
Spring isn't the only season readily upon us. Baseball season is about to start and warm weather means it's prime time for pedicures. What better way to show off your love for your fave Major League Baseball team and your newest nail art than with a fresh pair of Havaianas? The Havaianas x MLB flip flops collab is a fun and fashion-y way to be a fan girl or boy.
The collection, which is the first partnership among the brands, have arrived in conjunction with Opening Day on Thursday, March 29. It features 16 pairs for both men and women and represents 13 MLB teams.
Are you a New York Yankees diehard who can rattle off batting averages and other stats? Or do you root for their crosstown rivals The Mets instead? Love the Los Angeles Dodgers? Or are you partial to the Anaheim Angels? If you pledge your allegiance to any of those teams, you'll be stoked to step into a pair of branded Havaianas.
What's even more awesome about this footwear is that you don't need to fancy any particular MLB team. If you simply love the black and orange colors of the San Francisco Giants, you can rock their flip flops. If you prefer the blue and red motif of the Chicago Cubs but can't name a single played on the roster, you can happily and stylishly wear their version of Havaianas.
The Havaianas x MLB range will be available via the Havaianas site as well as in select stadiums through the summer. Prices start at $24 and go up to $28. There are thick thongs, such as these.
There are also a few pairs with slimmer thongs, like these!
The left beds boast familiar team slogans, while the right beds feature both the team and Havaianas logos.
You can be frolicking at the beach, enjoying a picnic or a walk in the park, or taking in a game for date night. These flip flops are perfectly suited for all of those occasions and more.
These are all of the teams taking flip flop form: Anaheim Angels, Boston Red Sox, Chicago Cubs, Detroit Tigers, Kansas City Royals, Los Angeles Dodgers, Miami Marlins, New York Mets, New York Yankees, Pittsburgh Pirates, San Diego Padres, San Francisco Giants, and St. Louis Cardinals.
St. Louis Cardinals
St. Louis Cardinals, $24, Havaianas
It's all about the clever detailing, like the baseball seam weaving through the footbed of the Cards pair.
San Diego Padres
San Diego Padres, $24, Havaianas
There's nothing quite like the mix of team colors and specific sayings in a casual pair of shoes.
Chicago Cubs
Chicago Cubs, $24, Havaianas
If you have a partial season ticket plan at Wrigley Field, you will so want to add these to your arsenal.
Boston Red Sox
Boston Red Sox, $24, Havaianas
You don't need to wear actual socks with these sandals. You simply need to be a card-carrying member of Red Sox Nation, yo!
New York Mets
Kansas City Royals
San Francisco Giants
San Francisco Giants, $24, Havaianas
Nothing shows your team pride like wearing its colors. If you go all out with team gear, well, your shoes can match your shirt or your cap with these flippies.
Pittsburgh Pirates
New York Yankees
New York Yankees, $24, Havaianas
If you live for the Bronx Bombers, you gotta grab this edition and wear them every time you attend or watch a rubber match.
Florida Marlins
Florida Marlins, $24, Havaianas
Orange is such a summery color. If you've never even watched a Florida Marlins game, these flippies will still go with so many outfits you already own.
Detroit Tigers
Anaheim Angels