Kylie Jenner's Black Sequin Jumpsuit Is So Glam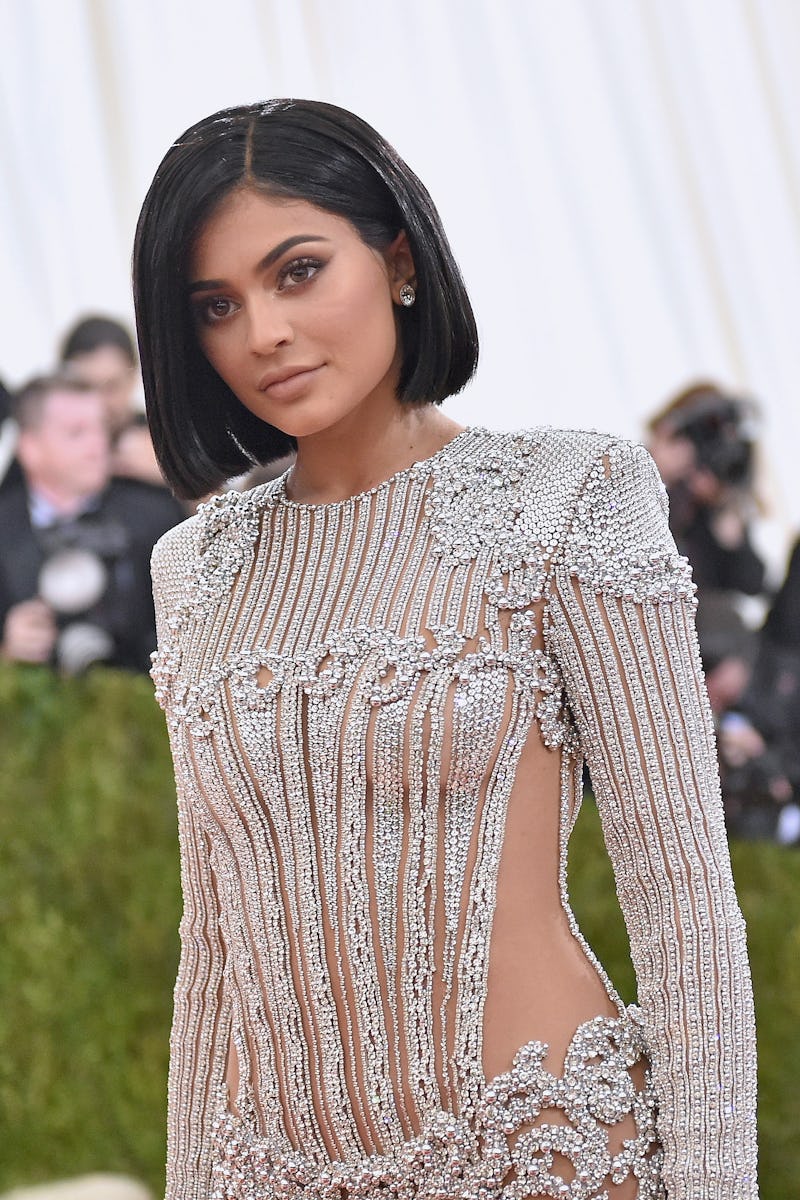 Mike Coppola/Getty Images Entertainment/Getty Images
While some of us chill in our pajamas for Christmas, others use it as an opportunity to get dressed to the nines. While celebrating Christmas Eve (or in this case, Krismas Eve) Kylie Jenner wore a black sequin jumpsuit and it was super glam.
While attending Kris Jenner's annual Christmas blow out, Kylie Jenner wore a skintight mock neck black sequin jumpsuit with a racerback and a straight leg. She showed off her holiday ensemble on Snapchat and Instagram, captioning her two Instagram pics "Krismas" and "Eve."
Once Jenner arrived at the bash, she showed off her new gift from boyfriend Tyga — a very sparkly diamond necklace. Kris Jenner also had a matching diamond necklace that might also have been a gift from Tyga, but it could just be a coincidence. I imagine the Kardashians have a lot of diamond necklaces on hand.
Kylie wasn't the only one making a fashion statement at the shindig. Kourtney rocked a high ponytail with a stomach baring crop top and coordinating slouchy white trousers. Kim donned a slinky gold dress and a lip ring, making her first social media appearance in a long time on Kylie Jenner's Snapchat story.
I tend to spend my Christmas with my family in a very un-Kardashian like fashion, so I rock sweatpants, but Kylie Jenner's black sequin jumpsuit would be perfect for a New Year's Eve celebration. Like almost too perfect.
Can't you see yourself rocking this jumpsuit for NYE?
It's the perfect holiday outfit.
Kylie's jumpsuit is surely designer — I'm 99% positive it is from Saint Laurent's Fall 2016 collection. But you can definitely find something similar in your price range.
Here are a few of my favorites.
This V-Neck One From ASOS
New Look Sequin Plunge Jumpsuit, $23, ASOS
An alternative to the mock neck style, this plunging neckline adds a little visual interest to this sequin jumpsuit.
This Strapless One From Missguided
One For The Money Strapless Black Sequin Jumpsuit, $95, Lulus
This one has no frills so you have room to accessorize with a diamond necklace like Kylie's (a girl can dream, right?).
This Romper Option
Motel Vanille Romper In Sequins, $53, ASOS
In case you want the glamour of all black sequins, but live in a warm climate.
Images: Kylie Jenner/Snapchat, Asos.com (2), Missguidedus.com