Here's Where To Buy Kylie Jenner's Juicy Tracksuit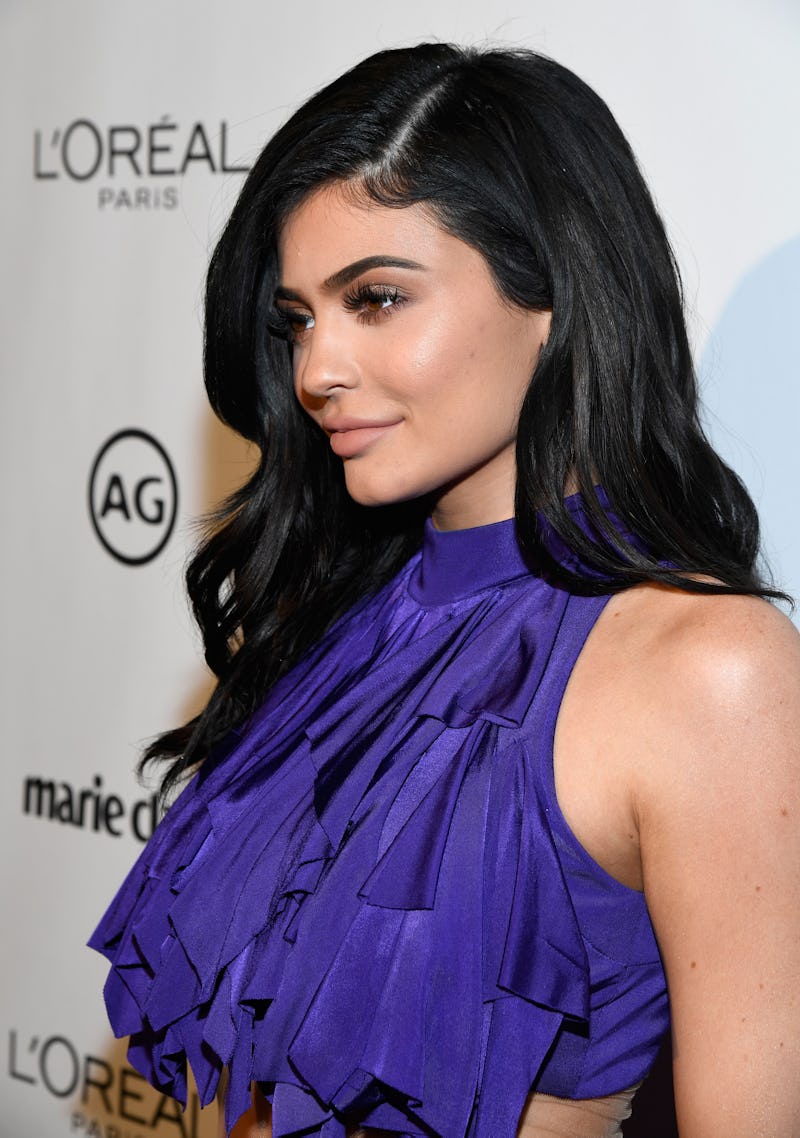 Matt Winkelmeyer/Getty Images Entertainment/Getty Images
Fashion always comes full circle, and it looks like this '00s trend is finding its time to shine again. Taking a style trick from her big sister's early style moments, Kylie Jenner wore a Juicy Couture tracksuit in her recent Instagram photo. Where can you buy Jenner's high-waisted Juicy Couture track pants? The exact pants will cost you, but there are plenty of look-a-likes out there as well.
When the world first to to know Kim Kardashian, she was often seen out and about with It-girl of the moment Paris Hilton in matching Juicy Couture track suits. Fast forward ten years later, and now her youngest sister is rocking the trend in a modern way — well, sans Hilton, that is. Jenner took a series of Instagram photos posed in the high-waisted, bedazzled Juicy Couture pants and a matching black velour jacket. Although it's been a while since this look has been in style, fans are loving this comeback.
If you're looking to get your own matching ensemble, you have a bunch of options. The exact version Jenner wore is actually from the Vetements x Juicy Couture collaboration, which means it's pretty high-fashion. The track pants are on the MatchesFashion.com website for $1,140. I told you that Juicy sweatsuits were officially back and better than ever!
If you're looking to get the look, you'll be happy to know that there are tons of options at all different price points. Here's all of your shopping options, from exact pair to stylish look-a-likes.
Vetements x Juicy Couture Velour Track Pants, $1,140, Matches Fashion
This is one high-fashion collab.
ASOS Tall Hareem Pants In Jersey, $12, ASOS
If you don't want the brand-name on your butt, these are a great option.
Juicy Couture Crown Jogging Bottom, $63, ASOS
These are more colorful, but they make the same '00s statement.
Vetements x Juicy Couture Embellished Hooded Top, $81, Net-A-Porter
Because everyone needs a matching jacket to go with their pants.
5. Classic '00s
Juicy Couture Velour Track Pants, $159, Style Bop
Or maybe you're looking to rock an exact '00s throwback.
Juicy Couture Velour Jogger with Snake Print Logo, $143, ASOS
Not a fan of the name on the butt? You can get the front-label version instead.
On The Grind Jogger Pants, $48, Nasty Gal
They might not have the name, but they're just as trendy.
It's only a matter of time before all the other '00s trends come back as well!