Laverne Cox Has A Nail Polish Collab That Gives Back To Hurricane Relief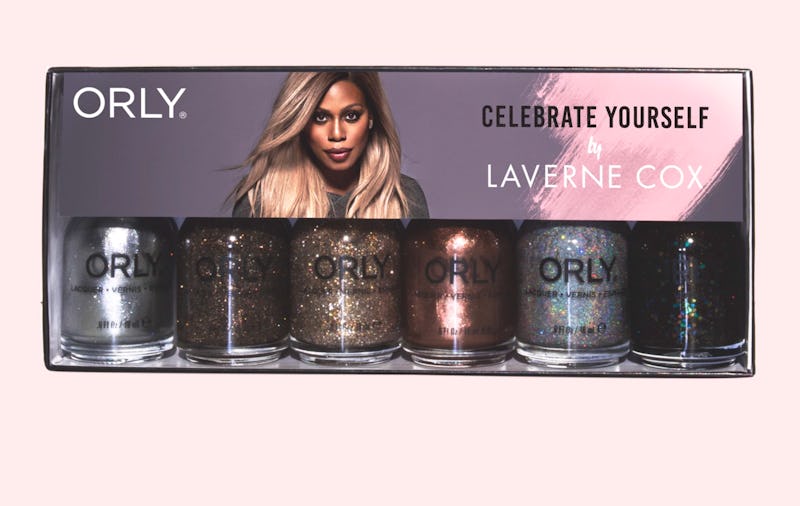 At the 2017 Emmy Awards, Laverne Cox looked effing incredible in a gunmetal dress by Naeem Khan with matching earrings, matching eye shadow, and, most importantly matching nail polish. On the red carpet, Cox revealed that she was wearing two colors from the Orly x Laverne Cox "Celebrate Yourself" nail polish collection. Not only are the sparkly black and silver shades pretty much perfect for any holiday activities coming up on your agenda, but Cox shared with E!'s Giuliana Rancic that proceeds from sales of the polish go to Hurricane Harvey and Hurricane Irma relief.
You can shop the entire Orly x Laverne Cox collection (including the two colors Cox was wearing Sunday night, Shine and Androgynie) now on orlybeauty.com. For $49, you get a box set with six glittery shades and, for a limited time, a free mini all-in-one-top and base coat. In addition to the metallic silver and sparkly black, there's a glitter silver (Mirrorball), metallic copper (Million Dollar Views), sparkly gold (Party In The Hills), and a wonderful glitter pink (Halo).
On the red carpet, Cox talked a bit more about how her nail artist had used the polishes in the collection for Sunday night, telling Rancic the look was inspired by her Emmy's dress. The black and silver colorblocked pattern on Cox's signature pointed nails (which, Cox recently told Refinery29, "...feel like claws, which make me feel more feline and powerful.") certainly made for a chic complement to her already very, very chic look for the evening. Here's a close up.
Now let's back up for the whole, slammin' outfit.
Cox posted a photo of the collection packaging on her Instagram before hitting the red carpet on Sunday. Always multi tasking, that one.
Of the rest of the collection, Cox said it was inspired by those little moments of self care many people have come to appreciate even more in recent times. "[The collection] is really about loving and adorning yourself," Cox told Rancic. "Whenever I get my nails done, it's about me time. It's about celebrating yourself and loving yourself." Cox also told Refinery29, "Every single one of these colors makes me smile inside when I look at them. That's what I want when I look at my nails."
When Rancic praised Cox for the amount of activism she works into her everyday life, including the give back aspect of these nail polishes, Cox reminded viewers that it's something everyone can do in some way. "I'm so incredibly blessed," Cox said. "I think when much is given, much is required. That's all. Everyone can do it. Everyone can give a little bit."
Immediately after the nail polish collection was revealed on live TV, Cox's fans basically blew up Twitter with their excitement about the collab — and, of course, how fantastic she looked on the red carpet.
It's true: The sparkles are very, very good.
I need it too.
Rancic also pulled up a photo of Cox from her incredible Ivy Park campaign, which was revealed earlier in September, giving viewers yet another thing to get excited about.
If wearing the polish brings you closer to Laverne Cox, it's certainly worth every penny.
Seriously, she's pretty much an icon at this point.
It's a skill!
Which was better: the dress or the polish? It's pretty safe to call the whole thing a tie.
She is not kidding you, thank goodness.
Like most of Orly's collabs, the Laverne Cox "Celebrate Yourself" collection is limited edition, so head over to orlynails.com to snag a set ASAP.