The Best Patriots Merchandise To Celebrate SB51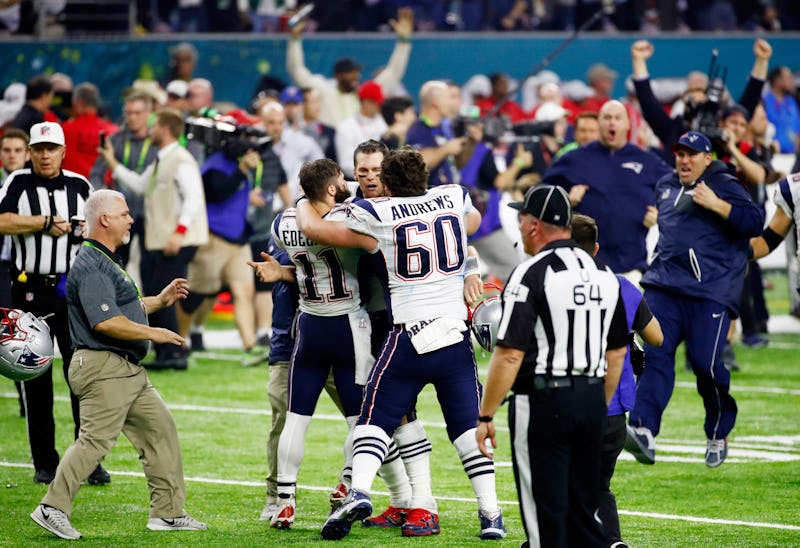 Gregory Shamus/Getty Images Sport/Getty Images
Whether you're into sports or not, the Super Bowl is usually a blast for everyone. In the past 24, countless massive fans likely stocked up on tons of snacks and headed to a party where they shed tears of joy or tears of rage. For everyone else, the day was either regarded as a giant wing-eating contest or a free Lady Gaga concert. Maybe the highlight of your afternoon was watching all the commercials! Regardless, finding out where to buy the best Patriots Super Bowl merchandise and memorabilia is probably a fan's biggest priority now.
From a cozy blanket to a chic scarf, we've got tons of Patriots team merch that you'll love to own (or give, if you've got another football lover if your household). Still, whether you're a diehard New England Patriots fan or a lover of the Atlanta Falcons, both teams worked their asses off this season, and that's definitely worth commemorating. That's why I've also rounded up some of the coolest Falcons memorabilia for your favorite team, because win or lose, your support doesn't have to end just because the season did.
No matter how you spent your Super Bowl, I'm hoping you had as much fun as I did — yes, even the Falcons supporters, whose Sunday probably could've ended on a higher note. And to all the Patriots fans, congratulations on an epic game. Now, on to all the memorabilia you should snap up ASAP before it all sells out.