These Boozy Gin-Filled Baubles Will Make Your Christmas Merry & Bright To Boot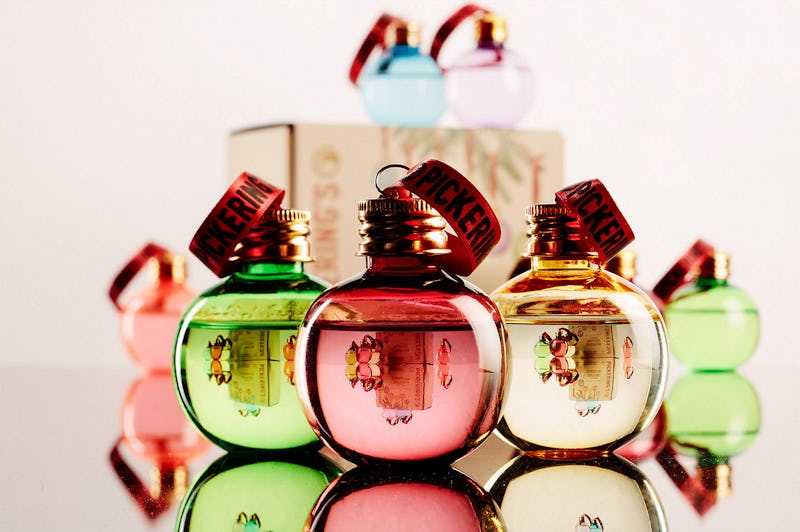 Pickering's Gin/John Lewis
It's the only time of year when drinking alcohol directly off a tree makes sense. So where can I buy gin baubles and how do they fit a whole bottle of gin into a bauble? OK, so it's not an entire bottle of gin in the bauble. That would be ridiculous. Or would it be?... No, each one has 50ml worth of what the Victorian's called "mother's ruin."
Our friends over at Pickering's Gin have created this dreamiest of all dreamy grown-up Christmas decorations. The box comes with six baubles, each containing 50ml of their finest gin. The bauble shaped bottle has a festive AF rose gold cap that you can screw off for a quick festive hit and has a dainty red ribbon attached so you can hang it off those creaky branches. You can buy these gin baubles via the Pickering's Gin website, as well as Amazon and good old John Lewis.
These little gorgeous and super unique baubles are multi coloured glass, and an absolutely divine addition to any Christmas tree. Described on their website as "a tree-mendous gift for anyone who loves gin, Christmas, and/or baubles," you can purchase this unique gift for £30. That's not bad at all is it? Especially when the screw top means you can refill the baubles, or simply use them empty year after year.
Pickering's, established in 2013, is a Scottish owned and run distillery, based in Edinburgh. The recipe for their yummy gin dates back to 1947 and has gained them a hell of a lot of fans, as well as a shed load of awards and — I am assuming — hang overs. They have proven themselves to be super creative and inventive, with not only flavours and products, but also some incredibly cool machinery. Take for example their Marvellously Mixed Music Martini Maker. They have fashioned a special martini machine out of an old frickin' gramophone machine. How lit is that?! Describing the unique machine on their website they say
"The original version of this ingenious invention was made with a wind-up gramophone from India, a 1940s American lamp, 1960s chemistry equipment and a coffee cafetiere from the charity shop down the road. It mixes your drinks at 78rpm, while playing your favourite record. Mmmmm…"
Mmmm is flipping right! OK maybe your budget can't stretch to a martini making machine (thank god, could you actually imagine?) but with these particular decorations, you can get gin-cident ready from early on in the season. And what more could you want really, especially considering how gin has seen a particular resurgence of popularity in recent years.
Yes, gin flavoured everything, from gin advent calendars, to gin chocolate, to even spreadable gin. Oh yes, the humble old gin and tonic is increasingly gauche if today's standards are anything to go by.
Gin is definitely not a new thing. Oh no babes, it has been around since, approximately, the middle ages. Yep, it has been satiating boozy needs for quite some time. Initially hailed as a medicine, it is as old as the hills. It became a bit of a British institution from the 18th century when it was the drink of choice among all of the classes, and known as "mother's ruin," Huffington Post reports. Considering how awful living conditions were for most people, more like mother's relief I suppose.
It also became quite the hit after expats were recommended to take quinine by the barrel load to stave off malaria. And what made the bitter tasting quinine taste delicious? Why gin of course. All hail the birth of the gin and tonic.
Since then it's always been a popular option at the bar, but the more recent trend of craft gins and gin-themed items means that gin is definitely the drink of the moment. So say Merry Christmas like you mean it this year — with gin baubles.