Here's Where To Buy Hillary Clinton-Themed Whiskey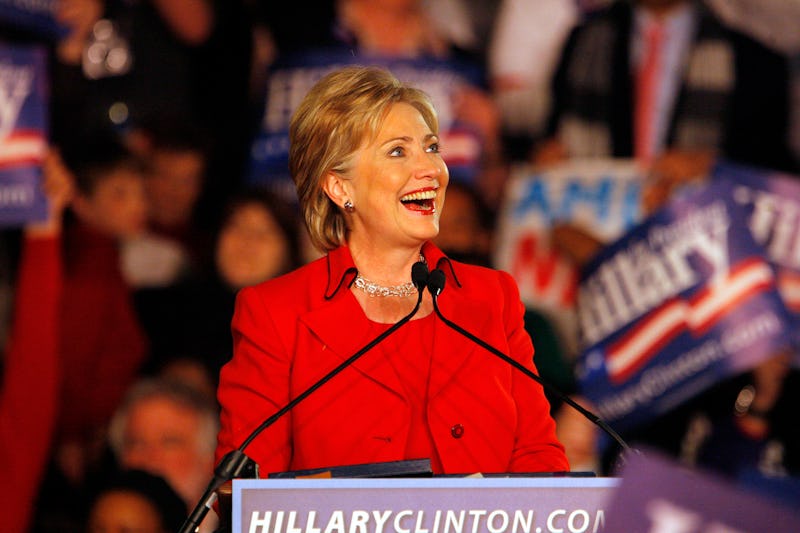 Eric Thayer/Getty Images News/Getty Images
After facing an unexpected setback on Election Night, the Washington D.C. distillery Republic Restoratives has finally released Rodham Rye, its Hillary Clinton-themed whiskey. Crafted as a tribute both to Clinton and women in general, the whiskey will have a limited run of 4,652 bottles, and a portion of the proceeds will go to Emily's List, a PAC that helps put pro-choice Democratic women in office. This may have you wondering where to buy Rodham Rye, and thankfully, you won't have to look far.
If you live in the D.C. area, you can try the whiskey at the Republic Restoratives's craft cocktail bar. Otherwise, you can buy a bottle online from any number of local shops' websites.
Rodham Rye, $79, Republic Restoratives
Pia Carusone and Rachel Gardner, the owners of distillery, had intended to release the whiskey around the time of the inauguration as a tribute to America's first female president. However, those plans were upended when Donald Trump won the Electoral College, and the duo considered canceling the launch. But after much consideration, Carusone and Gardner decided to go ahead with their plans. They officially released the whiskey on Saturday, with a launch party at their bar and a panel discussion about pro-woman activism under Trump.
"It's a tribute to women in history, and a tribute to women in our everyday lives," Carusone, a former chief of staff to Rep. Gabrielle Giffords, told the Washingtonian.
Rodham Rye, $79, Republic Restoratives
Rodham Rye now serves as a tribute both to Clinton in specific and women in general. Its makers, in several clever ways, reflected this in the drink's composition. For instance, they cut the whiskey to bottle strength using spring water from a maple syrup farm in New York, the state that Clinton represented in the Senate. It's a blend of 1-year-old rye and 3-and-a-half-year-old rye — or, as the drink's tagline explains, "a selection of whiskies that are stronger together than apart." Carusone also noted to the Washingtonian that rye is the most "resilient" grain one can use to make whiskey, another subtle nod to Clinton's political career.
The bottles aren't cheap — they sell for around $70 online before shipping. Five percent of the proceeds will go to Emily's List. Carusone and Gardner only plan to do a limited run of the drink for the time being, but they may be open to reconsidering.
"You never know, there could be a comeback," Carusone told the Washingtonian. So, you could find the whiskey on shelves again soon.