Diehard Disney Fans Need This New Pair Of Minnie Mouse Ears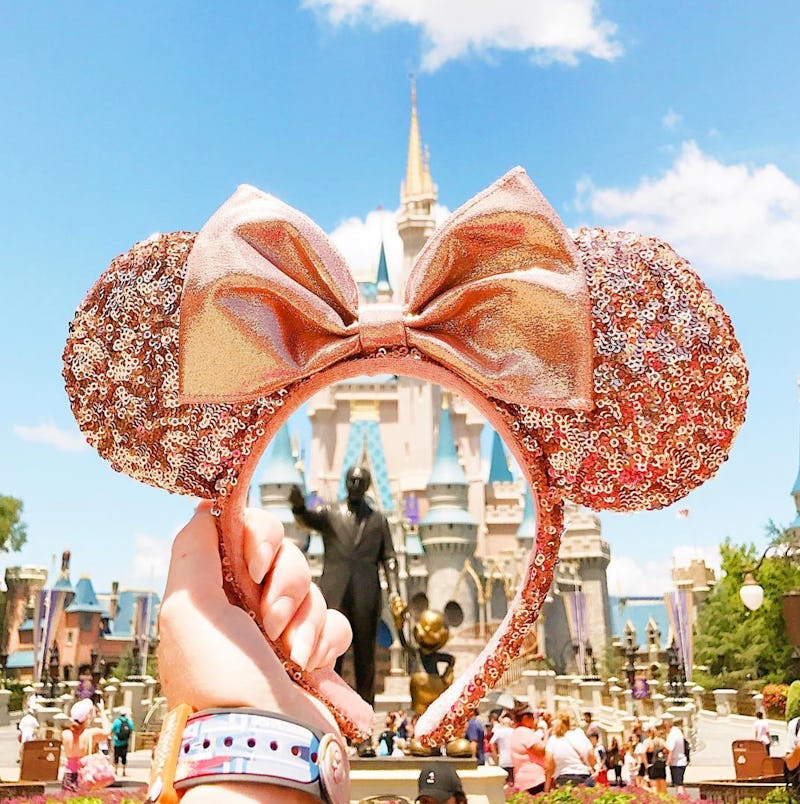 Chelsea Watson on Instagram
Disneyland for adults, while still insanely fun, can make you feel like, well, an adult, as you watch kids running around in Disney paraphernalia and mascots taking photo after photo. But now, rose gold Minnie Mouse ears are here to change that — they're the perfect way to do Disney as an adult, with equal parts stylish shine and playful attitude.
Most merch you'll find at Disney is the usual: stuffed animals, quirky t-shirts, ornaments, and fun little figurines. It looks like the merchandise team is looking to target a new audience though, with the release of their millennial pink/rose gold ears that are just filled with sequins.
Chelsea Watson, a 22-year-old blogger from West Virginia, is the ultimate Disney fan, dedicating her blog to all things Disney, posting photos of herself across the country in Minnie ears. Whether she's wearing ears, or Disney-themed bags or accessories, all of her posts feature something to do with the most magical place on earth.
Watson posted a photo on Instagram on Aug. 8 of said rose gold ears, causing a frenzy in her comments section. According to her caption, they're being sold at Disney and that they're part of new merchandise that the company is rolling out.
With the sequins, huge bow, and the Disney castle in the background, it's hard not to fall in love with this super cute accessory. And commenters agree, too, writing "totes dying! I neeeeeed a pair!!," "I'm going to WDW this weekend... I'll definitely be on the hunt for these!!! 😍," and "Need these!"
Seriously, how picturesque are these?
BRB, planning a trip to Disney ASAP and packing only these.
Even in the sunshine or not, these sparkle like crazy.
While Minnie mouse ears have come in a variety of patterns — like Halloween-themed or traditional Minnie Mouse — this is the first rose gold Minnie mouse ears to take the world by storm. In just a few months, these are definitely going to take over your Instagram feeds. Move over, Starbucks cups, these ears are about to take your place for the most ubiquitous Insta item.
Disney lovers far and wide are definitely going to love this new item. It's everything Disney stands for: pure fun, imagination, and sparkle, and what's more magical than rocking these in Disney? Or, if you're Watson, outside of Disney, too?
Millennial pink has struck again, and this time, with the most imaginative audience yet.