This Nike Line Pays Tribute To Serena Williams Because She's Truly the Greatest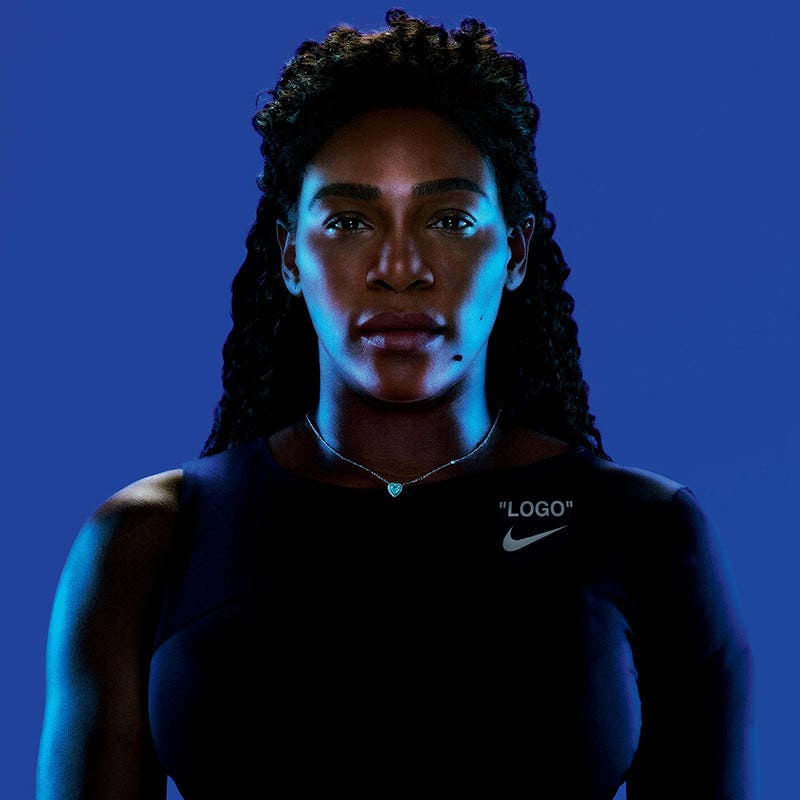 Nike
If you live and breathe everything Serena Williams, then start putting money away into your bank account because you're going to want to snap up this new Serena Williams x Virgil Abloh x Nike collection coming soon. Abloh — who was Kanye West's creative director and is now Louis Vuitton's men's designer while also running his own label, streetstyle brand Off-White — decided to take the strength and grace that is Williams and create a line fittingly called "The Queen Collection."
The collection was announced by Nike on Aug. 13, when the sports label shared that Abloh will dress the 23-time Grand Slam champion in the Off-White collab when she plays in the US Open tennis tournament.
"With Serena, we have one of our generation's most powerful, inspiring athletes as the muse," Abloh said in a press release. "I was trying to embody her spirit and bring something compelling and fresh to tennis."
This isn't Abloh's first collaboration with Nike, where earlier he deconstructed 10 iconic Nike shoes and reimagined them with an Off-White twist. For example, Abloh took the Nike Air Jordans and stamped the words "shoelaces" on the ends of the laces and "air" on the sides of the shoes. Now he has taken a second collaboration with the brand, creating a whole line inspired by Williams.
The outfit he has designed for the US Open consists on a black one-shoulder dress with a tulle skirt, combining dance and sport together. "What I love about tennis is the gracefulness. It's an aggressive and powerful game, but it takes touch and finesse," Abloh explained. "So the dress is feminine, but combines her aggression. It's partially revealing. It's asymmetrical. It has a sort of ballerina-esque silhouette to symbolize her grace. It's not about bells and whistles and tricks. It's just about it living on the body, and expressing Serena's spirit with each swing of the racket."
The dress features the tell-tale Off-White quotation marks, with the word "logo" over the Nike swoop and "Serena" stamped down the sleeve. It will also be available in white. He also designed a jacket for her to wear off of the court, which is a leather jacket with a utility belt strapped across the chest.
Williams has already tried on the pieces, and approves of the designs. "When I first tried on the dress, I felt very strong and feminine at the same time. It has all the really strong elements, from the leather to that really cool stretchy material," Williams told Vogue. "I felt so feminine in the tutu, which is probably my favorite part of it. It really embodies what I always say: that you can be strong and beautiful at the same time."
Williams isn't going to be the only one able to wear this collection, though. The limited edition leather jacket, tutu dress, and three sneaker styles will be available to purchase starting at the end of August.
But seeing how it's Off-White, it won't exactly be cheap. The dress will cost $500, and the jacket will set you back $900. But if it lets you feel like Williams, then it just might be worth investing in.